birdJam Bird Songs for your MP3 Player - A Review
Learn Bird Songs with Technology!
Have you heard about birdJam, formerly known as birdPod? It's a revolution in bird song identification and the hottest bird ID tool on the market today*.
*EDIT: This page was written years ago before smart phones and apps. There are now some really Awesome Birding Apps for iphone, ipod touch, ipad, blackberry and other android devices that do bird song id, bird id, infor about birding hotspots, conservation and more.
If you've ever been in the field with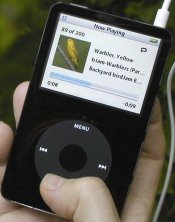 your CDs, tapes or 8-tracks (hehe), fumbling around, searching for the right bird song track, you're gonna really appreciate what this software has done for us birders.
Geographical Versions Available
East, West and North American versions are available with up to 650 bird songs organized into intuitive habitat and family playlists for rapid access in 15 seconds or less. At last, truly useful technology.
Unlike CDs or tapes, it is easy and fast to scroll through the well-organized playlists in the field or at home for bird song identification.
Quickest Way to Listen to and Learn 100s of Bird Songs
But why can't I just load bird songs onto an iPod myself without the birdJam Maker, you ask?
Well, you can, but it would literally take you weeks to create the built-in benefits. Use your precious time birding, not doing tedious tasks - that's what technology is for!
We think birdJam is now the easiest and quickest way to learn bird songs. We would recommend this product to anyone that is interested in bird song identification.
Expert Reviews:
Lang Elliott of NatureSound Studio: "Every birder will have to have one of these. Accessing a comprehensive bird song library using birdJam is way more convenient than dealing with multiple CDs--there's really no comparison."
Steve Martin, Ph.D. (ornithology): "As a serious and long-time birder, I value the quick field validation birdJam provides for inconclusive visual identification situations. The powerful combination of auditory cues, along with visual, behavioral and habitat information, addresses uncertainties that might arise."
Georgann Schmalz, Birding Adventures, Inc. ornithologist: "Organizing bird songs on an iPod into playlists by families, habitats, hard-to-learn-species, sound-alike species, whatever, is extremely convenient, easy and couldn't be done previously. With playlists, you can match the real song to a select group of songs on your birdJam right in the field."
Customer Reviews:
"I want to say what a great idea the BirdPod is. We've already enjoyed it thoroughly and think its a brilliant idea. We are avid advanced beginner birders and own the Bird Identiflyer, which although its cute and fun, isn't as effective or helpful in the field as we would like."
We were resigned to having to organize bird calls ourselves on our iPod, and then we found birdPod had already done it for us, saving us tons of time and doing a good job of it. We recommend it to other birders."
Conservation Note: MightyJams (corporate company of birdJam), contributes a percentage of company profits to The Nature Conservancy and other non-profits dedicated to the conservation, enjoyment and rehabilitation of birds. Always nice to know your purchase is helping birds!
Best Birding Apps - Learn bird song with your smart phone or tablet computer!
Other bird song identification resources
Learn about Bird Song Production
Return to Birdwatching Bliss Home Page
Top-Rated
Bird Watching Binoculars, Squirrel-Proof Feeder & Window Feeder

Nikon Monarch 5

Best mid-priced bird watching binoculars. Waterproof, shockproof, multi-coated ED-Glass.

Squirrel-Proof

No batteries, adjustable, easy to clean...and no squirrels!

"Best New Product" Award.

Window Bird Feeder

Roof protects seed from rain & snow, securely fastens with suction cups.

Click Images or Links To View More Info
For the Latest Bird Watching News, Hot Birding Spots, Tips & More, Subscribe to Our FREE Newsletter: The Birder Alert!