Shade Grown Coffee Benefits Birds
If you drink coffee and love birds, then you might as well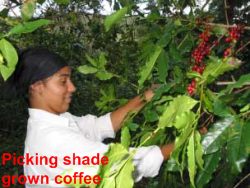 drink shade grown coffee which benefits birds.
What is Shade Grown Coffee?
For more information about shade grown coffee, its benefits and contrasts with sun grown coffee, go to our Bird Friendly Coffee page. Basically shade grown coffee benefits birds because it provides far better habitat than sun-grown monoculture coffee plantations. On a shade grown coffee farm, there is structural plant diversity that provides food and shelter, not only for bird species, but for many other organisms, including mammals, reptiles and insects.
Shade Grown Doesn't Automatically Mean Bird Friendly® Coffee
Just because a package of coffee is labeled as "Shade Grown" doesn't necessarily mean is good for the environment
or the birds. Some shade grown coffee is grown in the shade of non-native trees that don't attract native birds or grown on farms that rely on pesticides. So look for the Bird Friendly® seal (from the Smithsonian Migratory Bird Center of the National Zoo), or do some research on your own to find out where your shade grown coffee is actually grown.
American Birding Association Songbird Coffee
Song Bird Coffee is a shade-grown coffee brand and is the result of a joint venture between the American Birding Association (ABA) and Thanksgiving Coffee Company. Fifteen cents from each package are donated to the ABA. Similar to Bird Friendly® coffees, Thanksgiving Coffee uses verified shade grown coffee. This means that its CEO or the importer has personally inspected the farm to insure that the plants are properly grown in the shade. The Thanksgiving Coffee Company has been a socially and environmentally aware coffee producer for over 34 years.
Drink shade grown coffee and create songbird habitat...An even better way to start your mornings!
More about Bird Friendly Coffee
Shade Grown Coffee Info from the Smithsonian
Return to Birdwatching Bliss Home Page
Top-Rated
Bird Watching Binoculars, Heated Bird Bath & Window Feeder

Squirrel-Proof

No batteries, adjustable, easy to clean...and no squirrels!

"Best New Product" Award.

Window Bird Feeder

Roof protects seed from rain & snow, securely fastens with suction cups.

Click Images or Links To View More Info