Wooden Bird Houses, Long Lasting and Safe for Birds
Wooden bird houses come in a variety of sizes and designs to attract a wide variety of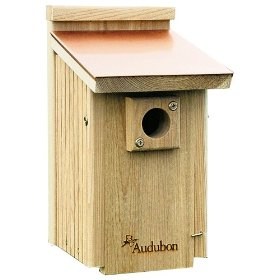 species to nest in your backyard bird house. Some essential design attributes that a bird house should have includes drainage and ventilation holes, a secure hinged door that can be opened for cleaning, monitoring and locked to prevent easy access by predators or mischievous little boys.
The wood type that is best is red cedar, bald cypress or redwood because of its natural weather resistance and durability, but any hardwood or softwood would be fine as well.
It is also best to buy wooden bird houses that are made from untreated wood that is not coated with any kind of chemicals. If you want your wooden bird house to be painted, make sure water based exterior latex paint is used and it is a light color to reflect heat. The wood should be at least 3/4 inches thick to provide insulation from heat and cold.
Some well-reviewed wood bird houses on Amazon:
Decorative bird houses are nice to look at, but not necessarily functional. Don't buy a nest box that is too small. Make sure the floor size is at least 4x4" and the height is at least 5" so that the house is large enough for adults to maneuver and feed young and the nestlings have enough room for development. If your bird house has a perch, remove it. Birds do not need it and it just invites aggressive birds like House Sparrows to take over the bird house. We have more tips about nest boxes at making bird houses and bird house dimensions chart.
Look for wooden nest boxes made from quality wood construction, are easy to maintain and have high durability. Entrance holes size will vary; these pictured below are big enough for wrens, chickadees, nuthatches, bluebirds among a variety of other species (click on photo or link below to view more information):
Hope you find a wooden bird house that will attract your favorite backyard birds and be successful in producing a new crop of bird youngsters. Enjoy viewing the bird cycle of life!
More Tips and Info about Bird House Plans:
How to Build a Bird House - Wood Log
Purple Martin Bird House Plans
Phoebe and Robin Nest Box Plans
American Kestrel Nest Box Plans
Making Bird Houses - Construction Tips
Our Favorite
Bird Watching Binoculars, Squirrel-Proof Feeder & Window Feeder
Read Our Reviews:

Nikon Monarch 5

Best mid-priced bird watching binoculars. Waterproof, shockproof, multi-coated ED-Glass.

Squirrel-Proof

No batteries, adjustable, easy to clean...and no squirrels!

"Best New Product" Award.

Window Bird Feeder

Roof protects seed from rain & snow, securely fastens with suction cups.

Click Images or Links To View More Info
For the Latest Bird Watching News, Hot Birding Spots, Tips & More,
Subscribe to Our FREE Newsletter:
The Birder Alert!