Choosing the Best Birding Binoculars Part II
Below is our continuing discussion of how to choose birding binoculars.
For the first section, go to Choosing Bird Watching Binoculars Part I which covers binocular magnification, objective lens diameter size, exit pupil size, prism design, close focus and ease of focusing.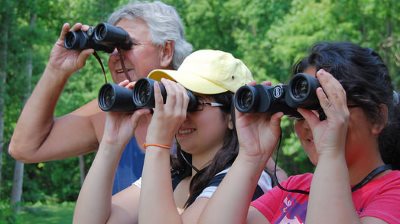 Below we will cover eye relief, field of view (FOV), lens coatings, weight, waterproofness and rubbor armoring.
---
You can also skip to our review page to view the top 4 binocular picks by price range here:
--> Best Binoculars for Birding (2021)
---
This is an important element for eyeglass wearers. Eye relief is the distance measured in millimeters a binocular can be held away from the eye and still present the full field-of-view image in focus.
Eyecups are usually designed so that the eye relief is the right distance for non-eyeglass wearers, between 9-13mm. However, eyeglass wearers need greater eye relief to compensate for the distance their glasses stand away from their pupils. The problem occurs when there is not enough eye relief, resulting in a narrower field of view.
You want to be able to use your birding binoculars without having to constantly remove your eyeglasses to look. That can cost valuable time when trying to spot a bird.
Some binoculars will have rubber eyecups that fold down to get your eyes/eyeglasses closer to the lenses, while other more expensive models will have adjustable eyecups.
Below is a video that demonstrates and explains the importance of eye relief, especially for those who wear eyeglasses:
As a general guideline, for those who wear thinner, closer fitting glasses choose an eye relief between 14-15mm.
For those who wear thicker, farther fitting glasses, choose 16-18mm.
Of course, your best bet would be to try out several bins & see what works best with your particular eyeglasses. It is still a good idea for non-eyeglass wearers to also try out binoculars for eye relief as well, to find the distance that works best for them.
The field of view is measured as the width of area visible at 1,000 yards (or meters) from the observer.
It is sometimes expressed as degrees near the eyepiece (i.e. "Field 6.5 degrees").
The eyepiece design mainly determines the the field of view. If the angular field of view in degrees is provided, you can calculate the FOV by multiplying the number by 52.5 (the # of feet in 1 degree at 1,000 yards).
So the field of view for a 6.5 degree binocular would by 6.5 x 52.5 = 341.25 feet. This means that the width of the view you are looking at is 341.25 feet at a distance of 1000 yards.
Generally, the higher the magnification, the narrower the field of view (10x40s have a narrower FOV than 8x40s).
A wider FOV will enable beginners to find birds easier and track them as they move about. However, a wider field of view on a cheap pair of binoculars is not always a better choice.
Inexpensive wide-angle models nearly always obtain a wide angle at the expense of image sharpness. It's better to have a sharp, clear smaller field of view than a larger fuzzy one.
Again, decide what's most important to you...
Do you want a larger field of view or more magnification? Test drive as many as you can. Just remember, field of view decreases as magnification increases. Verify this by checking the FOV on the manufacture's specifications for the model of binoculars you are interested in.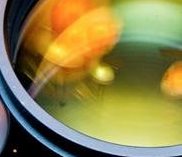 In terms of light-gathering power, objective diameter and exit pupil size are not the only important parameters.
Lens coatings are just as important in increasing light transmission and improving image brightness. Each time light enters or leaves a piece of glass, about 5% is reflected back.
Binoculars may have 16 air-to-glass surfaces, with light lost at every surface. This lost light bounces around inside the binoculars, making the image hazy and hard to see.
Lens coatings effectively lower reflection losses which finally results in a brighter and sharper image. For example, a 8x40 binocular with good optical coatings will yield a brighter image than an uncoated 8x50 binocular.
A classic lens coating material is magnesium fluoride which reduces reflections from 5% to 1%.
Modern lens coatings consist of complex multi-layers and reflect only 0.25% or less to yield an image with maximum brightness and natural colors.
For roof-prisms, anti-phase shifting coatings (p-coatings) are sometimes used which significantly enhance resolution and contrast. The presence of a coating is typically denoted on a binocular by the following terms:
Coated (C) - A single layer on at least one lens surface.
Fully Coated (FC) - A single layer on all air-to-glass surfaces.
Multi-Coated ( MC) - Multiple layers on at least one lens surface.
Fully Multi-Coated (FMC) - Multiple layers on all air-to-glass surfaces.
Phase-Correction (PC) - A coating to color phase correct the prisms
So as with everything else, more coatings, more cost, but better images through your birding binoculars. You'll have to shop & compare to see what's the best you can get for your $ and without compromising image quality and brightness. Test drive if you can!
Types of Prism Glass
Prism glass is what often separates a $200 pair of binoculars from a $2,000 pair.
If you take a look around at forums discussing binocular pros and cons, especially high end models, birders will talk about glass distortions, chromatic aberrations, fringing, better edges, dull colors, bigger sweet spot and better depth and contrast at low light.
Some of the high-end brands include Swarovski, Zeiss, Leica, Nikon, Celestron and Steiner.
Prism Glass Designations:
BK7- Borosilicate Crown Glass - cheapest prism glass, often in porro-prism binoculars.
BaK4 - Barium Crown - higher density glass for better light transmission and sharper images
ED or EX - Extra Low Dispersion - Controls chromatic aberrations
FL - Fluoride ion containing glass for brilliant image quality and better colors
HD - A confusing marketing term, meaning "High Definition" images. It may mean that there are additional lens coating, but sometimes is just a denotation that it is high-definition because it has ED glass. You have to read the particular binocular model description because there is no standard definition for HD and may vary from binocular to binocular.
For myself, I'm perfectly happy with the Monarch 5 8x42 binoculars. Once when I was doing bird counts for work, my boss loaned me a pair of $2k Swarovski's. Yes, they were nice, but it didn't make a difference as far as ID went whether I had my $270 Monarchs or the $2K Swarovskis.
If you're the type to notice flaws like aberrations and not having perfectly smooth edges and be bothered by them, go for the upgrade - if you have the cash that is.
I would definitely suggest you borrow a pair to compare against cheaper binoculars and really see if it matters to you. Otherwise, especially if you are a beginner birder, go with a mid-priced binocular until you get more experience and then upgrade.
On the other extreme - DO NOT get the cheapest pair of binoculars either...
There is a happy medium here and that's why we suggest the mid-price level. The reason being, if you get a pair of $50 binoculars, you will be frustrated because the glass quality is so low it will be hard to focus and images will be dull and dark, instead of crisp and bright.
In addition, people usually make the mistake of getting too much magnification in a cheap binocular which makes it extremely hard to view moving birds because the FOV is so small.
Thanks to technology, we don't have to lug around 4 pound binoculars. But weight is still a factor.
When you start looking around at the various bins available today, you will see that they can range in weight from 10 ozs (compact 8x25s) to 44ozs (large 10x50s). Although you can find compacts of the same size that weigh more as well as 10x50s that weigh less.
If you are deciding on a pair of bins and one weighs 26 ounces, the other 30, don't chose the lighter one based on that factor alone. Most people won't notice that kind of weight difference, even after using them all day.
As a general guideline, for long days of birding, choose a binocular that weighs less than 30 oz.
Weight distribution, or balance of the binoculars, may be more of an important factor than weight alone. A poorly balanced 25 oz binocular may cause more fatigue than a well-balanced 32 oz pair.
The balance affects the feel in your hands, and over a long day of birding, this may be a fatiguing factor. Your hands, wrists and/or arms may notice the difference. So again, test driving is always a good way to determine what's best for you. If not, it's safe to assume the higher quality, more expensive bins will have better weight distribution & balance.
Also, to help with weight fatigue, today's harnesses are a good option over the standard neck straps to relieve neck and shoulder strain when using your birding binoculars.
Waterproof optics provide protection against not only water, but also dust, dirt, cracker crumbs, etc. as well as internal fogging. It is certainly a nice option, especially for active birders. Waterproof seals are made with rubber O-rings and and nitrogen gas purging.
If you take your warm binoculars to go birding on a chilly morning without nitrogen gas-filled optics, they will most likely fog-up on the interior because of the quick temperature change from warm to cold.
You'll be bummin' when you can't see anything through the fog! And you never know...you just may slip when crossing that creek. It would be nice to know your bins are waterproof. It is also a plus if you live in humid climates.
Just so there is no misunderstanding, rubber armored coating does not provide
waterproofing.
Rubber armoring is a nice option (at the cost of a little extra weight & cash) that protects your birding binoculars from bumps, scratches, and corrosion. It also provides a comfortable, cushioned gripping surface.
It certainly will be more comfortable to hold a rubber-coated pair of binoculars on very cold or hot days. Just another option for you to consider.
Birding Binoculars Review
Here are the Best Binoculars For Bird Watching as reviewed by the Cornell Laboratory of Ornithology.
Best Mid-priced Birding Binoculars
Here's our review for the Nikon Monarch ATB 8x42 Binoculars, which we agree with Cornell as being one of the best mid-priced birding binoculars.
Or you can view a comparison table of all Nikon Monarch Binoculars, including the higher-end Nikon Monarch X Binoculars.
Hope you've enjoyed this review of birding binoculars and their features. We wish you the best in finding that perfect pair!
More Reviews of Favorite Binoculars
Bushnell Legend Ultra HD 10x42 Binoculars - Another good choice in the mid-price range, especially if you want the 10x magnification.
Budget Nikon Action Binoculars - Comparison of Models
Swarovski SLC HD Binoculars Review - One of the Best of the Best
Types of Binoculars: Image Stabilization, Jason, Mini, Zoom, High Power, Digital, Infrared, Kids
Jason Binoculars - Auto Focusing Binoculars
Digital Binoculars with Camera and Video Built-In
No More Binocular-Neck... Get a Harness!
Care & Repair
Audubon Choosing Birding Binoculars
Spotting Scopes
Spotting Scopes 101 and Spotting Scope 102
Best Bird Watching Spotting Scopes
How to Choose Birding Binoculars Summary
Best Size Binoculars for Bird Watching
There isn't a definitive best size for birding binoculars. For a beginner, an 8x42 binocular has enough magnification for identifying birds and wide enough field of view to help with locating birds, especially those moving quickly in thick brush or trees. 7x35, 10x42 and 10x50 are all good binoculars for birdwatching as well.
Our Favorite
Bird Watching Binoculars, Squirrel-Proof Feeder & Hummingbird Feeder
Read Our Reviews:

Nikon Monarch 5

Best mid-priced bird watching binoculars. Waterproof, shockproof, multi-coated ED-Glass.

Squirrel-Proof

No batteries, adjustable, easy to clean...and no squirrels!

"Best New Product" Award.

Click Images or Links To View More Info
For the Latest Bird Watching News, Hot Birding Spots, Tips & More,
Subscribe to Our FREE Newsletter:
The Birder Alert!