A Heated Bird Bath Provides Water For Birds During Winter
Having a heated bird bath is a
must if you want to provide birds with a reliable water supply during the cold, winter months and you don't enjoy constantly having to do it manually by breaking ice and delivering warm water every few hours.
We have researched and found some heated bird bath favorites among backyard bird watchers.
Favorite Lower-Priced Heated Bird Bath
Many backyard birdwatchers like the API 600 20-Inch Diameter Heated Bird Bath Bowl. It's a large basin so you don't have to fill it up as much because of evaporation which also makes it more difficult to freeze. Comes with various brackets to attach to decks, railings, etc..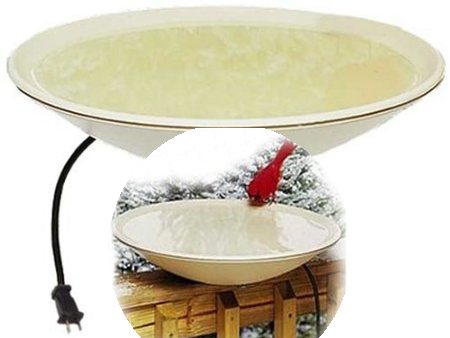 "This is a great birdbath. It holds a ton of water so you don't have to worry about evaporation for days.

Keeps the water totally ice free. I live in New England and the temps have hit the single digits and not even a trace of ice.

Good rim for the birds to grip and the multi-use mounts let you attach to many different surfaces, rails etc..." -BigDan
View the API 600 Heated Bird Bath Bowl
2nd Favorite Low-Cost Heated Bird Bath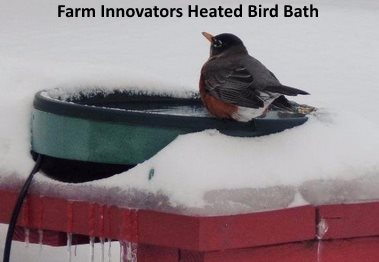 For another of the lower priced models, we like the Farm Innovators BD-60 75-Watt Bird Bath which comes with your choice of either a clamp mount, deck mount or ground mount.

It's under $50, is thermostatically controlled which means it heats only when the temperature falls below freezing, will keeps the water ice free to -20°F (but some customers have testified to it working below -35 degrees), hidden cord, powder-coated and easy to install.
"Our birds just love it. They've been taking baths all winter long. We haven't had any problems with it. We just add water every day or every other day." -Linda
The tray is easy to lift up the basin and dump the water out and clean. It is shallow and depending on how cold it is, humidity levels and how many birds you have visiting, you may have to refill it anywhere from twice a week to twice a day.

But most users have not found it to be too much of an nuisance and prefer this bird bath over others. The cord is a little short, so you may have to use an outdoor-rated extension cord depending on the location and distance from your outlet.
More Expensive Heated Bird Baths
For the higher-end models, this Pedestal Heated Birdbath with Scalloped Dish Design is well-made, very sturdy and will hold up to stormy winter conditions.
As opposed to the cheaper Farm Innovators bird bath which uses 75-Watts, this one uses double the amount of electricity at 120-Watts. But it is a bigger basin at 17.5" diameter versus 15" which hold more water, requiring more heat.
Most users have found that the models shown above are reliable and will keep your bird bath water ice-free under freezing conditions. So depending on what your needs are, you can choose either a mounted bowl style or one with a pedestal.
Heated Bird Bath Features To Look For:
Controlled By Thermostat - So it only turns on when needed, saving electricity.
Corrosion Resistant - Powder coated or rust-free construction.
Rated to -20 degrees F - Or lower which will keep water from freezing in most northern climates, with the exception perhaps of parts of Alaska, Canada, Greenland, North Pole, etc.. :-)
Hidden Cord - Or one that can be tucked away, especially during the summer when not using; not necessary but nice to have.
What About A Solar Heated Bird Bath?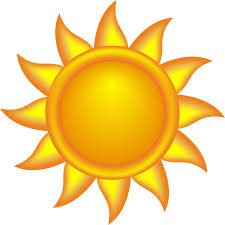 We have not found a reliable solar heated bird bath on the market yet. The closest product is the Solar Sipper which people have found to be poorly designed, does not keep the water consistently ice-free and birds don't readily use it because of the covered top. It's not much more than an insulated cup.
There are plenty of solar powered bird baths and solar inserts to power a pump, but nothing yet to de-ice water. Solar panels are expensive and the challenge of less sunlight during winter months apparently makes this a challenge for manufacturers.
Perhaps a better solution would be a wind-powered heated bird bath because it's easier to harvest wind power during winter than solar. We're still looking for a better one and will report here when we find it.
More About Bird Baths...
Bird Bath Heater - To place inside an already existing bird bath as a de-icer to keep water from freezing.
What is the average Cost To Run A Heated Bird Bath during the winter?
Stone Bird Baths - Basin and fountain stone bird bath designs.
Solar Bird Baths - Save money and go green with solar power.
Our Favorite
Bird Watching Binoculars, Squirrel-Proof Feeder & Hummingbird Feeder
Read Our Reviews:

Nikon Monarch 5

Best mid-priced bird watching binoculars. Waterproof, shockproof, multi-coated ED-Glass.

Squirrel-Proof

No batteries, adjustable, easy to clean...and no squirrels!

"Best New Product" Award.

Click Images or Links To View More Info
For the Latest Bird Watching News, Hot Birding Spots, Tips & More,
Subscribe to Our FREE Newsletter:
The Birder Alert!