Solar Bird Baths
Solar bird baths are a great alternative to standard electric
bird baths or the simple you-fill, standing water bird baths.
They save electricity which is good for the environment and your wallet and provide clean, running water that attracts more birds.
Below are some favorite bird baths and fountains among bird watchers.
The only disadvantages of a solar vs. an electric powered bath or fountain is that it requires direct sunlight and may not be as powerful, however it is less noisy, more peaceful and for those reasons is preferred.
For those of you who live in not so sunny climes i.e., Seattle, there are solar bird baths that have both solar and electric options so on cloudy days, you can just have it plugged in if there isn't enough sunlight to power it...
See the Wishing Well Bath below.
Advantages of Solar Bird Baths:
Uses the sun's energy instead of electricity - Ecofriendly and saves money
No extension cords or outlets needed - not limited to placement
No wiring, no operating costs, simply install, add water and enjoy!
How does a solar bird bath work?
A solar powered panel that either is placed inside the basin of the bird bath or a panel that lays just outside the baths collects solar energy from the sun during the day.
That energy will power the pump to keep the bird bath water circulated.
Some solar powered bird baths can be damaged by cold weather, so during the winter months you may need to remove the solar insert and/or use it in conjunction with a bird bath heater that keeps the water and unit warm.
Again, on cloudy days, there are those units that also feature an electric option for plug-in power like the one featured below.
Solar Bird Bath with Optional Electrical Plug-In on Cloudy Days
The Wishing Well Solar Water Fountain is a nice choice because you have the electric option on cloudy days.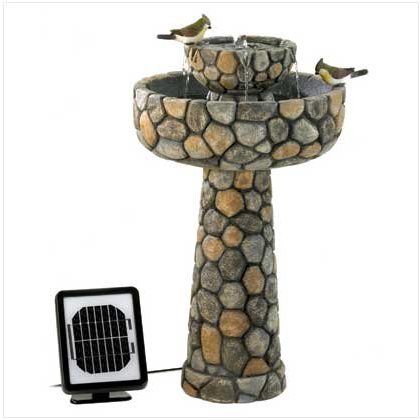 "I have had several other solar fountains and have found this one the best thus far.

I love the feature that allows the motor to switch back and forth from electricity to solar when the sun is obscured.

Trickling sounds is very nice and attracts plenty of birds.

I am thinking of getting a second one to go in my front flower bed, also.

Easy to assemble and easy to clean. Definitely a great value." -Loaves
--> Wishing Well Solar Bird Bath
DIY Bird Bath Fountain using a Solar Panel and Pump Kit
Alternatively, you can use an existing bird bath - or really any type of basin - and convert it into a solar bird bath fountain by just using an inexpensive ($15-$40) solar panel and pump kit.
Watch the video below for this DIY option.
-->
Solar & Water Pump Kits for Bird Baths
Bird Bath Heater - Keep your bird baths ice-free during the winter.
Heated Bird Baths - All-In-One Units
Bird Baths Buying Guide and Tips
Our Favorite
Bird Watching Binoculars, Squirrel-Proof Feeder & Hummingbird Feeder
Read Our Reviews:

Nikon Monarch 5

Best mid-priced bird watching binoculars. Waterproof, shockproof, multi-coated ED-Glass.

Squirrel-Proof

No batteries, adjustable, easy to clean...and no squirrels!

"Best New Product" Award.

Click Images or Links To View More Info
For the Latest Bird Watching News, Hot Birding Spots, Tips & More,
Subscribe to Our FREE Newsletter:
The Birder Alert!