Stone Bird Baths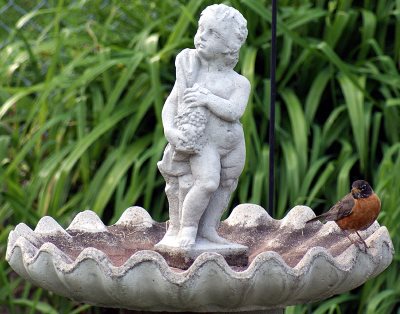 Stone bird baths typically come in two styles: basin and fountain.
The fountain design with water pump may have one to several tiers for bird to drink and perch from and sometimes a decorative finial which is the top piece where the water exits.
Some bird baths may also have lights, but this is more for your own enjoyment, as most birds will not be coming to your bird bath in the dark.
For high quality baths, price range typically is anywhere from $50 to over $1,000.
Most are hand-crafted, cast stone construction with a variety of finishes to choose from such as aged limestone and copper-bronze or a natural finish, if you prefer.
Get a bird bath with a basin that can accommodate more than just a couple of birds at a time, that is if you want to see more birds at any one time using the bath.
If the basin's depth is deep enough for larger birds to use, but too deep for smaller birds, you can place a flat rock or something similar in the middle to make it shallower.
Winterizing Stone Bird Baths
Manufacturers suggest that stone bird baths ideally should be moved inside during the winter, or at the very least, be winterized to prevent cracking and other damage.
Water should be drained and the bird bath be raised to keep from freezing to the ground.
Any pumps and related mechanisms should be removed and stored inside.
You can cover the bird bath/fountain with burlap (or any absorbent material) and dark plastic which will keep moisture out and protect it from the harsh winter elements.
Related Bird Bath Pages
Bird Bath Heater - De-Icers to keep water from freezing during winter.
Heated Bird Baths - All-In-One Units
Bird Baths Buying Guide and Tips
Stone bird bath photos courtesy of Derek Audette - bird bath with American Robin, and Pamela Stone - bird bath with Great Spotted Woodpecker (is actually a painting by Pamela - wow!).
Our Favorite
Bird Watching Binoculars, Squirrel-Proof Feeder & Hummingbird Feeder
Read Our Reviews:

Nikon Monarch 5

Best mid-priced bird watching binoculars. Waterproof, shockproof, multi-coated ED-Glass.

Squirrel-Proof

No batteries, adjustable, easy to clean...and no squirrels!

"Best New Product" Award.

Bird Bath Heater

Keeps your bird baths ice-free down to -20 F. Low-operating costs ~$1/mo

Click Images or Links To View More Info
For the Latest Bird Watching News, Hot Birding Spots, Tips & More,
Subscribe to Our FREE Newsletter:
The Birder Alert!