Bird Watching Vacation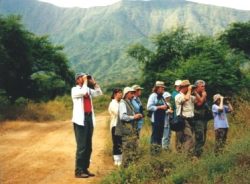 Planning your own bird watching vacation certainly has its advantages over a pre-planned tour. First, you can save a lot of money and second, you are in control of what you do and when you do it. Sure, it's going to take more time and effort, but you will be rewarded in the end.
National Geographic Guide to Birding Hot Spots of the United States


This book is organized into thirteen regions from New England to the Southwest, providing details of the best bird watching locations.
Entries give clear directions to major sites along with notes on the birds you're likely to find there, the best seasons and time of day to see them, frequent sidebars on subjects of particular interest, and much more.
Mobile Traveling Birding Apps
The BirdsEye App includes a map of 25,000 birding hotspots, over 1 million bird observations each month reviewed by local birding experts so wherever you take your birding vacation, you have the best bird watching locations at your fingertips, including recent daily observations. There are a lot of other features as well. View all birding apps for iPhone, iPod Touch, iPad and Android.
Research your Birding Destination
Go to your destination's travel bureau site which usually has information about outdoor activities,

including birding. For example, I went to Utah's state travel website and found an entire section devoted to bird watching. They give descriptions to popular birding hotspots in the state and what birds you are likely to see there.
Make an Itinerary
After deciding where you want to go, make a detailed daily itinerary just like a birding tour company would do. This way you can see
what you'll need every day as far as directions and maps, what bird books and/or checklists you need and you can research local favorites for birding spots, restaurants, lodging, etc..
Pack your Bags with Birding Essentials
It might seem obvious, but make a list of bird watching equipment and supplies you wish to take on your trip: binoculars, scopes, bird field guides, camera, birding apps field journal, bird checklists, etc..
Some birders also like to take along a Handheld GPS
. This can help with finding birding locations (nowadays, birding books often give gps coordinates
for directions) and your way around unfamiliar areas, in general. You can also mark your favorite birding coordinates to remember for your next visit and share them with fellow birders. Birders often share favorite spots online and you can enter them into your GPS as waypoints.
We wish you safe travels and birding bliss on your next bird watching vacation. Be sure to come back and tell us all about it!
Insider Hotspots with Birdingpal
I found this website where you can contact fellow birders all around the world. You contact a local birdingpal where you will be vacationing or touring and see if they can meet up with you one day to take you to all the best bird watching spots in their location.
To help with your plans, here are a couple of well-reviewed bird watching vacation books:
Bird Watching Tour Companies
If you want someone else to take care of all the details, then follow the link below to some of the best bird watching vacations offered by birding tour companies from around the world.
Bird Watching Tours - Listed by region and type.
Top-Rated
Bird Watching Binoculars, Heated Bird Bath & Window Feeder

Squirrel-Proof

No batteries, adjustable, easy to clean...and no squirrels!

"Best New Product" Award.

Window Bird Feeder

Roof protects seed from rain & snow, securely fastens with suction cups.

Click Images or Links To View More Info