Bird Watching Vacations
Bird watching vacations are offered by many tour companies.
But you don't want a second-rate tour, so below we've listed some of the more reputable companies that specialize in bird watching tours.
All of the companies below offer tours worldwide including, but not limited to, North America, Mexico and the Caribbean, Central and South America, Europe and the Middle East, Africa, Asia and Australasia.
What if I'm just a beginner birdwatcher?
No problem. Most bird watching vacations offer a range in participant skill, from complete novice to the highly-skilled tour veteran.
When I worked as an ornithology instructor for Audubon, I loved to have an enthusiastic beginner in my group over an expert who was bored unless they saw a new species to add to their list.
Birding Guru (Aggregator of Birding Tours)
Birding Guru is an aggregator where you can choose among different tours, guides and tour companies.
Guides from all over the world publish their tours, and birders can find them using filters by country, dates, and even target birds, write to guides directly and book.
The site has both long tours to different countries, and local one-day excursions in a neighboring city.
And if you are a guide, you can fill out an application and get your personal account to add tours to the site.
Wings Birding Tours
Wings has been around since 1980 and their tours "...are planned as ones that we ourselves would like to go on, so they are very strongly oriented toward birds."
Group size for the tours ranges from four to 16 people plus the leader(s).
They also own the British bird tour organization, Sunbird, where all United Kingdom tours are operated.
They have a wonderful page of information about Choosing A Bird Tour, where they address common questions and concerns about choosing and going on a birding tour.
Victor Emanuel Nature Tours
They definitely have the experience - have been in business over 25 years, and will take care of you:
"When you call the VENT office you are dealing with a staff which has over 80 years of combined experience with travel and tour operation. You can feel confident that your questions and requests will be handled by the best in the business."
VENT has an impressive list of tour leaders as well as a wide variety of tours (140 tours to over 100 destinations), including bird watching cruises.
Birdquest Bird Watching Vacations
Bird Quest's philosophy, "Birdquest tours are exciting, friendly, small-group birding holidays designed and guided by a team of leaders and office staff whose professionalism, experience and knowledge are unsurpassed..."
You can look at their trip reports online and they claim to have shown their participants more species of birds than any other bird tour company in the world.
Birdfinders has been around for 15 years, "...offering worldwide birding tours for birders by birders."
They have a price comparison chart of their tour cost vs. other tour companies, emphasizing value without loss of quality.
Africa Bird Watching Tours and Vacations
Discover/Uncover Bird Watching Paradise at Morgan Kunda Lodge, Gambia
Experience an exclusive birdwatching retreat in Gambia's Northern Region like never before. Discover the rare Egyptian Plover, White-Crested Tiger Bittern, and Martial Eagle in the pristine surroundings of Morgan Kunda Lodge. Visit Morgan Kunda Lodge to learn more.
Nestled in Jarjari Village, deep within the Bao Bolong Wetland Reserve, our newly-built lodges offer unparalleled accommodation for nature enthusiasts. Our dedicated staff, composed of locals, take pride in providing a warm welcome and serving a delightful blend of Gambian and European cuisine.
Previously, exploring this unique nature reserve required lengthy excursions from the South. However, from our exclusive accommodation, you'll have unrestricted access to untapped areas along the Bao Bolong, including secret locations known only to our expert guides.
Morgan Kunda Lodge transcends traditional accommodations, offering an experience that immerses you in unparalleled peace and tranquillity. As you depart from the north bank road at Illiassa and journey through the village of India towards Jarjari, you'll leave behind the usual tourist hubs and enter a haven where Morgan Kunda Lodge and the Morgan Clark School seamlessly integrate with village life.
Here, you can relax, relish nature, and experience authentic village life firsthand. Spend blissful days observing birds on foot, either alone or with a knowledgeable guide. Immerse yourself in the local community by visiting the school or leisurely strolling through the village, where friendly villagers are eager to showcase their homes and way of life. One of our guests even described their visit to the ladies' vegetable garden as a true highlight.
Morgan Kunda Lodge invites you to unlock the beauty of birdwatching in the Gambia's Northern Region. Immerse yourself in untouched natural wonders, embrace village hospitality, and create memories that will last a lifetime.
Discover why our customers rave about us in their reviews and check our outstanding TripAdvisor ratings.
For all enquiries please contact the Morgan Kunda Lodge by email: contact@morgankunda.com or phone: +44 333 1225 329.
Birding Africa
Birding Africa is a specialist birding tour company customising tours for both world listers and more relaxed holiday birders.
Costa Rica Bird Watching Tours and Vacations
Costa Rica Focus Birding Tours
At Costa Rica Focus we specialize in custom bird watching and bird photography tours throughout Costa Rica, and Central and South America, using local, expert birding guides with 20+ years experience.
US Pelagic Bird Watching Tours (seabirds)
Seabirding , Hatteras, NC 252-473-9163
Our pelagic trip leaders and spotters are among the best seabirders in the world.

Westport Seabirds, Washington (360) 733-8255
Since 1966, tours to Grays Canyon, a submarine canyon which lies 35 nautical miles due west from the mouth of Grays Harbor, on the edge of the North American continental shelf. Lots of cool birds to see, including Laysan Albatross, Flesh-footed, Short-tailed, and Buller's Shearwaters.
Maine Puffin Tours, New Harbor, Maine 1 (800) 2-PUFFINS
Not just puffins. Along the way see Arctic and Common Terns, Black Guillemots, Common Eiders, and many other seabirds.
India Bird Sanctuaries
Visit our page about when is the best time to visit the
Pulicat Lake Bird Sanctuary
as well as Ranganathittu, Sultanpur, and Nellapattu Bird Sanctuaries
Plan Your Own Bird Watching Vacation
Planning your own bird watching vacation certainly has its advantages over a pre-planned tour.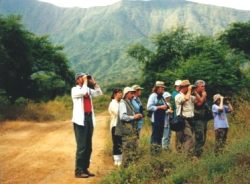 First, you can save a lot of money and second, you are in control of what you do and when you do it.
Sure, it's going to take more time and effort, but you will be rewarded in the end.
Pack your Bags with Birding Essentials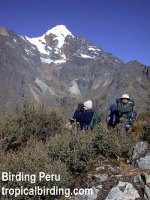 It might seem obvious, but make a list of bird watching equipment and supplies you wish to take on your trip: binoculars, scopes, bird field guides, camera, birding apps, field journal, bird checklists, etc..
Some birders also like to take along a Handheld GPS
This can help with finding birding locations (nowadays, birding books often give gps coordinates for directions) and your way around unfamiliar areas, in general.
You can also mark your favorite birding coordinates to remember for your next visit and share them with fellow birders.
Birders often share favorite spots online and you can enter them into your GPS as waypoints.
To help with your plans, here are a couple of well-reviewed bird watching vacation books:
Insider Hotspots with Birdingpal
I found this website where you can contact fellow birders all around the world.
You contact a local birdingpal where you will be vacationing or touring and see if they can meet up with you one day to take you to all the best bird watching spots in their location.
Mobile Traveling Birding Apps
The BirdsEye App includes a map of 25,000 birding hotspots, over 1 million bird observations each month reviewed by local birding experts so wherever you take your birding vacation, you have the best bird watching locations at your fingertips, including recent daily observations.
There are a lot of other features as well. View all birding apps for iPhone, iPod Touch, iPad and Android.
Research your Birding Destination
Go to your destination's travel bureau site which usually has information about outdoor activities, including birding.
For example, I went to Utah's state travel website and found an entire section devoted to bird watching.

They give descriptions to popular birding hotspots in the state and what birds you are likely to see there.
Make an Itinerary
After deciding where you want to go, make a detailed daily itinerary just like a birding tour company would do.

This way you can see what you'll need every day as far as directions and maps, what bird books and/or checklists you need and you can research local favorites for birding spots, restaurants, lodging, etc..
We wish you safe travels and birding bliss on your next bird watching vacation.
Be sure to come back and tell us all about it!
We'll be adding more bird watching tours as we find them. Hope you have a great bird watching trip, be sure to tell us all about it!
National Geographic Guide to Birding Hot Spots of the United States

This book is organized into thirteen regions from New England to the Southwest, providing details of the best bird watching locations.
Entries give clear directions to major sites along with notes on the birds you're likely to find there, the best seasons and time of day to see them, frequent sidebars on subjects of particular interest, and much more.
Photo of Scarlet Ibis by David Berkowitz used under this CC license.
Our Favorite
Bird Watching Binoculars, Squirrel-Proof Feeder & Hummingbird Feeder
Read Our Reviews:

Nikon Monarch M5

Best mid-priced bird watching binoculars. Waterproof, shockproof, multi-coated ED-Glass.

Squirrel-Proof

No batteries, adjustable, easy to clean...and no squirrels!

"Best New Product" Award.

Click Images or Links To View More Info
For the Latest Bird Watching News, Hot Birding Spots, Tips & More,
Subscribe to Our FREE Newsletter:
The Birder Alert!