Best Birding Binoculars from Budget to Expensive (2020)
Below are what birders have considered to be the best birding binoculars currently on the market based on quality and cost.
Any of the binoculars listed here will be suited well for most types of bird watching, whether it be for general backyard bird watching, on bird watching tours, viewing songbirds or raptors and in most weather conditions.
Nikon Monarch Binoculars
For a mid-range priced of birding binoculars, you really cannot beat the Nikon Monarch 5 8x42 ATB Binoculars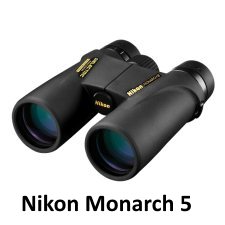 Features:
New dielectric high-reflective multilayer prism coating for brighter, crisper images
100% Waterproof/Fogproof/Shockproof
ATB - All-Terrain-Binocular is Rubber Armored & Ulta-Rugged for Outdoor Use
Phase-Corrected Prisms
Eco-Glass - no lead or arsenic
Lightweight and ergonomic construction for comfortable use
For all the above features which are usually found in more expensive binoculars, the Nikon Monarchs are one of the best birding binoculars around.
User Review of Nikon Monarchs:
"I use my binoculars primarily for watching and identifying migrating hawks.

I found the Monarch ( to be of excellent value as they are light enough so they are not bothersome ---they are easily adjustable ---but best of all they show a large degree of brightness ----I would definitely recommend them." -Ginny from Barrington, Rhode Island
Our Review:
Here's our personal Nikon Monarch 5 ATB Review.
Nikon Action Extreme Binoculars
For a low-priced or "cheap" pair of binoculars without compromising too much quality, you must go with the Nikon Action Extreme ATB 8x40 Binoculars
Features:
So why are these cheaper than the Nikon Monarch's? These are porro prism binoculars whereas the Monarchs are roof prism which makes them a little more expensive (Porro vs Roof Prism Binocular Design). The porro prism makes these binoculars a little more heavy, weighing 30.1 oz versus the Monarch's weight at 21.3 oz. You can see the shape difference by comparing the photos of each above.
So if you don't mind a little more weight and a slightly more bulky design, these are a great pair of cheap binoculars for bird watching.
User Review of Nikon Action Extreme Binoculars:
"We ordered one pair, and liked it so much that we ordered a second pair.

We use our binoculars for close and long-distance bird watching. We have lots of hawks, gulls and water birds, and also the typical bird feeder variety.

These binoculars have great clarity, and are perfect for our needs." -Deb & Bill from Mays Landing, NJ
Nikon Action Binoculars Review of 7x35, 8x40 and 10x50 Models:
Go to our Nikon Action Binoculars Review page for a complete review of all Nikon Action Binocular models.
Swarovski EL Binoculars
For top of the line, spare-no-expense, the Swarovski 10x42 EL SwaroVision Binoculars are a birder's dream come true.
Features:
Best of the Best Award
SWAROTOP anti-reflective coatings, SWARODUR scratch-resistant coatings and SWAROBRIGHT mirror prism coatings for ultimate brightness, contrast and natural color, especially at dusk.
Fluoride containing HD glass allows for the truest possible color.
Redesigned, smooth and tolerance-free focus mechanism
Extremely durable and lightweight housing of magnesium alloy, an aerospace material.
Unique, wrap-around grip. Non-slip rubber armoring, which is comfortable to handle even in cold weather.
User Review of Swarovski EL 10x42 SwaroVision Binoculars:
"This is simply the best optics that money can buy for a pair of binoculars.

Image is bright and color is vivid. I cannot find any aberration.

I can see the brillant yellow spots on a pair of butterflies flying in twenty to thirty feet away from me.

The color just jumps out, it was amazing!" - Dan Ng Khan
So that is our top three best birding binoculars based on review from bird watchers and our personal use.
Summary of Top 3 Best Birding Binoculars
*Nikon Monarch 5 8x42 ATB - Best Mid-Priced Binoculars. Roof prism, lightweight, ergonomic design, high-quality dielectric prism and lens coatings give bright, clear images.
View all current Nikon Monarch Binoculars with side-by-side comparison tables: Nikon Monarch 3 vs Monarch 5 vs Monarch 7 ATB binoculars.
*Nikon Action Extreme 8x40 ATB - Best Low-Priced Birding Binoculars. Good viewing, just a little bulky & heavier than more expensive binocs.
You can read more about the different sizes and reviews here at the Nikon Action Binoculars page.
*Swarovski EL SwaroVision 10x42 - Best High-Priced Binoculars. Simply the best of the best. Highest quality optics, nice feel, all the bells & whistles to make an excellent pair of birding binoculars.
More Reviews of Favorites
Bushnell Legend Ultra HD 10x42 Binoculars - Another good choice in the mid-price range, especially if you want the 10x magnification.
Nikon Monarch Binoculars - Comparison of All Monarch Models
Budget Nikon Action Binoculars - Comparison of Models
Swarovski SLC HD Binoculars Review - One of the Best of the Best
How To Choose Binoculars - Tips on choosing the best birding binoculars for your needs.
Best Binoculars for Birdwatching - Review of the best birdwatching binoculars, from less than $200 to greater than $1,000
Types of Binoculars: Jason, Mini, Zoom Digital, Infrared
Best Image Stabilized Binoculars for Birding
Jason Binoculars - Auto Focusing Binoculars
Digital Binoculars with Camera and Video Built-In
No More Binocular-Neck... Get a Harness!
Care & Repair
Spotting Scopes
Spotting Scopes 101 and Spotting Scope 102
Best Bird Watching Spotting Scopes
Our Favorite
Bird Watching Binoculars, Squirrel-Proof Feeder & Hummingbird Feeder
Read Our Reviews:

Nikon Monarch 5

Best mid-priced bird watching binoculars. Waterproof, shockproof, multi-coated ED-Glass.

Squirrel-Proof

No batteries, adjustable, easy to clean...and no squirrels!

"Best New Product" Award.

Bird Bath Heater

Keeps your bird baths ice-free down to -20 F. Low-operating costs ~$1/mo

Click Images or Links To View More Info
For the Latest Bird Watching News, Hot Birding Spots, Tips & More,
Subscribe to Our FREE Newsletter:
The Birder Alert!