Best Binoculars for Bird Watching from Economy to Best of the Best (2023)
Below are the top picks for the best binoculars for bird watching in 2023 by price range based on:
Image clarity
Weight
Field of view
Close focus
Overall quality
Price

And overall feel
We have summarized the best birding binoculars into price categories:
Economy
Mid-Priced
Top Affordable
Best of Best
Best for Eyeglass Wearers
If you can afford a little extra, the mid-price range bird watching binoculars, the Nikon Monarch's are your best bet considering performance, quality and price.
Jump to Best Binoculars in Each Category:
Economy (Under $200)
Mid-Priced ($200-$500)
Top-Affordable ($500-$1,000)
Best of the Best (Over $1000)
Best for Eyeglass Wearers (Binoculars with Longer Eye Relief)
Best Binoculars for Bird Watching by Price Range:
Best Economy Binoculars
(under $200)
For a low-priced or "cheap" pair of binoculars without compromising too much quality, you must go with the:
Nikon Action Extreme 7x35 ATB Binoculars
The 7x35 Nikon Action Extremes were the best quality binoculars in the economy group.
Features:
Exceptional Wide Field of View (FOV) - 429 feet!
BAK-4 Multilayer Coated Prisms
100% Waterproof/Fogproof Nitrogen Filled, O-Ring Sealed
Aspherical lenses eliminate virtually all distortion
Rubber Armoring/Non-Slip Grip and Shockproof for those of us who occasionally bang or drop our bins when we get excited seeing a new bird!
Low-priced - Now under $150!
So why are these cheaper than the Nikon Monarch's below in the mid-priced range?
These are porro prism binoculars whereas the Monarchs are roof prism which makes them a little more expensive (Porro vs Roof Prism Binocular Design).
The porro prism makes these binoculars a little more heavy, weighing 30.1 oz versus the Monarch's weight at 21.3 oz.
You can see the shape difference of the binocular housing itself by comparing the photos of each by following the above link.
So if you don't mind a little more weight and a slightly more bulky design, these are a great pair of cheap binoculars for bird watching.
→View All Nikon Action Extreme Binoculars
Can't beat the Nikon Action Extremes for the price and quality.
Well reviewed and a best seller at most binocular retail stores.
You can read more about the different sizes and reviews here on our page:
Nikon Action Binoculars Reviews
Again, one downside is these are porro prism binoculars that do weigh more than roof prism binoculars and are a little bulkier.
But since these are 7x35s they won't be as heavy and bulky as a pair of 10x50s.
I've used both porro and roof prism binoculars and do prefer roof when I'm doing a lot of walking/hiking and bird counts.
However, I don't mind a pair of porro prisms like the Nikon Action Extreme Binoculars especially when birding at locations that don't require a lot of walking and also take porros when I don't want to risk the chance of harming my more expensive roof prisms
Nikon Action Extremes at Optics Planet.
Check out the Monarchs below in the mid-price range if you want a more stream-lined set of birding binoculars with less weight.
Porro Prism vs Roof Prism Binoculars
Best Mid-Price Birding Binoculars
($200-$500)
For a mid-range priced of birding binoculars, you really cannot beat the:
Nikon Monarch M5 8x42 Binoculars
These are one of my favorite binoculars in this price range that I use regularly when birding and for general wildlife watching.
The 8x42 Nikon M5 Monarchs actually came in second place to the Katmai 6x32 in the mid-price class, but Cornell advised that the Monarch's are actually better binoculars for bird watching, the Katmai better for butterfly watching.
Features:
ED (Extra-Low Dispersion) Dialectric High-Reflective Multilayer Prism Coating for Bright, Crisp Images
Phase-Correction/Fully Multi-Coated Lenses
Wide 335 ft field of view
100% Waterproof/Fogproof/Shockproof
Lightweight and ergonomic construction for comfortable use - weighs only 22.2 ounces
Turn and slide multi-click rubber eyecups
Rubber Armored & Ulta-Rugged for Outdoor Use
Has features of other more expensive brand binoculars (Leupold, Bushnell, Steiner, etc.) priced over $500 - The Monarchs are under $300, best binoculars to for price if you don't want to spend over $1,000.
The M5 Monarch's are lightweight, waterproof, and very comfortable.
Many of the reviewers thought they were just as good as binoculars 2-3x more in price.
For all the above features which are usually found in more expensive binoculars, the Nikon Monarchs are one of the best birding binoculars around.
→View All Nikon Monarch Binoculars
Nikon Monarch M5 at Optics Planet
More Nikon Monarch Binocular Reviews:
This page has a comparison table and review of all Nikon Monarch Binoculars including:
Monarch 3
Monarch M5
Monarch M7
Monarch HG
Monarch X
Monarch 7
All ATB models
Our Monarch Binoculars Review:
I've tried lots of binoculars in all price ranges, but really do love the Nikon Monarchs for my field work doing bird counts as well as for any leisure birding outing.
Here's our more detailed personal Nikon Monarch M5 Review.
Bushnell Legend Ultra HD Binoculars a Close Second for Mid-Price
View the Bushnell Legend Ultra HD 10x42 Binoculars
As a close second choice in the mid-price category to the Monarch's, we think the Bushnell Legend Ultra HD Binoculars are one of the best in this category for birding binoculars, especially if you prefer the 10x magnification model.
Here is our Bushnell Binoculars Review that includes a comparison table with the Nikon Monarch's.
Top Affordable Binoculars for Birding
($500-$1,000)
By far the best choice in this category would be the Vortex Vipers.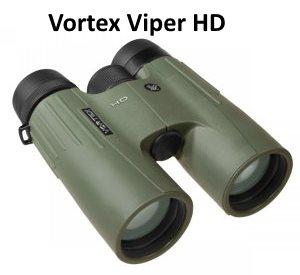 Features:
HD (High-Density), ED (Extra-Low) Dispersion Glass for bright, sharp images
Fully multi-coated, phase correction lenses
ArmorTek lens coating for scratch-resistance
Excellent close-focus of 5 feet (8x42s)
Waterproof and Fogproof
Durable, metal-reinforced twist-up eyecups
Locking diopter adjustment
Vortex VIP Warranty (Unlimited lifetime warranty - you don't even have to fill out a warranty card or have a receipt!)
View all Vortex Viper HD Binoculars
The Vortex HD Vipers come in several sizes, from 8x32 to various sizes in between up to 15x50.
We think either the 8x42 or the 10x50 models would be a great choice for bird watching.
If you want a lighter pair, get the 8x, if you want more magnification, get the 10x.
I personally like the 8x42s because of them being more lightweight and the magnification is plenty.
Vortex Viper HD at Optics Planet
Best of the Best: Most Expensive Binoculars
(over $1,000)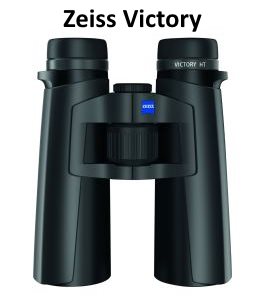 The Zeiss Victory SF 8x42 Binoculars scored the highest in the "Top Gun," best of the best category.
It scored the highest for overall quality, producing clear, bright, crisp, near perfect images.
SCHOTT fluoride glasses provide 92% light transmission for absolute color fidelity, brightness and clarity.
Impressive wide field of view of 148m/1000m makes it easier to spot birds.
If you can afford it, you can't go wrong with the Zeiss Victory SFs.
I remember the first time I picked them up how great they felt in my hands. And then when I viewed the first bird with them - Wow! How clear and brilliant!
View the Zeiss Victory SF 8x42
Swarovski EL Binoculars
For top of the line, spare-no-expense, the Swarovski 10x42 EL SwaroVision Binoculars are a birder's dream come true.
If you want to splurge on high quality binoculars, you won't be disappointed with these Swarovskis.
Features:
SWAROTOP anti-reflective coatings, SWARODUR scratch-resistant coatings and SWAROBRIGHT mirror prism coatings for ultimate brightness, contrast and natural color, especially at dusk.
Fluoride containing HD glass allows for the truest possible color.
Redesigned smooth and tolerance-free focus mechanism
Extremely durable and lightweight housing of magnesium alloy, an aerospace material.
Unique, wrap-around grip. Non-slip rubber armoring, which is comfortable to handle even in cold weather.
I borrowed a pair from one of my colleagues for the day and was at first terrified when I was crossing a creek with them knowing their cost...Don't fall! :-)
But then after using them all day, I didn't want to give them back! The colors, brightness, clarity, and effortless, quick focus wheel was all very impressive.
View the Swarovski EL Binoculars
Other Top Expensive Bird Watching Binoculars
In addition to the Zeiss Victory, other honorable mentions include the Swarovski EL (reviewed above) and SLC models, Leica Trinovid and Geovid HD, and Nikon EDG binoculars.
You may also want to take a look at our more detailed Swarovski SLC HD Binoculars Review.
Best Binoculars for Eyeglass Wearers
The best binoculars for eyeglass wearers are those with an eye relief of at least:
14-15mm for those that wear thin eye glasses
16-18mm of eye relief for thick eye glasses
Here are some binoculars that have long eye relief for eyeglass wearers by price range (under $500, under $275, under $200) and magnification (8x and 10x):
Best Binoculars for Eyeglass Wearers Under $500:
View the Vortex Optics Viper HD
8x42 (18mm)
10x42 (17mm)
Best Binoculars for Eyeglass Wearers Under $275:
8x42 (19.5mm)
10x42 (18.4mm)
Here's more about the M5 and M7 models on our Nikon Monarch Reviews page.
Best Binoculars for Eyeglass Wearers Under $200:
8x42 (17.5mm)
The Celestron 10x42 model only has an eye relief of 14mm which would be okay if you wear thin eyeglasses...
Otherwise, if you wear thicker glasses and want more magnification than the 8x42s, I would suggest getting the 10x50 model which has a better eye relief of 17.5mm.
But also note that the 10x50s vs the 10x42s will weigh a little more and be slightly more bulky with the larger objective lens.
Learn More About Choosing Binoculars for Bird Watching
Bird Watching Binoculars 101
Learn how to choose the best binoculars for bird watching. Learn more about binoculars and their features before making a purchase.
Birding Spotting Scopes 101
Learn about the different features of spotting scopes and which are best for birding.
For additional information about the ratings, go to Cornell's picks of the best binoculars for bird watching.
Binocular Magnification Explained
Which bincocular magnification is best?
7x or 8x or 10x or higher?
You would assume a higher magnification would be best, but not always.
Watch the video below to better understand what magnification is best for different birding and wildlife viewing situations.
More Reviews of Favorite Birding Binoculars
Bushnell Legend Ultra HD 10x42 Binoculars - Another good choice in the mid-price range, especially if you want the 10x magnification.
Nikon Monarch Binoculars - Comparison of All Monarch Models
Budget Nikon Action Binoculars - Comparison of Models
Best Birding Binoculars - Our picks in 3 price ranges.
Best 7x50, 10x50, and 8x42 Binoculars
Best 8x42 Binoculars - best size for a variety of birding situations.
Best 7x50 Binoculars - best size a wide field of view, low light conditions, marine use, easier to hold steady than higher magnification binoculars
Best 10x50 Binoculars - best size for birding at long distances in more open habitats and when more magnified detail is needed
Types of Binoculars: Image Stabilized, Jason, Mini, Kids, Zoom, Digital, Infrared, High Power, Rangefinder
Best Image Stabilized Binoculars for Birding - helps eliminate the blur/shake from trying to hold binoculars in your hands, especially at higher magnifications
Jason Binoculars - Auto Focusing Binoculars - automatically focuses the birds in your view without having to use a knob or lever
Best Mini Binoculars - compact binoculars for travel use and when you don't want to carry heavier full-size binoculars
Best Zoom Binoculars - adjustable magnification by zooming in and out (i.e., 10x-20x) instead of having a fixed magnification
Best Rangefinder Binoculars - combination of a rangerfinder and binocular in one
Digital Binoculars with Camera and Video Built-In - take digital photos and videos using binoculars (camera and binocular combination)
Infrared Binoculars - night vision binoculars for low light (dawn and dusk) and evening use
High Power Binoculars - binoculars with higher magnifications, 12x-100x
Binoculars for Kids - best binoculars for kids to use by age
Best Marine Binoculars - binoculars with compasses, range-finding reticles,and submersible protection
Best Cheap Binoculars - budget binoculars that aren't uselessly cheap
No More Binocular-Neck... Get a Harness!
Binocular Harness - reduces strain on your neck by distribuing the weight
Binocular Tripod Adapter
Binocular Tripod Mount - mount your binoculars to a tripod for more stability
Care & Repair
Binocular Care - how to clean and take care of your binoculars for longevity
Nikon Binoculars Repair - how to get warranty repair and replacement for your Nikon Binoculars
Spotting Scopes
Best Bird Watching Spotting Scopes - how to choose birding spotting scopes
Choosing binoculars for bird watching - Audubon guide for choosing binoculars
Bird Watching Binoculars FAQs
What is the best magnification for binoculars for bird watching?
That depends.
You can choose either 7x, 8x or 10x magnification.
Choose 10x if most of your bird watching is long distance, such as viewing shorebirds or raptors in open areas, or on an open-plain safari where there is more light.
Choose 8x if doing more shorter distance birding such as in forests, or you will be taking binoculars on longer hikes - 8x will weigh less.
For all around birding, I prefer 8x binoculars.
The only 7x binocular I would recommend is the Nikon Action 7x35 Binoculars which have a porro prism design.
8x are easier for beginners to use when trying to locate birds since they typically have a wider field of view than a 10x binocular.
Often people ask, are 10x42 binoculars better than 8x42?
No, not necessarily.
What does 8x42 mean in binoculars?
8 is the magnification strength. 42 is the objective lens diameter measured in millimeters.
If the objective lens aperature is too small relative to the magnification, images will be less bright and more difficult to locate because of the narrow field of view.
What should I look for when buying binoculars?
Choose your magnification, match it with a large enough objective lens size for brightness and field of view, get at least multi-coated or fully multi-coated lenses with BaK4 prisms or better, note the eye relief especially if you wear glasses, a wider field of view makes it easier to locate birds, decide if you need waterproofing, and if weight matters when carrying on longer walks.
What are the best cheap binoculars?
You never want get too cheap binoculars or else you'd be better off without them. One of the best lower priced binoculars are the 7x35 Nikon Action Binocular line which come in an ATB model that is waterproof and has rubber armoring.
Also take a look at our Best Cheap Binoculars Reviews page
What is a good field of view for binoculars?
The field of view (FOV) of binoculars is the width of the area that you can see through the binoculars at 1,000 yards.
For most bird watching or wildlife observation, a field of view of 6-7 degrees or more is considered good.
You can multiply the degrees by 52.5 (the number of feet in 1 degree at 1,000 yards) to calculate the width in feet.
So 6-7 degrees would be a FOV of 315-367 feet at 1,000 yards.
For concerts and sporting events, a FOV of 5-6 degrees would usually be wide enough.
Should I get 8x or 10x Binoculars?
Which is better - 10x42 or 8x42 binoculars?
Our Favorite
Bird Watching Binoculars, Squirrel-Proof Feeder & Hummingbird Feeder
Read Our Reviews:

Nikon Monarch M5

Best mid-priced bird watching binoculars. Waterproof, shockproof, multi-coated ED-Glass.

Squirrel-Proof

No batteries, adjustable, easy to clean...and no squirrels!

"Best New Product" Award.

Click Images or Links To View More Info
For the Latest Bird Watching News, Hot Birding Spots, Tips & More,
Subscribe to Our FREE Newsletter:
The Birder Alert!