Easy Bird Feeder Plans for All Types of Feeders
We've found that it's difficult to find free bird feeder plans all in one place, so we've searched the net and did it for you as well as include our own plans for a hopper feeder. Enjoy!
Choose the feeder that fits best with the kind of birds you wish to attract. Remember to use squirrel baffles when mounting feeders on poles as well as from above.
Hopper Bird Feeder Plans
Hopper bird feeders will attract a wide variety of birds, from chickadees to jays. It is an excellent feeder for black oil sunflower seeds.
This type of feeder is self-refilling, letting out a small quantity of seed at a time as the birds eat. The hopper has walls and a roof, to keep the seed dry, and small openings at the bottom, where a small portion of the seed can spill out from the main container onto a tray.
Here are Free Bird Feeder Plans for the pictured hopper-style, wooden bird feeder on the left with detailed instructions. We built this feeder years ago and never had any problems with it and most importantly, the birds love it!
Below is a quick overview of building a hopper bird feeder from wood with plexi-glass windows.
Platform bird feeders will attract the widest variety of birds because it's basically an open tray that doesn't restrict birds, big or small, from eating.
This can be a pro and a con at the same time depending on the types of birds in your neighborhood. For example, if starlings, blackbirds, pigeons, etc. take over your feeder and keep out the smaller songbirds, you may not necessarily want to put up this type of feeder.
Click on photos for platform feeder plans.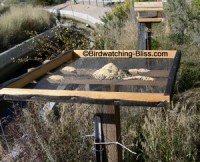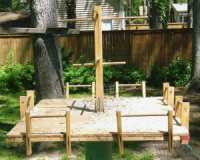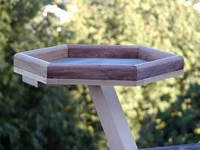 A nice addition to the basic design would be a roof or canopy to keep seeds dry. There should also be enough drainage holes to prevent water accumulation and subsequent mold and mildew growth. Here are platform bird feeders for sale.
Tube Bird Feeders

Tube bird feeders are cylindrical tubes that cater to smaller birds with its multiple feeding stations and smaller perches.
If you remove the perches, you can restrict the feeder to only those birds that can easily cling - finches, chickadees, titmice and woodpeckers.
Or if you prefer more variety, bottom trays attached to the tube will allow larger birds to land and feed. It is excellent feeder for black oil sunflower seeds and special variation can have tiny seed ports for thistle feeding.
You can also make a simple gravity-fed, tube feeder from plastic soda bottles, bleach bottles, etc. as shown in the video further below. Here are also some of the best rated
Suet Feeders
Suet is a high energy food made from animal fat. Suet feeders are mesh containers which hold suet blocks and allows "clinging" birds to feed through holes.
They will attract woodpeckers, chickadees, nuthatches, kinglets, cardinals, and creepers.
If starlings are a problem at your suet feeder, discourage them by using a suet feeder with access only from the bottom. Starlings are reluctant to perch upside down.
Chickadees and woodpeckers don't find that to be a problem.
click on photos for suet feeder plans
Make Your Own Hummingbird Feeders
Hummingbird feeders are a real favorite for attracting the color, speed, and aerial acrobatics of this small but fascinating bird. They are inverted containers filled with nectar, or sugar water, that is dispensed through tiny holes. Construct feeders that are easy to clean because mold & fermentation will occur inside the feeder as quickly as 3-4 days.
click on photos for humminbird feeder plans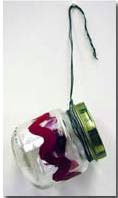 Feeders made from Household & Natural Items
For nearly no expense, you can build feeders from items found in or outside your house!
Below is a video demonstration to build a simple feeder.
Bleach Bottle Bird Feeder Demo
And here are additional plans for making feeders from a mayonnaise jar, pinecone and milk carton: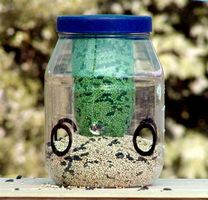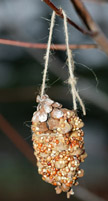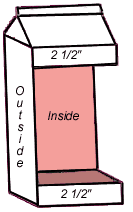 Hope you've enjoyed this page of bird feeder plans and we wish you all the best in attracting lots of birds with your new feeder!
If possible, try to place your feeder where squirrels cannot access them from above or where they are unable to jump to them...otherwise, without protection, you've just built a squirrel feeder as well!
And be sure to install a squirrel baffle either above or below your bird feeders depending upon if they are hung from a branch or mounted on a pole.
If you are finding it too difficult to keep away the squirrels from your bird feeders, here are some free squirrel feeder plans to make everyone happy! Fed separately, but equally sometimes will solve the problem.
Free Bird Feeder Plans Main Page
Bird Feeders - Best bird feeders by type.
Best Squirrel Proof Bird Feeder Voted by Birders
Wild Bird Food - What do Birds Prefer?
Our Favorite
Bird Watching Binoculars, Squirrel-Proof Feeder & Hummingbird Feeder
Read Our Reviews:

Nikon Monarch 5

Best mid-priced bird watching binoculars. Waterproof, shockproof, multi-coated ED-Glass.

Squirrel-Proof

No batteries, adjustable, easy to clean...and no squirrels!

"Best New Product" Award.

Click Images or Links To View More Info
For the Latest Bird Watching News, Hot Birding Spots, Tips & More,
Subscribe to Our FREE Newsletter:
The Birder Alert!