How To Choose A
Bird Watching Spotting Scope
Part II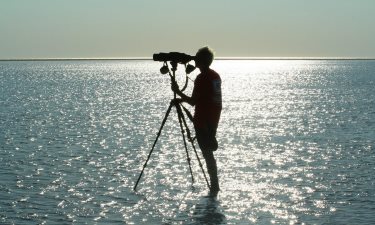 Here is our continuing discussion of bird watching spotting scope features and how to choose a scope.
Spotting Scopes Part I discusses magnification, objective lens, exit pupil, eyepieces, field of view and optical design.
This page discusses body design, eye relief, focus mechanism, close focus, weather proofing, and glass composition to help you choose a spotting scope.
---
You can also skip to our review page to view the top 6 spotting scope picks by price range here:
--> Best Bird Watching Spotting Scopes (2021)
---
There are two basic body designs of refractor spotting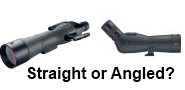 scopes: straight and angled.
Straight scopes have the barrel and eyepiece aligned with each other, angled scopes have the eyepiece offset 45 or 90 degrees from the barrel. There are pros and cons for both.
Personally, we like the straight design.
It's easier to follow birds that are moving and because we often use our spotting scope from inside the car with a window mount, a straight scope is not a problem. Many people fine the straight line of sight is easier for accurate aiming.
A straight design is also easier to use from an elevated position. For example, viewing your backyard birds from a second-story deck.
On the other hand, if you are tall or do a lot of birding with groups, or most of your viewing is above the horizon (looking at cliffs, viewing soaring raptors, birds on tree-tops) than perhaps an angled design would be a better choice.
It all depends how you want to use your spotting scope.
An angled scope can be shared easier than a straight scope because more people of different heights can comfortable look into the scope without adjusting the height.
Think about how you will most often be using your spotting scope. This will help you decide which design best suits your needs.
There are 3 basic focusing mechanism designs: single knob, double knob, and helical.
If you can, try different mechanisms and see which one works best for you. If you can't, then choose a knob focuser which is generally preferred for bird watching and nature viewing.
| | | |
| --- | --- | --- |
| Single | Double Knob | Helical |
| Most common, slow but precise, not as accurate with fine focus | 2 drive knobs. One knob gives fast coarse focus, other knob gives precision fine focus | Slower on coarse focus, better fine focus control, works well for observing objects that are quickly changing distances, near to far |
| Used by: Bushnell, Kowa, Pentax, Bausch & Lomb, Swift and Zeiss | Used by: Leica | Used by: Swarovski and Nikon |
There are also rack & pinion designs which are commonly found on astronomical telescopes and usually offer fairly fast, smooth focusing, but most components are external and subject to potential deterioration from dust and moisture over time.
Color aberration is sometimes noticeable with refractor scopes.
Also light transmission can be increased by reducing reflections. This can be mostly eliminated with the right kind of glass and coatings.
Look for scopes with ED (extra-low dispersion) FL (Fluorite) HD (High Density) and/or APO (apochromatic) glass.
These elements will provide you with an image of higher clarity, detail, and sharpness which in turn will reduce eyestrain.
Of coarse scopes with these extras add extra cost. Another factor to weigh, but you'll be paying the cost in frustration when you can't see those details on that special bird on an overcast (low-light) day.
Spend the extra money on your spotting scope, save by making coffee at home, renting movies, skip the fast-food, make your own x-mas or birthday presents. Not eating french-fries for a month may buy you the feathered look of a lifetime!
Unless your scope is going to reside inside your home, weather proofing is not an option. You never know when that rain cloud will just pop-up out of nowhere.
Look for scopes with waterproof and fogproof (nitrogen/dry gas filled) designations.
Rubber armoring is also a nice addition. It provides protection against abrasive materials, corrosion and helps cushion the scope against unexpected impacts (oops!).
It also makes it more easier and comfortable to handle in cold, wet weather.
Eye relief is an important feature on for eyeglass wearers.
It is the distance in millimeters between the eyepiece of the spotting scope and your eye that still allows you to see a complete field of view image in focus.
As an eyeglass wearer your eye is further away from the spotting scope eyepiece, which means a longer eye relief is needed in order to see the entire field of view.
For most eyeglass wearers, an eye relief between 12-15mm will be adequate.
Without adequate eye relief, you won't get a complete field of view and find you'll need to remove your glasses in order to see the image properly.
So long eye relief promises full field viewing with eyeglasses.
As mentioned previously in the eyepiece section, there are eyepieces specifically made with long eye relief. You may also want to select eyepieces that have folding or rollback eyecups so you can get your eyes closer.
Close or near focus is the distance between the scope and the nearest object you can focus on, while maintaining a good image and sharp focus.
In general, as magnification increases, the minimum close focal distance also increases. So scopes will typically have longer close focus ranges than binoculars.
For bird watching, a short close focus is beneficial for seeing details of a bird that has landed up-close to your scope.
It is also better for taking photographs (see digiscoping). So if this is important to you, selecting a scope with a close distance of 15ft or less would be optimal.
Summary:
Get a lightweight, strong & sturdy scope.
If it's not lightweight, it will be uncomfortable to carry around.
And if it's not well built with strong housing, the first time it gets bumped when you're frantically grabbing it from your back seat to see that lifetime peep (a.k.a sandpiper), you may be very disappointed when the focus doesn't focus.
You get what you pay for - so don't go cheap. Cheeps are for the birds.
So as with anything else, weigh the cost against the benefits, and get the best spotting cope you can afford.
If you can't afford a Swarovski, Leica or Zeiss (top-end, most expensive manufacturers) then look at others such as Kowa, Nikon or Pentax which can have just as good designs, but be significantly lower priced.
And don't forget to leave money in your budget for a sturdy tripod to support your scope, otherwise it's like putting a Mercedes on golf cart tires.
Spotting Scope Basics
Hope you've enjoyed this review of spotting scope basics and we wish you the best in finding that perfect scope.
Best Bird Watching Spotting Scopes
Digiscoping - Photography with spotting scopes
How to Choose Bird Watching Binoculars
Binocular Reviews
Best Binoculars for Bird Watching
Nikon Monarch Binoculars ATB 8x42 Review
Swarovski SLC HD Binoculars Review
Budget Nikon Action Binoculars
Types of Binoculars
Jason Binoculars - Auto Focusing Binoculars
Binocular Repair and Care
Binocular Accessories
Return to Top of Spotting Scope Part II
Photo of birder looking through spotting scope (top) courtesy of Luís Estrela.
Our Favorite
Bird Watching Binoculars, Squirrel-Proof Feeder & Hummingbird Feeder
Read Our Reviews:

Nikon Monarch 5

Best mid-priced bird watching binoculars. Waterproof, shockproof, multi-coated ED-Glass.

Squirrel-Proof

No batteries, adjustable, easy to clean...and no squirrels!

"Best New Product" Award.

Click Images or Links To View More Info
For the Latest Bird Watching News, Hot Birding Spots, Tips & More,
Subscribe to Our FREE Newsletter:
The Birder Alert!