Best Bird Watching Spotting Scopes 2021
Below are considered some of the best bird watching spotting scopes for 2021 by price range.
Don't Get a Birding Spotting Scope for Less Than $100!
Just one thing before we proceed...I plead with you not to buy a spotting scope for birding that is priced less than $100.
They will cause you eye strain and even worse, severe frustration.
Cheap scopes may be good for looking at an elephant 100 yards away or to see your 22 cal bullet holes in your paper target at the range, but they are not made for bird watching.
You're better off just looking through your binoculars than using such a scope.
One exception would be for someone who just wants to look at backyard birds from their deck and/or take photos of them and doesn't want to hold binoculars.
Good. Now that I got that off my chest, we can proceed.
If you want to learn more about choosing spotting scopes for birding and their features, first go to Spotting Scopes, Part I.
Straight or Angled?
Most of the scopes listed below come in both angled and straight models.
Its up to you and the kind of viewing you mostly do.
Click here for reviewing the pros and cons of Angled or Straight bird watching spotting scopes.
Also, most scope models are available in several different objective lens sizes. It all depends on your personal needs.
Click here to review objective lens sizes for bird watching spotting scopes.
Best Super-Budget Scope (Under $200)
Celestron 80mm Ultima Zoom Spotting Scope
The Celestron Ultima Zoom Spotting Scope is an refractor-style scope with an 80mm objective lens with built-in zoom from 20x-60x.
It comes in both straight and angled designs (see all listings below).
If you want an entry-level scope, this is a very good choice.
The only drawback is that the scope does not have the more expensive ED glass which helps prevent blue fringing at the higher magnification.
Multi-coated optics
Waterproof
Eyecup can be removed to attach a camera on standard T-Thread
45 degree angled eyepiece supports shorter tripod if needed
Lightweight at 3.6 pounds
Comes with padded carrying case that has access zippers on both ends of scope so you can use the scope without removing the case
The Celestron Ultima also has other options available such as a 65mm (cheaper) and 100mm (more expensive) objective lens and also comes in both angled and straight models for each of the sizes.
Objective Lens Size
The bigger the objective lens, the greater the light-gathering capacity of the scope, but it also increases the weight.
If you do a lot of low-light birding (i.e., at dawn and dusk, in cloudy locations, etc.) then you may want to get the 100mm size.
But for most conditions, the 80mm will be plenty. We wouldn't recommend getting the 65mm in this scope since this is a lower-end scope without premium optics.
Also, Celestron states "The Ultima 80 mm offers a step up in aperture from the 65 mm, offering 50% brighter images." 50% is quite significant and I think worth the extra cost.
You can review more about objective lens sizes here.
And again, if you're not sure if you want a straight or angled scope, read our quick tips here about choosing scope body design.
Customer Review:
"I bought this scope for birding and occasionally for star gazing. I have been VERY pleased with it so far. The quality is really fantastic for the price. I have been very pleased and would recommend this scope to any birder on a budget." -Birdie Haynes
Here are all the Celestron Ultima model choices in angled and straight bodies with either the 80mm or 100mm objective lens.
Best Budget Scope (Under $500)
Vortex Diamondback 20-60x80 Spotting Scope
The Diamondback is an exceptional scope at this price point. It is Vortex's lowest-price model compared to the Viper HD and Razor HD spotting scopes.
The Vortex Diamondback line comes in both straight and angled models in both 60 mm and 80 mm objective lens sizes.
It is a full-sized scope in a compact design, weighing less than most spotting scopes in this size at only 33.8 oz and 47.1 oz for the 60 mm and 80 mm lenses, respectively.
We recommend the 80mm lens which will always give you that added brightness edge, especially valued in low-light conditions.
And not for nothing, we really love the view-through case that actually is easy to use and view-through because of its generous-fitting design.
Full XR multicoated optics
Dielectric prism coatings for improved brightness
ArmorTek scratch-resistant coating
O-ring sealed and nitrogen-purged - waterproof and fogproof
Customer Review:

"I purchased the Vortex Diamond back 20-60x80 spotting scope after comparing to other high end glass and I have no regrets.

It has performed as expected and love the brightness due to the 80mm objective lens."
We also love Vortex's Warranty:
~Vortex VIP Warranty~

Lifetime. Unlimited. Unconditional.

Vortex will repair or replace the product in the event it becomes damaged or defective.

Absolutely free—no matter the cause!
Vanguard Endeavor HD 20-60x65mm Spotting Scope
The Vanguard Endeavor HD Spotting Scope is an amazing bird watching scope for its size and price in the under $500 price range.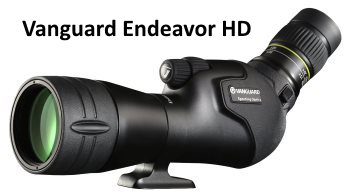 Birders have been impressed with this one and love that it's light and compact for on-the-go birding adventures.
Features include:
ED Extra-Low dispersion glass virtually eliminates color fringing
Fully multi-coated optical system with improved coatings gives high light transmission rate
Rubber armored magnesium housing for lightweight and durability
Retractable sunshade with peep sight
Eyepiece and deluxe scope coat included
Fully waterproof (submersible) and fog proof - nitrogen filled body & eyepiece
Phase coated Bak4 prisms for high resolution
Detachable eyepiece with 20-60x zoom with retractable eyecup and up to 20mm of eye relief
Available digiscoping adapter allows use of the scope as a super telephoto lens
65mm or 82mm Objective Lens?
The Vanguard Endeavor comes in both 65mm and 82mm sizes.
Unless you plan to do a lot of digiscoping or will often be in low-light conditions, we think the 65mm objective lens is suitable for most birding situations, especially with the ED and multi-coated glass.
This smaller lens and resulting lighter weight will also be appreciated by those who plan to carry it a lot.
Customer Review:
"This is a great scope for amateur and pro-birders alike. The construction is solid and the design is awesome for the price. You can easily spend twice the amount for a scope and still not get all of the features this one has. I normally post a Pro/ Con list, but I can't find any cons!

Here are the Pros:
- Solid quality optics
- Custom protective carrying case
- Option for DSLR mounting
- Ruggedly built

I would easily recommend this scope to anyone looking for an entry to mid level scope for birding." -Myoho
--> View the Vanguard Endeavor HD Scope
Best Semi-Budget Scope ($500-$1,000)
Celestron Regal M2 20-60x80ED Spotting Scope
If you can afford a $500+ scope, the Celestron Regal M2 80ED Spotting Scope is well worth the investment with ED glass, XLT multi-coated optics, and a magnesium alloy lightweight, yet very durable body.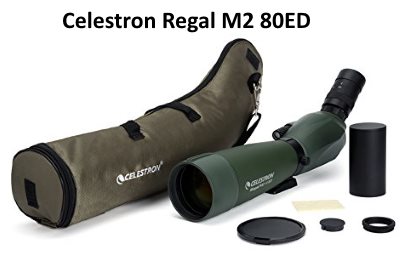 Extra-Low Dispersion (ED) glass minimizes chromatic aberration, increases resolution and contrast, and provides color fidelity
Proprietary XLT (Fully Mulit-Coated) lens coatings maximize light transmission for bright, sharp images
Magnesium allow body - lightweight yet strong - decreases overall weight by 14% compared to previous model
Fully waterproof and nitrogen purged to prevent fogging
Upgraded dual focus mechanism - can focus on objects 2x faster
T-Ring and T-Adapter for attaching your camera for digiscoping
Celestron Regal M2 80ED Spotting Scope Overview
Customer Review:
"I am an avid birder and have been looking for a scope for a few years now. I finally decided to look through some scopes and do my due diligence on finding a great scope at a great price. This was not an easy task.

Fortunately for me I live close to Cape May point where many birders come from all over the world. This enabled me to talk to many people about their scopes and actually look through many of them, which if you have been looking for a scope you know this is not an easy thing to do...

The hawk watch is sponsored by Swarovski so this enabled be to look through the top of the line scopes of the birding world. They were very nice, but was not willing to spend $2,500 or more on a scope. This is where I saw someone with a Celestron scope who was more than happy to let me use it for a couple of minutes.

I couldn't believe how bright and crisp the image was even a higher magnification ( even compared to the Swarovski) and when I was told what the price tag was I was sold. So I went home did more research and discovered this scope has great reviews and is priced quite nicely." -JerseyJeff
--> View the Celestron Regal MD 80ED Spotting Scope
Best Mid-Priced Scope ($1,000-$2,000)
Vortex 20-60x85 Razor HD Spotting Scope
The Vortex 20-60x85 Razor HD Angled Spotting Scope is a high-quality bird watching spotting scope and an excellent value at that in this price range.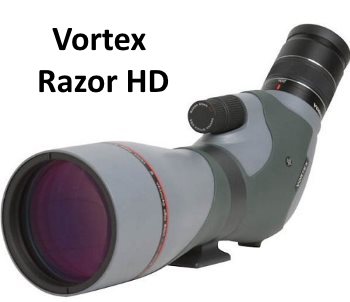 Premium Extra-Low Dispersion (ED) glass for exceptional viewing in low light conditions.
Ultra-hard coated Armor Tek protects exterior lenses from scratches, oil and dirt
Dielectric prism coatings provide the clearest, brightest, most color-accurate images
Proprietary XR anti-reflective coatings increase light transmissions for maximum brightness
Triplet apochromatic lens reduces chromatic aberration.
Porro prism offers maximum image quality and performance
Waterproof O-ring sealed optics keeps out dust and debris
Fogproof - argon gas purged
Customer Review:
"I'm glad I bought this scope. The larger size (85mm) does noticeably make things brighter, which is significant for some in lowlight, but for me it's more significant in telling feather differences on birds...

Would I recommend it? Definitely. Bright, clear, less expensive, easy to use." -Randy Given
--> View the Vortex Razor HD Scope
Best of the Best Bird Watching Spotting Scope (over $2,000)
Kowa TSN-800 Series Prominar Pure Fluorite Spotting Scope
The Kowa TSN-800 Series is one of the best bird watching spotting scopes money can buy.
The TSN-883 is the angled body model, TSN-884 is the straight body model.
Crystal clear clarity from Kowa's unique Prominar pure fluorite crystal lenses is just the beginning.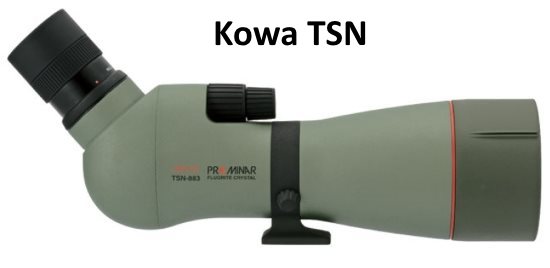 The combination of the ultra-low dispersion pure fluorite crystal paired with a concave lens provides stunningly bright razor sharp images, minimizing chromatic aberrations (color fringing), image fuzziness and extended twilight and low light performance
Dual Focus: Quick & Fine focusing. Quick will focus from infinity to five meters in 2 revolutions. Fine is smooth with pinpoint accuracy for high magnification adjustments and for digiscoping
Lightweight, compact design - the highly achromatized objective lens makes the scope as compact a 60mm scope without sacrificing performance
Waterproof to JIS 7 protection class 7 (protects against effects of temporary immersion in water - aka, "Oops!" protection) and nitrogen purged to prevent fogging
3 eyepieces available: TE-11WZ (25-60x, wide zoom), TE-17W (30x, wide) TE-20H (25x, LER - long eye relief). There is an eyepiece locking mechanism to prevent accidental release. Note that the TE-11WZ has replaced the older TE-10Z (20-60x, zoom) model.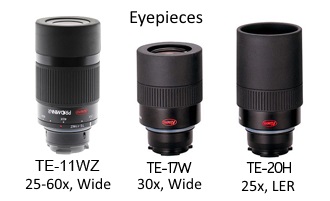 Kowa TSN-883 (Angled) and TSN-884 (Straight) Spotting Scopes Overview
Kowa TE-11WZ (25-60x, wide zoom) Eyepiece (Replaced TE-10Z)
Digiscoping with the Kowa TSN-883 Spotting Scope and TE-11WZ 25-60x Wide Angle Eyepiece
The stills and video below were shot using a Panasonic GH4 Micro Four Thirds 4K Camera.
The Kowa TSN-DA10 Micro Four Thirds Digiscoping System
The Kowa TSN-DA10 digiscoping adapter is made for Micro Four Thirds camera system bodies and Micro Four Third compact lenses up to 25mm focal length (full size) (50mm MFT equivalent) and can be combined with the Kowa TE-11WZ eyepiece.
Set-up is simple (takes less than a minute) and you can easily switch between landscape and portrait positioning as well as quickly slide the adapter off for normal observation.
The DA10 fits lenses with a 43mm filter thread. If your lens has a different size filter – simply add one of our adapter rings - AR28/30/30.5/37/43/46/52/55/58/62/72mm between your lens and the DA10.
All camera functions remain including camera lens auto-focus and focus peaking.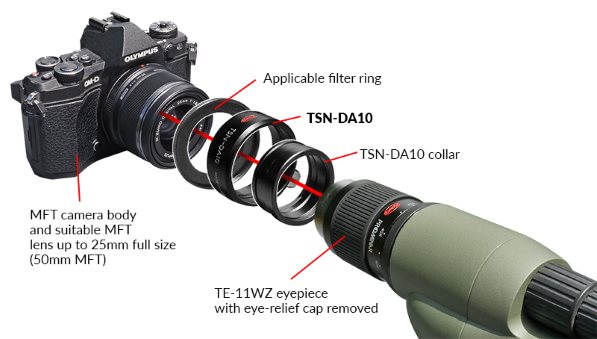 Digiscoping with the Kowa TSN-883 Spotting Scope and iPhone 6S 4K Video
Even an iPhone delivers stunning footage and photographs through the Kowa-TSN 883.
Kowa TSN-800 Series Cost: $$$....
Seeing your life-bird as a crystal-clear, razor-sharp image, even in low light... Priceless!
--> View the Kowa-TSN 883/884 Prominar Spotting Scope
Recap
Below in the product widget are all of the best bird watching spotting scopes in the 5 price ranges: Super-Budget, Budget, Semi-Budget, Mid-Priced and Best of the Best.
We also listed the Nikon Prostaff 5 Proscope 20-60x82 in the Semi-Budget range as a good second choice in that category. We have found that Amazon typically has the best prices, including shipping which is usually free.
Our overall advice: Buy the best spotting scope you can afford.
Learn how to choose the best birding spotting scopes and spotting scope features.
Digiscoping - Photography with spotting scopes
How to Choose Bird Watching Binoculars
Best Binoculars for Bird Watching
Types of Binoculars
High Power Binoculars - sometimes can be used as an alternative to spotting scopes if used with a tripod or monopod.
Jason Binoculars - Auto Focusing Binoculars
Cornell's Review of Birding Spotting Scopes
---
***NOTE: The Alpen Scopes are no longer available due to the company going out of business.***
→Our new pick in this price range is the Vortex Diamondback 20-60x80 Spotting Scope as noted above.
Or jump to the Semi-Budget Spotting Scope category.
---
Bird Watching Spotting Scopes FAQs
Is an Angled or Straight Spotting Scope Better?
It depends how you will primarily be using your spotting scope. If you will be using your scope to spot things above the horizon, then looking into an angled cope will be more accomodating. It's also easier for groups of people of varying heights to use an angled scope. However, a straight spotting scope can be easier to spot and follow moving objects and to use from an elevated position or when mounted on a car window. Angled vs straight spotting scopes.
What do Spotting Scope Numbers Mean?
A 20-60x80 spotting scope has a magnification range between 20-60 with a 80mm objective lens. Larger spotting scope objective lenses provide more light, but will be heavier and more expensive.
How Do I Choose a Spotting Scope?
In deciding how to choose a spotting scope, you should consider magnification, objective lens and exit pupil size, eyepieces, FOV, optical and body design, eye relief, focus mechanism, close focus distance, glass/prism quality, and weatherproofness.
Are Spotting Scopes Better than Binoculars?
No, they serve different functions. Simply, if you want to see details on birds or other wildlife or any types of objects from a long distance, especially in low-light conditions, a spotting scope will give you an advantage over binoculars, unless you use high-powered binoculars that are either image-stabilized or with a tripod to help provide a steady image.
How do I choose a spotting scope for birding?
Get a bird watching spotting scope that has at least an objective lens size of 60mm which will allow enough light to enter the scope, especially during low-light conditions. If you want to take photos through your scope (Digiscoping), you may want a bigger ojective lense (85mm and up). Most birders like a variable zoom lens (i.e., 20-60) vs a fixed magnification.
Best travel scope for birding?
If you are looking to get a more compact spotting scope for birding while traveling, the Celestron Hummingbird 9-27x56mm ED Micro Spotting Scope is a good choice weighing only 1.43 pounds and small enough to be carried in a coat pocket.
Our Favorite
Bird Watching Binoculars, Squirrel-Proof Feeder & Hummingbird Feeder
Read Our Reviews:

Nikon Monarch 5

Best mid-priced bird watching binoculars. Waterproof, shockproof, multi-coated ED-Glass.

Squirrel-Proof

No batteries, adjustable, easy to clean...and no squirrels!

"Best New Product" Award.

Click Images or Links To View More Info
For the Latest Bird Watching News, Hot Birding Spots, Tips & More,
Subscribe to Our FREE Newsletter:
The Birder Alert!