Best Spotting Scopes for Birding and Wildlife (2023)
Below we review the best spotting scopes for birding and wildlife viewing for 2023 by price range:
Super-Budget (Under $200)
Budget (Under $500)
Semi-Budget ($500-$1,000)
Mid-Priced ($1,000-$2,000)
Best of the Best (over $2,000)
Don't Get a Spotting Spotting Scope for Less Than $100!
Just one thing before we proceed...
I plead with you not to buy a spotting scope for birding/wildlife viewing that is priced less than $100.
They will cause you eye strain and even worse, severe frustration.
Cheap scopes may be good for looking at an elephant 100 yards away or to see your 22 cal bullet holes in your paper target at the range, but they are not made for bird watching.
You're better off just looking through your binoculars than using such a scope.
One exception would be for someone who just wants to look at backyard birds from their deck and/or take photos of them and doesn't want to hold binoculars.
Good. Now that I got that off my chest, we can proceed.
Straight or Angled?
Most of the scopes listed below come in both angled and straight models.
Its up to you and the kind of viewing you mostly do.
Click here for reviewing the pros and cons of Angled or Straight bird watching spotting scopes.
Also, most scope models are available in several different objective lens sizes. It all depends on your personal needs.
Click here to review objective lens sizes for bird watching spotting scopes.
Best Super-Budget Spotting Scope (Under $200)
Celestron 80mm Ultima Zoom Spotting Scope
The Celestron Ultima Zoom Spotting Scope is an refractor-style scope with an 80mm objective lens with built-in zoom from 20x-60x.
It comes in both straight and angled designs (see all listings below).
If you want an entry-level scope, this is a very good choice.
The only drawback is that the scope does not have the more expensive ED glass which helps prevent blue fringing at the higher magnification.
Multi-coated optics
Waterproof
Eyecup can be removed to attach a camera on standard T-Thread
45 degree angled eyepiece supports shorter tripod if needed
Lightweight at 3.6 pounds
Comes with padded carrying case that has access zippers on both ends of scope so you can use the scope without removing the case
The Celestron Ultima also has other options available such as a 65mm (cheaper) and 100mm (more expensive) objective lens and also comes in both angled and straight models for each of the sizes.
Celestron Ultima Objective Lens Size
The bigger the objective lens, the greater the light-gathering capacity of the scope, but it also increases the weight.
If you do a lot of low-light birding (i.e., at dawn and dusk, in cloudy locations, etc.) then you may want to get the 100mm size.
But for most conditions, the 80mm will be plenty. We wouldn't recommend getting the 65mm in this scope since this is a lower-end scope without premium optics.
Also, Celestron states "The Ultima 80 mm offers a step up in aperture from the 65 mm, offering 50% brighter images." 50% is quite significant and I think worth the extra cost.
You can review more about objective lens sizes here.
And again, if you're not sure if you want a straight or angled scope, read our quick tips here about choosing scope body design.
Celestron Ultima Review
--> View the Celestron Ultima Spotting Scope
Best Budget Spotting Scope (Under $500)
Vortex Diamondback 20-60x80 Spotting Scope
The Diamondback is an exceptional scope at this price point. It is Vortex's lowest-price model compared to the Viper HD and Razor HD spotting scopes.
The Vortex Diamondback line comes in both straight and angled models in both 60 mm and 80 mm objective lens sizes.
It is a full-sized scope in a compact design, weighing less than most spotting scopes in this size at only 33.8 oz and 47.1 oz for the 60 mm and 80 mm lenses, respectively.
We recommend the 80mm lens which will always give you that added brightness edge, especially valued in low-light conditions.
And not for nothing, we really love the view-through case that actually is easy to use and view-through because of its generous-fitting design.
Full XR multicoated optics
Dielectric prism coatings for improved brightness
ArmorTek scratch-resistant coating
O-ring sealed and nitrogen-purged - waterproof and fogproof
We also love Vortex's Warranty:
~Vortex VIP Warranty~

Lifetime. Unlimited. Unconditional.

Vortex will repair or replace the product in the event it becomes damaged or defective.

Absolutely free—no matter the cause!
--> View Vortex Diamondback HD Spotting Scope
Another excellent choice under $500:
Vanguard Endeavor HD 20-60x65mm Spotting Scope
The Vanguard Endeavor HD Spotting Scope is an amazing bird watching scope for its size and price in the under $500 price range.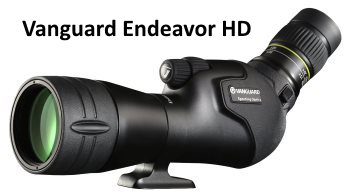 Birders have been impressed with this one and love that it's light and compact for on-the-go birding adventures.
Features include:
ED Extra-Low dispersion glass virtually eliminates color fringing
Fully multi-coated optical system with improved coatings gives high light transmission rate
Rubber armored magnesium housing for lightweight and durability
Retractable sunshade with peep sight
Eyepiece and deluxe scope coat included
Fully waterproof (submersible) and fog proof - nitrogen filled body & eyepiece
Phase coated Bak4 prisms for high resolution
Detachable eyepiece with 20-60x zoom with retractable eyecup and up to 20mm of eye relief
Available digiscoping adapter allows use of the scope as a super telephoto lens
65mm or 82mm Objective Lens?
The Vanguard Endeavor comes in both 65mm and 82mm sizes.
Unless you plan to do a lot of digiscoping or will often be in low-light conditions, we think the 65mm objective lens is suitable for most birding situations, especially with the ED and multi-coated glass.
This smaller lens and resulting lighter weight will also be appreciated by those who plan to carry it a lot.
--> View the Vanguard Endeavor HD Scope
Best Semi-Budget Spotting Scope ($500-$1,000)
Celestron Regal M2 20-60x80ED Spotting Scope
If you can afford a $500+ scope, the Celestron Regal M2 80ED Spotting Scope is well worth the investment with ED glass, XLT multi-coated optics, and a magnesium alloy lightweight, yet very durable body.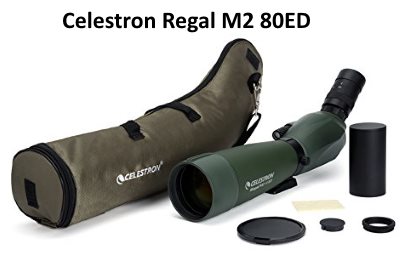 Extra-Low Dispersion (ED) glass minimizes chromatic aberration, increases resolution and contrast, and provides color fidelity
Proprietary XLT (Fully Mulit-Coated) lens coatings maximize light transmission for bright, sharp images
Magnesium allow body - lightweight yet strong - decreases overall weight by 14% compared to previous model
Fully waterproof and nitrogen purged to prevent fogging
Upgraded dual focus mechanism - can focus on objects 2x faster
T-Ring and T-Adapter for attaching your camera for digiscoping
Celestron Regal M2 80ED Spotting Scope Overview
--> View the Celestron Regal MD 80ED Spotting Scope
Best Mid-Priced Spotting Scope ($1,000-$2,000)
Vortex 20-60x85 Razor HD Spotting Scope
The Vortex 20-60x85 Razor HD Angled Spotting Scope is a high-quality bird watching spotting scope and an excellent value at that in this price range.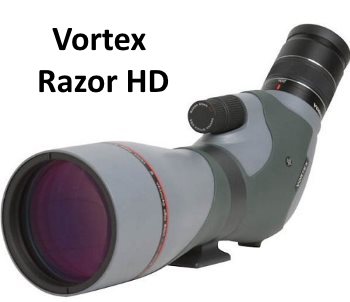 Premium Extra-Low Dispersion (ED) glass for exceptional viewing in low light conditions.
Ultra-hard coated Armor Tek protects exterior lenses from scratches, oil and dirt
Dielectric prism coatings provide the clearest, brightest, most color-accurate images
Proprietary XR anti-reflective coatings increase light transmissions for maximum brightness
Triplet apochromatic lens reduces chromatic aberration.
Porro prism offers maximum image quality and performance
Waterproof O-ring sealed optics keeps out dust and debris
Fogproof - argon gas purged
--> View the Vortex Razor HD Scope
Best of the Best Spotting Scope (over $2,000)
Kowa TSN-99A PROMINAR Pure Fluorite Spotting Scope with TE-11WZ II 25-60x Wide Angle Zoom Eyepiece
The Kowa TSN-99A Prominar Series is one of the best bird watching spotting scopes money can buy.
The TSN-99A is the angled body model, TSN-99S is the straight body model.
Crystal clear clarity from Kowa's unique Prominar pure fluorite crystal lenses is just the beginning.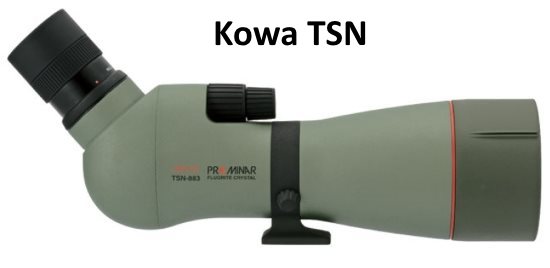 The combination of the ultra-low dispersion pure fluorite crystal paired with a concave lens provides stunningly bright razor sharp images, minimizing chromatic aberrations (color fringing), image fuzziness and extended twilight and low light performance
Dual Focus: Quick & Fine focusing. Quick will focus from infinity to five meters in 2 revolutions. Fine is smooth with pinpoint accuracy for high magnification adjustments and for digiscoping
Lightweight, compact design - the highly achromatized objective lens makes the scope as compact a 60mm scope without sacrificing performance
Waterproof to JIS 7 protection class 7 (protects against effects of temporary immersion in water - aka, "Oops!" protection) and nitrogen purged to prevent fogging
3 eyepieces available: TE-11WZ (25-60x, wide zoom), TE-17W (30x, wide) TE-20H (25x, LER - long eye relief). There is an eyepiece locking mechanism to prevent accidental release. Note that the TE-11WZ has replaced the older TE-10Z (20-60x, zoom) model.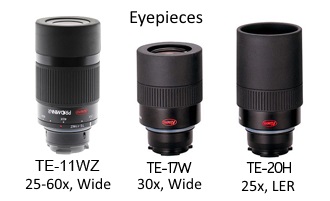 Kowa TSN-99 Prominar Spotting Scopes Overview
Digiscoping with the Kowa TSN-99 Prominar Spotting Scope
Even an iPhone delivers stunning footage and photographs through the Kowa-TSN 99 with the TE-80XW extreme wide 40x eyepiece.
The Kowa TSN-DA10 Micro Four Thirds Digiscoping System
The Kowa TSN-DA10 digiscoping adapter is made for Micro Four Thirds camera system bodies and Micro Four Third compact lenses up to 25mm focal length (full size) (50mm MFT equivalent) and can be combined with the Kowa TE-11WZ eyepiece.
Set-up is simple (takes less than a minute) and you can easily switch between landscape and portrait positioning as well as quickly slide the adapter off for normal observation.
The DA10 fits lenses with a 43mm filter thread. If your lens has a different size filter – simply add one of our adapter rings - AR28/30/30.5/37/43/46/52/55/58/62/72mm between your lens and the DA10.
All camera functions remain including camera lens auto-focus and focus peaking.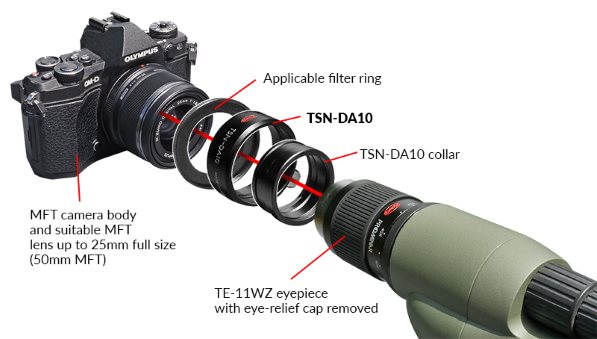 Kowa TSN-99 Prominar Series Cost: $$$....
Seeing your life-bird as a crystal-clear, razor-sharp image, even in low light... Priceless!
--> View the Kowa-TSN-99 Prominar Spotting Scope
Recap
We hope that one of the best spotting scopes for birding (as well as for other outdoor wildlife viewing) in the 5 price ranges - Super-Budget, Budget, Semi-Budget, Mid-Priced and Best of the Best - suits your needs.
We also listed the Nikon Prostaff 5 Proscope 20-60x82 in the Semi-Budget range as a good second choice in that category. We have found that Amazon typically has the best prices, including shipping which is usually free.
Our overall advice: Buy the best spotting scope you can afford.
---
***NOTE: The Alpen Scopes are no longer available due to the company going out of business.***
→Our new pick in this price range is the Vortex Diamondback 20-60x80 Spotting Scope as noted above.
Or jump to the Semi-Budget Spotting Scope category.
---
Bird Watching Spotting Scopes FAQs
Is an Angled or Straight Spotting Scope Better?
It depends how you will primarily be using your spotting scope.
If you will be using your scope to spot things above the horizon, then looking into an angled cope will be more accomodating.
It's also easier for groups of people of varying heights to use an angled scope.
However, a straight spotting scope can be easier to spot and follow moving objects and to use from an elevated position or when mounted on a car window. Angled vs straight spotting scopes.
What do Spotting Scope Numbers Mean?
A 20-60x80 spotting scope has a magnification range between 20-60 with a 80mm objective lens.
Larger spotting scope objective lenses provide more light, but will be heavier and more expensive.
In the next section below, we discuss these features in detail.
How Do I Choose a Spotting Scope?
In deciding how to choose a spotting scope, you should consider magnification, objective lens and exit pupil size, eyepieces, FOV, optical and body design, eye relief, focus mechanism, close focus distance, glass/prism quality, and weatherproofness.
Are Spotting Scopes Better than Binoculars?
No, they serve different functions.
Simply, if you want to see details on birds or other wildlife or any types of objects from a long distance, especially in low-light conditions, a spotting scope will give you an advantage over binoculars, unless you use high-powered binoculars that are either image-stabilized or with a tripod to help provide a steady image.
How do I choose a spotting scope for birding and other wildlife viewing?
Get a bird watching spotting scope that has at least an objective lens size of 60mm which will allow enough light to enter the scope, especially during low-light conditions.
If you want to take photos through your scope (Digiscoping), you may want a bigger ojective lense (85mm and up).
Most birders like a variable zoom lens (i.e., 20-60) vs a fixed magnification.
Best travel scope for birding?
If you are looking to get a more compact spotting scope for birding while traveling, the Celestron Hummingbird 9-27x56mm ED Micro Spotting Scope is a good choice weighing only 1.43 pounds and small enough to be carried in a coat pocket.
How to Choose a Spotting Scope
What are the best spotting scopes for birding and wildlife viewing?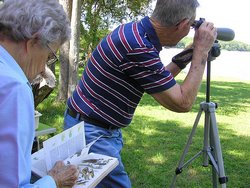 Scopes can range in price from $200 to $2,000. So what's the difference between a cheap scope and an expensive one?
Let's start with the basics and then define and compare the different features of spotting scopes to help you decide on a purchase.
To help you with your purchase, we will discuss the following spotting scope features:
Magnification
Objective lens size
Exit pupil size
Eyepieces
Field of view
Optical design
Body design
Eye relief
Focus mechanism
Close focus
Weatherproofness and
Glass/prism quality
What is a spotting scope?
A spotting scope is a terrestrial telescope, compact and portable, designed for observing objects on or near the earth (as opposed to astronomy viewing).
Spotting scopes are essentially telescopes designed for birding or other nature observation.
How is a spotting scope different than an astronomy telescope?
A spotting scope typically has lower magnification, a wider field of view, is easily portable, field-durable and its prism provides a correctly oriented image.
Often, astronomy

telescope images are upside down and reversed (mirror-image). No problem with stars, bad with birds.
It's hard enough to ID right-side up birds. And a mirror image will just mess with your mind.
Try following a bird that looks like its moving right, when in reality it's moving left.
Astronomy telescopes are typically designed with a longer focal length for higher magnifications, but smaller fields of view.
In birding, we don't need astronomy-level magnification (100x+).
We like to see the details on the bird, but don't need to see every hamuli of a feather.
And the wider field of view on spotting scopes is definitely an advantage for "spotting" the bird in the first place.
Conclusions:
A good astronomy telescope won't be good for bird watching and a birding scope won't be good for astronomy.
You can certainly use your spotting scope to look at the night sky (good for Moon and stars), but if you really want to see spectacular details, then get an astronomy telescope. If you're getting a telescope primarily for birding, get a spotting scope.
Why get a spotting scope? What are the advantages over binoculars?
Spotting scopes are for long-distance bird watching. They provide the magnification necessary to see distant birds and to admire details at closer ranges. They provide the means to identify birds beyond the reach of your binoculars.
Under low light conditions, scopes will give you a brighter, clearer image and the magnification needed to see more details.
All birding scopes will have a mounting plate to attach a tripod for stabilization at these higher magnifications.
There are times when your 7x-10x binoculars cannot get you close enough to see what you want.
It may be because you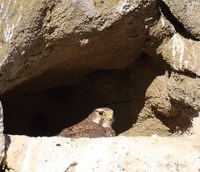 simply can't get close enough with your binoculars such as viewing waterfowl in a lake, shorebirds in the mudflats, or cliff-nesting birds. Or perhaps you want a closer look, but don't want to disturb the bird, especially sensitive species, say on a nest.
Or in open spaces, when trying to get close enough with binoculars will scare them away. With a spotting scope, you can admire birds from a distance.
Personally, we use spotting scopes often during the field season to make observations of nesting Golden Eagles and Prairie Falcons.
Many times we don't even get out of the vehicle, but rather use a window mount to observe. We simply would not be able to observe certain adult and chick behaviors without a scope.
It's also nice to have a spotting scope when birding in groups so that everyone can get a closer look. It's a great way to share bird watching with beginners, especially young birders.
You can also record images and video with a spotting scope with either a regular telephoto 35mm camera, digital camera and/or video camera (see digiscoping).
Spotting Scope Features to Consider Before Purchasing
In general, a good magnification range for your bird watching

spotting scope is between 15-60x.
Below 15x, you might as well use your binoculars.
Above 60x, the field of view becomes too narrow and image brightness begins to dim, especially a problem in low light conditions.
Most often, 20-40x gives both the best field of view and image brightness for bird watching.
A point to remember: The higher the magnification, the larger the objective lens is needed to maintain image quality.
Additionally, any distortions (heat waves) or scope movement (tripod tremors) will be intensified at higher magnifications.
If you do want more magnification, remember that the quality of the lenses and prisms (which affects transmittance) become increasingly important.
Low quality lenses and prisms will produce low quality images, especially above 45x.
The highest useful magnification of your scope depends on the quality of the lenses and prisms, the objective lens size (discussed below), and outside conditions (low or bright light, haze, heat waves, etc.)
The size of the objective lens determines the light-gathering
capacity of a spotting scope.
More light = more clarity and detail which = a brighter, clearer image.
Aperture is defined as the diameter of the objective lens, usually measured in millimeters.
Bird watching objective lenses normally range between 50-80mm.
In general, a larger objective lens equals more weight and more $$.
When deciding on the objective size for your scope, get the largest objective you're willing to pay for, but also willing to carry.
If you're willing to carry a little extra weight, an 80mm objective lens will give you good images in nearly all light conditions, especially at higher magnifications. This is up to you.
Think about where and when you will be doing most of your birding.
If you live in Seattle (many cloudy days), go for the bigger objective lens.
If you live in a dry, sunny location, i.e. Arizona desert, and do most of your birding during the day (not dusk or dawn) and you want to carry something lighter, perhaps you could consider going a little smaller.
Along with objective lens size, the exit pupil is the best measure of image brightness.
The exit pupil is the diameter of light in millimeters visible through the eyepiece.
To calculate the exit pupil divide the objective lens size by magnification.
So the higher the magnification, the larger the objective lens needed to maintain image brightness.
As a general rule of thumb, try to get a scope where the exit pupil is 1.33mm or more.
Because in conditions besides optimal (bright, calm), an exit pupil below this will be insufficient, especially at higher magnifications.
So if you had a scope with a 20-60x zoom eyepiece, an 80mm objective lens would be suitable for all magnification ranges.
80mm (obj. lens size)/60 (highest magnification)= 1.33mm (exit pupil size).
However, a 50mm objective lens at 60x would give you an exit pupil of .83 mm (50/60=.83). Not as good, especially in lower light conditions.
The eyepiece is what determines the magnification of your scope. It is also is a factor in determining field

of view, exit pupil size, and eye relief.
Eyepieces sometimes are included with you scope but more often are sold separately.
Most scopes have interchangeable eyepieces, specific to manufacturer and line, allowing you to choose one or more that fits your preferences.
You can get either interchangeable fixed or single zoom (variable) eyepieces for your scope.
There are some spotting scopes, usually zooms or waterproof scopes, which have eyepieces that are non-interchangeable.
Zoom eyepieces have a range of magnification levels from low to high, usually 15-45x or 20-60x.
Birders find these very useful because they can scan at the lower magnification (wider field of view) to find the bird, then use the higher magnification to see details.
If most of your birding is done in wide open spaces, i.e. ocean seabird watching, hawk mountain ridges, then you may want to get a fixed wide-angle eyepiece which provides a wider field of view.
Or one with long eye relief (usually 25 or 27x) for those who wear eyeglasses. Or an eyepiece just for digiscoping.
Just remember to get a scope with an objective lens size that will be able to provide you with good images at all magnification ranges (review objective lens size and exit pupil size).
The quality of the eyepiece glass and design affects image quality as well. So selecting an eyepiece is just as important as selecting the scope body.
Note that manufacturers may have eyepieces that can only be used on one design line while other may be used on multiple lines.
You may want to consider this and see what eyepieces can be used on your scope if you plan on getting more than one.
The linear field of view (FOV) is measured as the width of area visible at 1,000 yards (or meters) from the observer.
It can also be expressed in degrees as the angular field of view. Normally as magnification increases, field of view decreases.
In general, a wide field of view is better for following fast-moving objects or for scanning and finding birds in the scope.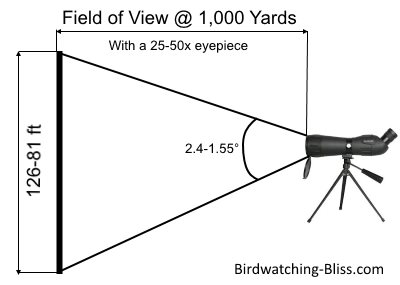 As discussed earlier in the eyepieces section, if most of your birding is done in wide open spaces, i.e. ocean seabird watching, hawk mountain ridges, then you may want to get a fixed wide-angle eyepiece that will provide you with a wider FOV.
You will notice that when comparing a 20x fixed eyepiece with a 20-60x eyepiece that the fixed 20x will have a wider field of view than the zoom at 20x. Just a matter of design.
The 2 basic optical designs of scopes are refractive and catadioptric.
Nearly all birding spotting scopes are refractive.
The reason being that even though catadioptric scopes provide clearer images at higher magnification (of same weight of refractor), they cost significantly more than refractive scopes and are not as strong and durable for field use as refractive scopes.
If you want that extra bit of edge for better images, have the cash, and think your scope won't get bumped around too much, then go for the catadioptric.
Otherwise, a refractive scope is what you want.
But remember, catadioptric scopes may have images that are vertically correct, but reverse the image left and right.
| | |
| --- | --- |
| REFRACTOR | CATADIOPTRIC |
| Uses optical glass to bend light | Primarily uses mirrors to reflect light |
| Image is correct (right-side up and right to left) | Image vertically correct, but reversed right to left |
| Focal length shorter (wider field of view | Focal length longer (narrower field of view |
| More durable and field-reliable, low maintenance | More fragile, but rubber armor coating can help with protection from elements |
| Simpler design, Less expensive | 3-5x more expensive than refractors |
| Heavier | Provides greater magnification than refractors of the same weight |
| Best for for terrestrial, nature viewing, birding, hunting, outdoor viewing | Best for long distance above-horizon terrestrial applications, telephotography and astronomical observing. |
| Can use fixed or zoom eyepieces | Designed to primarily use fixed eyepieces. |
| Performance above 60x diminishes | Can provide useful magnifications up to 200x |
How To Choose A Spotting Scope for Birding
Here is our continuing discussion of bird watching spotting scope features and how to choose a scope.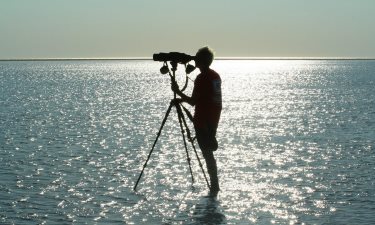 Spotting Scopes Part I above discusses magnification, objective lens, exit pupil, eyepieces, field of view and optical design.
In Spotting Scopes Part II we will discusses body design, eye relief, focus mechanism, close focus, weather proofing, and glass composition to help you choose a spotting scope.
There are two basic body designs of refractor spotting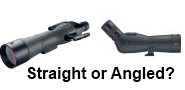 scopes: straight and angled.
Straight scopes have the barrel and eyepiece aligned with each other, angled scopes have the eyepiece offset 45 or 90 degrees from the barrel.
There are pros and cons for both.
Personally, we like the straight design.
It's easier to follow birds that are moving and because we often use our spotting scope from inside the car with a window mount, a straight scope is not a problem.
Many people fine the straight line of sight is easier for accurate aiming.
A straight design is also easier to use from an elevated position.
For example, viewing your backyard birds from a second-story deck.
On the other hand, if you are tall or do a lot of birding with groups, or most of your viewing is above the horizon (looking at cliffs, viewing soaring raptors, birds on tree-tops) than perhaps an angled design would be a better choice.
It all depends how you want to use your spotting scope.
An angled scope can be shared easier than a straight scope because more people of different heights can comfortable look into the scope without adjusting the height.
Think about how you will most often be using your spotting scope. This will help you decide which design best suits your needs.
There are 3 basic focusing mechanism designs: single knob, double knob, and helical.
If you can, try different mechanisms and see which one works best for you.
If you can't, then choose a knob focuser which is generally preferred for bird watching and nature viewing.
| | | |
| --- | --- | --- |
| Single | Double Knob | Helical |
| Most common, slow but precise, not as accurate with fine focus | 2 drive knobs. One knob gives fast coarse focus, other knob gives precision fine focus | Slower on coarse focus, better fine focus control, works well for observing objects that are quickly changing distances, near to far |
| Used by: Bushnell, Kowa, Pentax, Bausch & Lomb, Swift and Zeiss | Used by: Leica | Used by: Swarovski and Nikon |
There are also rack & pinion designs which are commonly found on astronomical telescopes and usually offer fairly fast, smooth focusing, but most components are external and subject to potential deterioration from dust and moisture over time.
Color aberration is sometimes noticeable with refractor scopes.
Also light transmission can be increased by reducing reflections.
This can be mostly eliminated with the right kind of glass and coatings.
Look for scopes with ED (extra-low dispersion) FL (Fluorite) HD (High Density) and/or APO (apochromatic) glass.
These elements will provide you with an image of higher clarity, detail, and sharpness which in turn will reduce eyestrain.
Of coarse scopes with these extras add extra cost.
Another factor to weigh, but you'll be paying the cost in frustration when you can't see those details on that special bird on an overcast (low-light) day.
Spend the extra money on your spotting scope, save by making coffee at home, renting movies, skip the fast-food, make your own x-mas or birthday presents.
Not eating french-fries for a month may buy you the feathered look of a lifetime!
Unless your scope is going to reside inside your home, weather proofing is not an option.
You never know when that rain cloud will just pop-up out of nowhere.
Look for scopes with waterproof and fogproof (nitrogen/dry gas filled) designations.
Rubber armoring is also a nice addition.
It provides protection against abrasive materials, corrosion and helps cushion the scope against unexpected impacts (oops!).
It also makes it more easier and comfortable to handle in cold, wet weather.
Eye relief is an important feature on for eyeglass wearers.
It is the distance in millimeters between the eyepiece of the spotting scope and your eye that still allows you to see a complete field of view image in focus.
As an eyeglass wearer your eye is further away from the spotting scope eyepiece, which means a longer eye relief is needed in order to see the entire field of view.
For most eyeglass wearers, an eye relief between 12-15mm will be adequate.
Without adequate eye relief, you won't get a complete field of view and find you'll need to remove your glasses in order to see the image properly.
So long eye relief promises full field viewing with eyeglasses.
As mentioned previously in the eyepiece section, there are eyepieces specifically made with long eye relief.
You may also want to select eyepieces that have folding or rollback eyecups so you can get your eyes closer.
Close or near focus is the distance between the scope and the nearest object you can focus on, while maintaining a good image and sharp focus.
In general, as magnification increases, the minimum close focal distance also increases. So scopes will typically have longer close focus ranges than binoculars.
For bird watching, a short close focus is beneficial for seeing details of a bird that has landed up-close to your scope.
It is also better for taking photographs (see digiscoping). So if this is important to you, selecting a scope with a close distance of 15ft or less would be optimal.
Summary:
Get a lightweight, strong & sturdy scope.
If it's not lightweight, it will be uncomfortable to carry around.
And if it's not well built with strong housing, the first time it gets bumped when you're frantically grabbing it from your back seat to see that lifetime peep (a.k.a sandpiper), you may be very disappointed when the focus doesn't focus.
You get what you pay for - so don't go cheap. Cheeps are for the birds.
So as with anything else, weigh the cost against the benefits, and get the best spotting cope you can afford.
If you can't afford a Swarovski, Leica or Zeiss (top-end, most expensive manufacturers) then look at others such as Kowa, Nikon or Pentax which can have just as good designs, but be significantly lower priced.
And don't forget to leave money in your budget for a sturdy tripod to support your scope, otherwise it's like putting a Mercedes on golf cart tires.
Spotting Scope Basics
Hope you've enjoyed this review of spotting scope basics and we wish you the best in finding that perfect scope.
Digiscoping - Photography with spotting scopes
How to Choose Bird Watching Binoculars
Best Binoculars for Bird Watching
Types of Binoculars
High Power Binoculars - sometimes can be used as an alternative to spotting scopes if used with a tripod or monopod.
Jason Binoculars - Auto Focusing Binoculars
Cornell's Review of Birding Spotting Scopes
Our Favorite
Bird Watching Binoculars, Squirrel-Proof Feeder & Hummingbird Feeder
Read Our Reviews:

Nikon Monarch M5

Best mid-priced bird watching binoculars. Waterproof, shockproof, multi-coated ED-Glass.

Squirrel-Proof

No batteries, adjustable, easy to clean...and no squirrels!

"Best New Product" Award.

Click Images or Links To View More Info
For the Latest Bird Watching News, Hot Birding Spots, Tips & More,
Subscribe to Our FREE Newsletter:
The Birder Alert!