How to Choose
Bird Watching Spotting Scopes
Part I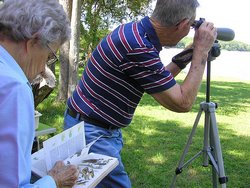 What are the best bird watching spotting scopes?
Scopes can range in price from $200 to $2,000. So what's the difference between a cheap scope and an expensive one?
Let's start with the basics and then define and compare the different features of spotting scopes to help you decide on a purchase.
To help you with your purchase, we will discuss the following spotting scope features:
Magnification
Objective lens size
Exit pupil size
Eyepieces
Field of view
Optical design
Body design
Eye relief
Focus mechanism
Close focus
Weatherproofness and
Glass/prism quality
---
You can also skip to our review page to view the top 6 spotting scope picks by price range here:
--> Best Bird Watching Spotting Scopes (2021)
---
What is a spotting scope?
A spotting scope is a terrestrial telescope, compact and portable, designed for observing objects on or near the earth (as opposed to astronomy viewing).
Spotting scopes are essentially telescopes designed for birding or other nature observation.
How is a spotting scope different than an astronomy telescope?
A spotting scope typically has lower magnification, a wider field of view, is easily portable, field-durable and its prism provides a correctly oriented image.
Often, astronomy

telescope images are upside down and reversed (mirror-image). No problem with stars, bad with birds. It's hard enough to ID right-side up birds. And a mirror image will just mess with your mind. Try following a bird that looks like its moving right, when in reality it's moving left.
Astronomy telescopes are typically designed with a longer focal length for higher magnifications, but smaller fields of view.
In birding, we don't need astronomy-level magnification (100x+). We like to see the details on the bird, but don't need to see every hamuli of a feather.
And the wider field of view on spotting scopes is definitely an advantage for "spotting" the bird in the first place.
Conclusions:
A good astronomy telescope won't be good for bird watching and a birding scope won't be good for astronomy.
You can certainly use your spotting scope to look at the night sky (good for Moon and stars), but if you really want to see spectacular details, then get an astronomy telescope. If you're getting a telescope primarily for birding, get a spotting scope.
Why get a spotting scope? What are the advantages over binoculars?
Spotting scopes are for long-distance bird watching. They provide the magnification necessary to see distant birds and to admire details at closer ranges. They provide the means to identify birds beyond the reach of your binoculars.
Under low light conditions, scopes will give you a brighter, clearer image and the magnification needed to see more details.
All birding scopes will have a mounting plate to attach a tripod for stabilization at these higher magnifications.
There are times when your 7x-10x binoculars cannot get you close enough to see what you want.
It may be because you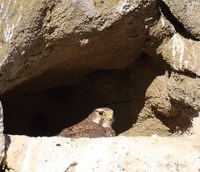 simply can't get close enough with your binoculars such as viewing waterfowl in a lake, shorebirds in the mudflats, or cliff-nesting birds. Or perhaps you want a closer look, but don't want to disturb the bird, especially sensitive species, say on a nest.
Or in open spaces, when trying to get close enough with binoculars will scare them away. With a spotting scope, you can admire birds from a distance.
Personally, we use spotting scopes often during the field season to make observations of nesting Golden Eagles and Prairie Falcons.
Many times we don't even get out of the vehicle, but rather use a window mount to observe. We simply would not be able to observe certain adult and chick behaviors without a scope.
It's also nice to have a spotting scope when birding in groups so that everyone can get a closer look. It's a great way to share bird watching with beginners, especially young birders.
You can also record images and video with a spotting scope with either a regular telephoto 35mm camera, digital camera and/or video camera (see digiscoping).
Spotting Scope Features to Consider Before Purchasing
In general, a good magnification range for your bird watching

spotting scope is between 15-60x.
Below 15x, you might as well use your binoculars.
Above 60x, the field of view becomes too narrow and image brightness begins to dim, especially a problem in low light conditions.
Most often, 20-40x gives both the best field of view and image brightness for bird watching.
A point to remember: The higher the magnification, the larger the objective lens is needed to maintain image quality.
Additionally, any distortions (heat waves) or scope movement (tripod tremors) will be intensified at higher magnifications.
If you do want more magnification, remember that the quality of the lenses and prisms (which affects transmittance) become increasingly important.
Low quality lenses and prisms will produce low quality images, especially above 45x.
The highest useful magnification of your scope depends on the quality of the lenses and prisms, the objective lens size (discussed below), and outside conditions (low or bright light, haze, heat waves, etc.)
The size of the objective lens determines the light-gathering
capacity of a spotting scope.
More light = more clarity and detail which = a brighter, clearer image.
Aperture is defined as the diameter of the objective lens, usually measured in millimeters.
Bird watching objective lenses normally range between 50-80mm.
In general, a larger objective lens equals more weight and more $$.
When deciding on the objective size for your scope, get the largest objective you're willing to pay for, but also willing to carry.
If you're willing to carry a little extra weight, an 80mm objective lens will give you good images in nearly all light conditions, especially at higher magnifications. This is up to you.
Think about where and when you will be doing most of your birding.
If you live in Seattle (many cloudy days), go for the bigger objective lens.
If you live in a dry, sunny location, i.e. Arizona desert, and do most of your birding during the day (not dusk or dawn) and you want to carry something lighter, perhaps you could consider going a little smaller.
Along with objective lens size, the exit pupil is the best measure of image brightness.
The exit pupil is the diameter of light in millimeters visible through the eyepiece.
To calculate the exit pupil divide the objective lens size by magnification. So the higher the magnification, the larger the objective lens needed to maintain image brightness.
As a general rule of thumb, try to get a scope where the exit pupil is 1.33mm or more.
Because in conditions besides optimal (bright, calm), an exit pupil below this will be insufficient, especially at higher magnifications.
So if you had a scope with a 20-60x zoom eyepiece, an 80mm objective lens would be suitable for all magnification ranges.
80mm (obj. lens size)/60 (highest magnification)= 1.33mm (exit pupil size).
However, a 50mm objective lens at 60x would give you an exit pupil of .83 mm (50/60=.83). Not as good, especially in lower light conditions.
The eyepiece is what determines the magnification of your scope. It is also is a factor in determining field

of view, exit pupil size, and eye relief.
Eyepieces sometimes are included with you scope but more often are sold separately.
Most scopes have interchangeable eyepieces, specific to manufacturer and line, allowing you to choose one or more that fits your preferences.
You can get either interchangeable fixed or single zoom (variable) eyepieces for your scope.
There are some spotting scopes, usually zooms or waterproof scopes, which have eyepieces that are non-interchangeable.
Zoom eyepieces have a range of magnification levels from low to high, usually 15-45x or 20-60x.
Birders find these very useful because they can scan at the lower magnification (wider field of view) to find the bird, then use the higher magnification to see details.
If most of your birding is done in wide open spaces, i.e. ocean seabird watching, hawk mountain ridges, then you may want to get a fixed wide-angle eyepiece which provides a wider field of view.
Or one with long eye relief (usually 25 or 27x) for those who wear eyeglasses. Or an eyepiece just for digiscoping.
Just remember to get a scope with an objective lens size that will be able to provide you with good images at all magnification ranges (review objective lens size and exit pupil size).
The quality of the eyepiece glass and design affects image quality as well. So selecting an eyepiece is just as important as selecting the scope body.
Note that manufacturers may have eyepieces that can only be used on one design line while other may be used on multiple lines. You may want to consider this and see what eyepieces can be used on your scope if you plan on getting more than one.
The linear field of view (FOV) is measured as the width of area visible at 1,000 yards (or meters) from the observer.
It can also be expressed in degrees as the angular field of view. Normally as magnification increases, field of view decreases.
In general, a wide field of view is better for following fast-moving objects or for scanning and finding birds in the scope.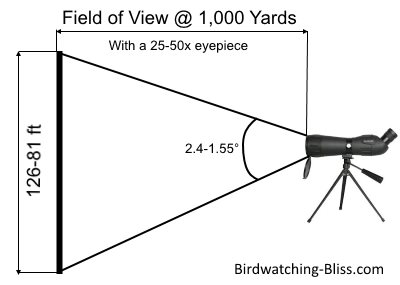 As discussed earlier in the eyepieces section, if most of your birding is done in wide open spaces, i.e. ocean seabird watching, hawk mountain ridges, then you may want to get a fixed wide-angle eyepiece that will provide you with a wider FOV.
You will notice that when comparing a 20x fixed eyepiece with a 20-60x eyepiece that the fixed 20x will have a wider field of view than the zoom at 20x. Just a matter of design.
The 2 basic optical designs of scopes are refractive and catadioptric.
Nearly all birding spotting scopes are refractive.
The reason being that even though catadioptric scopes provide clearer images at higher magnification (of same weight of refractor), they cost significantly more than refractive scopes and are not as strong and durable for field use as refractive scopes.
If you want that extra bit of edge for better images, have the cash, and think your scope won't get bumped around too much, then go for the catadioptric.
Otherwise, a refractive scope is what you want. But remember, catadioptric scopes may have images that are vertically correct, but reverse the image left and right.
| | |
| --- | --- |
| REFRACTOR | CATADIOPTRIC |
| Uses optical glass to bend light | Primarily uses mirrors to reflect light |
| Image is correct (right-side up and right to left) | Image vertically correct, but reversed right to left |
| Focal length shorter (wider field of view | Focal length longer (narrower field of view |
| More durable and field-reliable, low maintenance | More fragile, but rubber armor coating can help with protection from elements |
| Simpler design, Less expensive | 3-5x more expensive than refractors |
| Heavier | Provides greater magnification than refractors of the same weight |
| Best for for terrestrial, nature viewing, birding, hunting, outdoor viewing | Best for long distance above-horizon terrestrial applications, telephotography and astronomical observing. |
| Can use fixed or zoom eyepieces | Designed to primarily use fixed eyepieces. |
| Performance above 60x diminishes | Can provide useful magnifications up to 200x |
How To Choose A Spotting Scope for Birding
More Birdwatching Spotting Scope Tips and Info
Now go to Spotting Scopes Part II to learn about body design, eye relief, prism quality, close focus and more.
Best Bird Watching Spotting Scopes
Digiscoping - Photography with spotting scopes
Go to Choosing Bird Watching Binoculars
How to Choose Bird Watching Binoculars
Binocular Reviews
Best Binoculars for Bird Watching
Nikon Monarch Binoculars ATB 8x42 Review
Swarovski SLC HD Binoculars Review
Budget Nikon Action Binoculars
Types of Binoculars
Jason Binoculars - Auto Focusing Binoculars
Binocular Repair and Care
Binocular Accessories
Our Favorite
Bird Watching Binoculars, Squirrel-Proof Feeder & Hummingbird Feeder
Read Our Reviews:

Nikon Monarch 5

Best mid-priced bird watching binoculars. Waterproof, shockproof, multi-coated ED-Glass.

Squirrel-Proof

No batteries, adjustable, easy to clean...and no squirrels!

"Best New Product" Award.

Click Images or Links To View More Info
For the Latest Bird Watching News, Hot Birding Spots, Tips & More,
Subscribe to Our FREE Newsletter:
The Birder Alert!