Bird Watching Bliss!
Welcome Fellow Bird Lovers...
We love birds and bird watching and we're here to provide fellow birders with useful and accurate information.
Birding is blissful & getting information should be too!
Welcome To Our Flock
Birds are part of our leisure life as well as our professional life.
We look forward to sharing our passion & knowledge of birds with you.
We also invite you to do the same so that we can build a friendly, online birding community...
Whether you are a fledgling beginner birdwatcher or a seasoned pro birder, we welcome you to our flock. :-)
---
Bliss
(blis), n. 1. Great joy or happiness. 2. Bird Watching!
---
This site is dedicated to all bird watchers, birders, twitchers, etc. who love birds and wish to share their experiences, tips and bliss with others!
Helpful Tips:
Choosing Bird Watching Binoculars: What are the best bird watching binoculars for you? Tips and information for choosing birding binoculars based on your needs and budget. A Binoculars 101 Guide.
Best Bird Watching Spotting Scopes for 2023 in 5 Price Ranges: From Super-Budget to Best of the Best. Choose the best spotting scope for birding in your price range.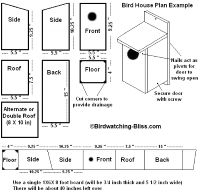 Free Bird House Plans: Easy to build bird house plans made from one board. Can be used for bluebirds, chickadees, wrens, and more. Drilling the right hole size is discussed for attracting the desired species and excluding starlings and House Sparrows.
Popular Birding Posts:
Best Birdwatching Binoculars for 2023 in 4 Price Categories
Comparison Review of Squirrel Proof Bird Feeders
New Birdwatching Binocular Reviews:
Amazing Birds of Paradise Video
The Cornell Lab of Ornithology has captured amazing footage of 39 Birds of Paradise species over 8 years of expeditions to New Guinea and Australia.
Do Birds Get Cold? - Learn how birds survive the winter and what you can do to help.
Our Favorite
Bird Watching Binoculars, Squirrel-Proof Feeder & Hummingbird Feeder
Read Our Reviews:

Nikon Monarch M5

Best mid-priced bird watching binoculars. Waterproof, shockproof, multi-coated ED-Glass.

Squirrel-Proof

No batteries, adjustable, easy to clean...and no squirrels!

"Best New Product" Award.

Click Images or Links To View More Info
For the Latest Bird Watching News, Hot Birding Spots, Tips & More,
Subscribe to Our FREE Newsletter:
The Birder Alert!