Best Binoculars for Kids (2023)
The best binoculars for kids depends upon their age and their degree of genuine interest in birdwatching or wildlife watching in general.
We have given some suggestions below according to age group:
We have summarized the best binoculars for kids into these age categories:
Toddlers
Preschoolers
Elementary-Aged
Pre-Teens
Teenagers
Criteria that's important when looking for kid's binoculars include:
Size - The binoculars fit comfortably in the child's hands and they are able to use the focus knob easily
Weight - Not too heavy so they don't get tired holding up the binoculars for viewing or straining on the neck if wearing them with a binocular strap (good to have a break-away design).
Durability - Can withstand drops and bumps and bangs and normal abuse from a kid's use :)
Magnification - The higher the magnification, the more difficult it is to hold the binoculars steady on a bird which may be more difficult for children.
Field of view - A wide field of view helps with being able to find birds which is often the most frustrating for kids (as well as adults!)
Exit pupil - Larger exit pupil allow more light to come into the binoculars for viewing in dimmer light and is easier for the child to keep eyes centered over eyepieces.
Optical quality - This becomes more important for pre-teens and teenagers where you would want to consider getting an adult entry-level/beginner bird watching binoculars.
Toddler Binoculars and Preschoolers
Needless to say, you don't have to buy a pair of $2,000 Zeiss HT Binoculars for a toddler or preschooler.
As they do with all toy versions of grown-up things such lawn mowers, tea sets, golf clubs, etc., toddlers want a pair of binoculars for that they can use to imitate their birding parents.
Your three-year-old is not going to need to look through the binoculars to see if a bird has two buffy-colored wing bars or an eye stripe.
Low-cost, durable plastic binoculars will suffice.
These GeoSafari Jr. Kidnoculars are a great choice for toddlers.
They have a large, soft rubber eyepiece mold that makes it easy and comfortable to view, are lightweight with a break away neck strap for safety.
They have 2x magnification without a focus knob which makes things simple and easy for a toddler to use.
View the GeoSafari Jr. Kidnoculars
Elementary School Aged Kids Binoculars
Unlike your toddlers, an elementary-aged child will want to actually see something through the binoculars.
Low magnification, a wide field of view, and a large exit pupil will be the most helpful features at this age.
Size and weight matters more with younger children who have smaller hands.
Kidwinz Kidnoculars are a great choice for a combination of quality and affordability.
Their 8x21 kids binoculars are shockproof, have comfortable rubber eye cups (which can be rolled back for eyeglass wearers), are foldable, and are easy to focus.
Pre-Teens Binoculars
Optical quality matters more for an older child, especially if they are really interested in identifying birds.
You can start them off with a lower-power binocular, either 7x or 8x in a beginner-level birding binocular under $100.
The Bushnell 7x35 PermaFocus Binoculars are a good choice because of the auto-focus feature, wide field of view, and are relatively inexpensive without compromising quality at this price range.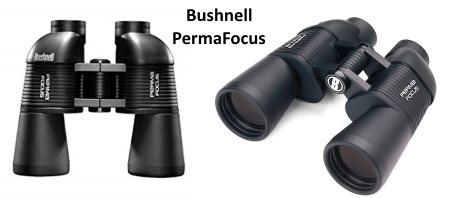 View the Bushnell PermFocus Binoculars
Teenager Binoculars
If your pre-teen birder is still birding with much enthusiasm, you can consider getting them a binocular with a higher power (10x) and/or one with higher quality lenses.
But higher magnification isn't always necessary or better.
There are lots of 7x and 8x high quality binoculars that would make an overall good choice for different types of birding.
They would be useful whether in dense forests or open habitats like wetlands or deserts, such as the Nikon Action Binoculars which are very good beginner birding binoculars at a budget price.
Because the binoculars are adult-sized and heavier than kids binoculars, you may want to get them a binocular harness instead of using the default neck strap.
The harness will distribute the weight better and not put so much strain on their neck.
If you can go up a step in price range, we recommend the Nikon Monarch 8x42 Binoculars.
You can read our choosing bird watching binoculars page for more information about what combination of magnification and objective lens size would best suit their birding preferences or take a look at our best binoculars for bird watching page for recommendations in various price ranges.
If you are getting a pair of binoculars for a teenager that has never used binoculars before, then I would suggest you get a pair with a magnification no higher than 8x with a wide field of view, such as these Nikon Aculon Binoculars
As mentioned before, sometimes the most frustrating thing for beginning birders is finding the bird in his/her binoculars, so we don't need to make it more difficult than necessary.
And don't bother getting a really cheap pair of binoculars with low optical quality and narrow field of view.
This will make any one at any age, but especially a beginning young birder, not want to continue bird watching.
They will be better off just watching birds with their bare eyes than using a cheap pair of low quality binoculars....Okay for toddlers, not for young adults, or really any aged adults.
Tips For Birding With Children
You may be tempted to get a pair of adult mini/compact binoculars for your child, but be careful when choosing a pair since many sacrifice field of view for their compact size.
For our recommendations, you can read go to our mini binoculars reviews page.
Best Binoculars for Kids Who Wear Glasses
If your child must keep his or her eyeglasses on while viewing through binoculars, then you will want to get a pair that either has sufficient eye relief and/or at least eye cups that can be rolled down so that they can put their glasses closer up to the eye pieces.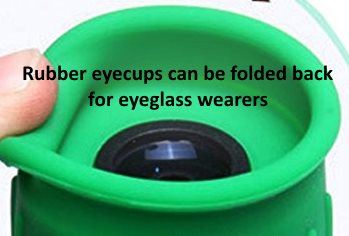 If you can, have your child test out a pair of binoculars without using their glasses to see if it is absolutely necessary that they wear them while using binoculars.
Typically, if they are long or short-sighted, they won't need their glasses, only if they have astigmatism.
Although I do have a friend who have severe astigmatism and is able to use the binoculars without his glasses.
But, of course, if the child is moving around a lot and has to go from looking through the binoculars, back to navigating the world, it's easier for her to do so without taking the glasses on and off like an adult would.
I verified with the seller that these Kidwinz Kidnoculars have eyecups that can be rolled back for kids who wear glasses.
And a customer said that the eyecups on these kids binoculars also fold back for children who wear glasses.
And if you're the DIY type and want something a little more simpler as well as a fun activity you can do with your young child:
How to Make Paper Binoculars
More Reviews of Favorite Birding Binoculars
Best Binoculars for Birdwatching - From budget to high end price categories. Our picks in 3 price ranges.
Bushnell Legend Ultra HD 10x42 Binoculars - Another good choice in the mid-price range, especially if you want the 10x magnification.
Nikon Monarch Binoculars - Comparison of All Monarch Models
Budget Nikon Action Binoculars - Comparison of Models
Types of Binoculars: Image Stabilized, Jason, Mini, Zoom Digital, Infrared, High Power
Best Image Stabilized Binoculars for Birding
Jason Binoculars - Auto Focusing Binoculars
Digital Binoculars with Camera and Video Built-In
These brands typically have good binoculars for kids: Kidwinz, Bespin, Bluecabi, Luwint, CampOutDv, Paulina, and Vanstarry.
Our Favorite
Bird Watching Binoculars, Squirrel-Proof Feeder & Hummingbird Feeder
Read Our Reviews:

Nikon Monarch M5

Best mid-priced bird watching binoculars. Waterproof, shockproof, multi-coated ED-Glass.

Squirrel-Proof

No batteries, adjustable, easy to clean...and no squirrels!

"Best New Product" Award.

Click Images or Links To View More Info
For the Latest Bird Watching News, Hot Birding Spots, Tips & More,
Subscribe to Our FREE Newsletter:
The Birder Alert!