Best Mini Binoculars (2023) Compact, Yet Powerful and Fit in Your Pocket
When using compact or mini binoculars, you sacrifice a little on field of view (FOV).
The field of view is measured as the width of area visible at 1,000 yards.
Because of the smaller objective lens size in compact binoculars, the FOV will be narrower.
Therefore, you don't want to get a pair that is too high in magnification, because the stronger magnification lenses will cut down your FOV too much.
You want a compromising balance between magnification and FOV in pocket binoculars.
Here are some of the best compact binoculars that have exceptional viewing quality:
Best Mid-Priced Compact Binoculars (Under $100)
The Olympus 8x21 Compact Binoculars are a great pair of compact binoculars for under $70.
High-index BaK-4 Prisms for bright, clear images
FOV: 79 meters at 1,000 yards
Dioptic correction & twisting eyecups
View the Olympus 8x21 Compact Binoculars
Mini binoculars are nice to have because of their compact size.
I usually have a pair wherever I go just so I don't miss out on a great bird or wildlife viewing opportunity.
I especially like using compact binoculars when going on long hikes or backpacking trips when I am carrying a lot of items and want to cut down on excess weight.
I've also used them at sporting events and concerts.
Higher-End Mini Binoculars (Over $150)
Carson 3D 8x32 High Definition Binoculars with ED Glass
are an excellent choice for compact binoculars.
Features:
ED Glass
Phase Corrected & Dielectric Prisms
Waterproof Body
Extra-Long Eye Relief
Tripod-Mountable &
Ergonomic Thumb Groves
America's Best Binocular Warranty. In the event that your binoculars get damaged, regardless of cause, Carson will repair or replace them at NO CHARGE.
Review of the Carson 3D 8x32 Compact Binoculars:
View the Carson 3D 8x32 Binoculars
Best of the Best (Over $275)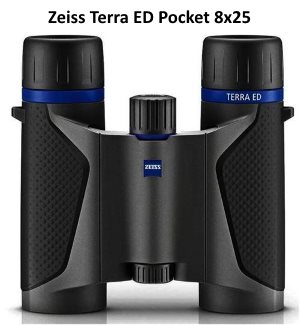 Zeiss 8x25 Terra ED Pocket Binoculars
Impressive wide FOV (Field of View) is 357 ft at 1000 yards (119 m at 1,000 m)/Apparent FOV 52 deg
Hydrophobic multi-coating for crystal clear images in low light conditions
Waterproof, fiberglass-reinforced casing for use in all weather conditions and rugged outdoor use
Foldable design fits into your pocket and is very lightweight - only 10.9 ounces (310 grams)
View the Zeiss Terra ED 8x25 Pocket Binoculars
We prefer the 8x25s vs the 10x25s because of the wider field of view
But if you will be doing more long-distance birding in open areas where it's easier to locate birds through the binoculars vs something like following small warblers in a dense spruce-fir forest, then you may prefer the stronger magnification of the Zeiss 10x25 Terra ED Pocket Binoculars.
What are the best compact binoculars?
There are also the Swarovski CL 8x25 Pocket Binoculars priced at over $800, but we don't necessarily think that they are that far superior to the Zeiss 8x25s (above) at nearly 3x the price.
Best Lower to Mid-Priced Compact Binoculars:
If you are looking for something more in the budget-class, here are four mini binoculars under $50 that are well-rated and won't hurt your eyes - don't ever go too cheap, i.e., $12 binoculars from the Superstore!:
View All Mini Binoculars
How to Choose Bird Watching Binoculars:
Binocular Reviews:
Best Binoculars for Bird Watching
Nikon Monarch Binoculars ATB 8x42 Review
Bushnell Legend Ultra HD 10x42 Binoculars
Swarovski SLC HD Binoculars Review
Budget Nikon Action Binoculars
Types of Binoculars:
Best Image Stabilized Binoculars for Birding
Jason Binoculars - Auto Focusing Binoculars
Digital Binoculars with Camera and Video Built-In
Binocular Repair and Care:
Binocular Accessories:
Spotting Scopes:
Best Bird Watching Spotting Scopes
Here is another very lightweight option in the Higher End Category for compact binoculars you may not have heard of:
Kenko 8x32 Ultra View EX OP 8x32 DH II Binoculars
Roof prism design, fully multi-coated, phase-coated lenses and prisms - for maximum light transmission and brightness, that produce sharper images and vibrant colors.
Fully sealed and nitrogen-purged, dustproof, fog-proof (internally).
Waterproof up to 1 m depth at 10m (7IPX rating), shock resistant, rubber coating for comfortable, firm grip, twist-up eyecups, nice large focus ring
FOV at 1000m 131.1m, at 1000 yards 420 feet, which is rather exceptional for an 8x32 binocular.
The large focusing knob and easy rotation is a special enough feature that it needs to brought to attention since most users mention this as one of their favorites.
It only takes 1.25 turns of the wheel can go from the minimum close distance (8.2 ft/2.5 m) to infinity.
Therefore, it's easy to track and keep in focus flying birds or whatever you want to follow in the distance.
Weight: Compared to the Carson compact binoculars above, the Kenko Ultra-lightweight is 16 oz (455 g) vs the Carson 3D 8x32 at 19.2 ounces (544 g)
Kenko 8x32 ultraVIEW EX Binoculars Review
View the Kenko 8x32 Binoculars
What is the best magnification for compact binoculars?
That depends.
Get 10x magnification if you need more detail and will be viewing objects or birds/wildlife that is in more open environments.
Get 8x magnification that will have a wider field of view for finding and following birds/wildlife in thick cover environments such as dense forests.
Whatever pocket binoculars you get, just don't go too cheap otherwise you'll be disappointed in the magnification and image quality.
Our Favorite
Bird Watching Binoculars, Squirrel-Proof Feeder & Hummingbird Feeder
Read Our Reviews:

Nikon Monarch M5

Best mid-priced bird watching binoculars. Waterproof, shockproof, multi-coated ED-Glass.

Squirrel-Proof

No batteries, adjustable, easy to clean...and no squirrels!

"Best New Product" Award.

Click Images or Links To View More Info
For the Latest Bird Watching News, Hot Birding Spots, Tips & More,
Subscribe to Our FREE Newsletter:
The Birder Alert!