U.S. State Bird of Minnesota -
Common Loon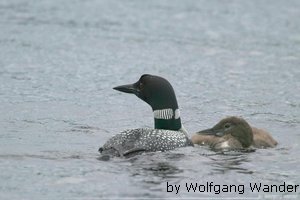 Dating back 60 million years, the Common Loon is one of the earth's oldest living bird species. They are specialized swimmers and divers with their feet placed so far back on their bodies. This may help them to chase and catch fish, but it also makes them very clumsy on land; hence the name loon.
The Common Loon breeds in the far North and goes south during the winter before lakes completely freeze over. They can Winter along the Northern coasts where the ocean doesn't ice over.
The melancholy wailing sound of the Common Loon is famliar on Northern Lakes and is often used in the movies to give the audience the feeling of being in wilderness. Unfortunately, most movie editors don't seem to know the right places or times of year to use the call appropriately. For example, Common Loons are not going to be in the far North when everything is frozen, and they are not going to be calling in a Louisiana swamp during the summer.
Official Minnesota State Bird: Common Loon
American Ornithologists' Union Common Name: Common Loon
Other Names: Great Northern Diver
Family: Gaviidae, Loons
Scientific name: Gavia immer
Length: 32" (81 cm)
Diet: Fish; aquatic intertebrates, especially crustaceans. Fish usually pursued and swallowed underwater.
Voice: Low, melancholy yodeling or wailing cries. Tremolo of five to ten notes on even pitch hahahahahahaha heard year-round, often in flight; sometimes a short kuk or gek in flight; sometimes a short kuk or gek in flight. In summer an undulating whe-ooo quee and rising wail hoooo-lii.

Habitat: Conifer lakes, tundra ponds (summer); open lakes, bays, sea. Winters mainly in coastal waters or on large, ice-free inland bodies of water.
Displays: Bill dipping, splash-diving, "penguin dancing" (vertical position with wings outspread). Yodel call signals territorial ownership.
Number of broods: 1
Nest: On aquatic vegetation at edge of shallow water. Wet mass of aquatic vegetation. Occasionally concealed. Perennial. Continues building during incubation. Occasionally simple scrape.
Eggs: Averages 1-2 olive-brown/olive-green eggs, sparsely marked with black/brown. 3.5" (89 mm).
Incubation period: 26-31 days
Fledge: 75-80 days after hatching
Longevity Record: 19 Years and 1 months - with the record coming from a color banded loon where someone was able to read the color/number combination of the color band. The bird was determined to be a female and was still alive in 2015 when last seen in Michigan - (data from the USGS Bird Banding Lab)
Common Loon With Young
Notice how far back the feet are on the chick's body and watch the chick get a ride on Mom's back.
History:
The land of 10,000 lakes is a good place for loons. While Minnesota actually has over 15,000 lakes at least 10 acres or more, the Common Loon became the Minnesota State Bird in 1961 when Governor Elmer Andersen signed Chapter 76 into Law.
The Common Loon is also the National Bird of Canada and the Provential Bird of Ontario, Canada.
Our Favorite
Bird Watching Binoculars, Squirrel-Proof Feeder & Hummingbird Feeder
Read Our Reviews:

Nikon Monarch M5

Best mid-priced bird watching binoculars. Waterproof, shockproof, multi-coated ED-Glass.

Squirrel-Proof

No batteries, adjustable, easy to clean...and no squirrels!

"Best New Product" Award.

Click Images or Links To View More Info
For the Latest Bird Watching News, Hot Birding Spots, Tips & More,
Subscribe to Our FREE Newsletter:
The Birder Alert!