U.S. State Bird of Maine and Massachusetts -
Black-capped Chickadee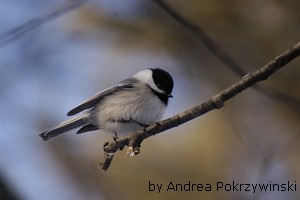 The Black-capped Chickadee is the State Bird of two states: Maine and Massachusetts.
The Black-capped Chickadee is a common bird of northern forests. They are small birds, yet are able to survive harsh Northern winters and are one of the easiest birds to attract to a bird feeder.
American Ornithologist'Union Common Name: Black-capped Chickadee
Family: Paridae, Chickadees & Titmice
Scientific name: Poecile atricappilus
Length: 5.25 inches (13 cm)
Diet: Insects, seeds, fruit, spiders and their eggs.
Voice: Song of most populations a simple, high, pure whistle freebee, with second note lower than first and relative pitch of two notes constant; sometimes sounds three-noted, second part broken by slight falter but no real temporal break fee beeyee. Common and familiar call chickadee dee dee dee. Contact call a sharp chik or tsik slightly harsh, often leading into chick-a-dee call. Gargle call a complex, descending jumble of short notes and alarm a very high, thin series teeteeteeteetee; both similar in all chickadees.

Habitat: Mixed and deciduous woods; willow thickets, groves, shade trees, clearings, suburbs. Usually forages in thickets, low branches of trees.
Displays: Courtship: simple pursuit of female by male.
Number of broods: 1
Nest: Excavates or enlarges snag cavity usually 4-8 feet, but up to 40 feet above ground; rarely in coniferous tree; lined with plant down, moss, feathers, hair, insect cocoons.
Eggs: 6-8 white, finely marked with reddish browns. 0.6 inches (16 mm)
Incubation period: 11-13 days
Fledge: 14-18 days after hatching
Longevity Record: 11 Years and 6 months. The most recent record was set in 2011 by a banded chickadee that was recaptured and released in Minnesota - (data from the USGS Bird Banding Lab).
Black-capped Chickadees Excavating a Nest Cavity
Black-capped Chickadee Hammering on a Sunflower Seed
More information about the The Black-capped Chickadee, its life history, song and identification can be found here.
Our Favorite
Bird Watching Binoculars, Squirrel-Proof Feeder & Hummingbird Feeder
Read Our Reviews:

Nikon Monarch M5

Best mid-priced bird watching binoculars. Waterproof, shockproof, multi-coated ED-Glass.

Squirrel-Proof

No batteries, adjustable, easy to clean...and no squirrels!

"Best New Product" Award.

Click Images or Links To View More Info
For the Latest Bird Watching News, Hot Birding Spots, Tips & More,
Subscribe to Our FREE Newsletter:
The Birder Alert!