Bird Song Identification
Bird song identification can be overwhelming, especially when you're a beginner. But there are plenty of audio resources out there to help you learn songs much easier.
There are Bird ID cd guides by Peterson, Audubon, Stokes and others. Here are some of the better audio guides for bird songs that are easy to use. Some include songs for birds in North America while others focus on a specific region, like Western or Eastern bird songs.
Birding By Ear Song ID Series
Our personal favorite is the "Birding By Ear" CD series. It groups bird songs by similarity such as sing-songers like robins, tanagers and vireos or trillers like chipping sparrows and juncos. I used the Western version when I moved out west and needed to learn songs for a job doing bird counts.
There is a Western and Eastern/Central version. It's easy to find each bird's song on the CD because the booklet tells you exactly where it is, for example:
Swainson's Thrush: Disk 2: track 9: time 1:45. The booklet also gives habitat and voice descriptions for each bird.
Our Favorite Bird Song Identification CDs
| | |
| --- | --- |
| Eastern/Central Songs | Western Songs |
| | |
Excellent Teaching Style - Birding By Ear
By

Nature Lover

(Brooksville, FL)
"The narrator discusses each bird's song and/or call, telling you specific things to listen for, including comparisons to similar calls. Then the song/call is played. The narrator finally reviews what you heard, pointing out similarities and differences again, as well as noting peculiarities. I found this to be a very simple to follow format, and one which helped me to remember the songs/calls of each bird better than similar CD's which just give the name of the bird & then let you hear the song/call. A booklet is included for review as well."
Bird Songs Bible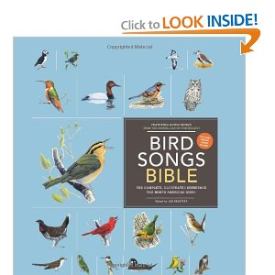 A fairly new bird song identification guide is the Bird Songs Bible. In addition to having all the bird songs of North America (747), it also includes illustrations. And like other bird id books, it gives a description of the bird, its distribution, habitat, behavior and a voice description.
If you just want one, all-inclusive bird id book then this would be the one. Just know that it is a big book and is not something you take in the field. We think it would make a good coffee table book and the plus is that you don't need to get your cd or mp3 player to listen to the songs since they are built in and accessed with the touch of a button in the book.
Best Bird Song ID Apps for Mobile Devices
It's nice to have the songs with you when you're in the field trying to identify a bird, so you can either carry a portable CD player or transfer the songs over to a mp3 player, like an iPod. If you prefer additional portability for mobile devices, here are the Best Birding Apps for iPhone, iPod Touch, iPad and Android.
You can listen for free to some common U.S. and Canadian bird song identification audio files from the USGS Patuxent Wildlife Research Center. They are, however, only snippets of each bird's song and are not as complete as getting a bird song cd such as the ones listed above.
Don't get too discouraged with bird song identification, enjoy your time outdoors and, of course, your bird watching bliss!
Bird Identification - Tips and questions for identifying birds.
Learn about Bird Song Anatomy in Birds
Birdwatching-Bliss.com Home Page
Top-Rated
Bird Watching Binoculars, Heated Bird Bath & Window Feeder

Squirrel-Proof

No batteries, adjustable, easy to clean...and no squirrels!

"Best New Product" Award.

Window Bird Feeder

Roof protects seed from rain & snow, securely fastens with suction cups.

Click Images or Links To View More Info