Glass Hummingbird Feeders
Looking for glass hummingbird feeders?
We have searched for the best and have gathered a collection of various types including unique, hand-blown glass hummingbird feeders.
And if you're simply looking for a clear glass hummingbird feeder that is longer-lasting and looks better than a cheap plastic feeder, we have listed the best of those too.
Hand-blown Glass Hummingbird Feeders with Perch
Why a hummingbird feeder with a perch? Why not?
I don't know if anyone has done a scientific study that hummingbirds will stay longer at your feeder is you have a perch, but I'm sure giving them a rest while they drink won't hurt.
And if you like any of the below feeders that don't have a perch, it's okay. The hummingbirds won't protest - "Where's our perch!"...
Flowers don't have perches, so the hummingbirds won't mind if your feeders doesn't either. :-)
The Grateful Gnome hand-blown hummingbird feeder is very popular for its design and quality. These feeders aren't mass produced and each one is a unique piece of art.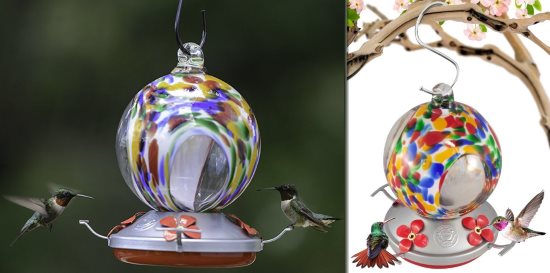 High quality, thick, hand-blown glass
Seamless design won't break apart
New design with glass threading - easy to unscrew base to clean and fill feeder
4 feeding ports and perches
S-Hook included for hanging
24 ounce capacity
Transparent design makes it easier to monitor nectar level
Lifetime No-Hassle Free Replacement Guarantee
View the Grateful Gnome Flower Globe Hummingbird Feeder
Vintage Antique Glass Hummingbird Feeders
I like antique hummingbird feeders these for their old-fashioned look, the only flaw is some of them lack the bright red colors that most of the hummingbird feeders have on the base - it's more of a dull red.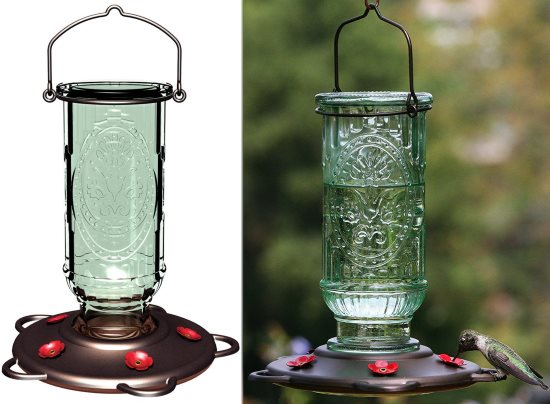 So if you are putting this vintage glass hummingbird feeder up for the first time, you may need to adorn it and/or the surrounding immediate area where you are hanging your feeder with red ribbons, red flowers, etc..
Remember, we don't use red dye in our feeders.
Once the hummingbirds spot your feeder and begin feeding from it, they'll know how to find it and you can remove the red accoutrements if needed.
Perky Pet Clear Antique Glass Hummingbird Feeder
View the Perky Pet Antique Glass Hummingbird Feeder
Nothing-Too-Fancy - But Very Functional - Clear Glass Hummingbird Feeders
These are your basic glass hummingbird feeders that will last many hummingbird seasons.
They are long-lasting, easy to clean, and are a favorite among hummingbirds (2 out of 3 hummingbirds recommend them) as well as hummingbird watchers. :-)
If you have a large flock of hummingbirds regularly feeding at your feeders, a feeding-frenzy of sorts (like in this video), then by all means get a larger size like a 30-ounce glass hummingbird feeder.
But if you have the occasional passerby, then use one of the smaller capacity feeders like 8, 10, or 12 ounces.
I say this because in hot weather, you need to change out the hummingbird nectar as often as every 3 days or it will begin to ferment and grow mold - no bueno for hummingbirds.
So no need to keep making big 30 ounce batches if the nectar is not used within a few days.
Pair These Glass Hummingbird Feeders With An Ant Moat
If you want to keep ants out of your hummingbird feeder, you can add an ant moat.
What's an ant moat you ask?
It's a simple device filled with water that you hook onto your feeder's hanger to keep ants from traveling down the hook to the feeder.
You can read more info about ant traps for your hummingbird feeder at the above link or here are some examples:
Hummingbird Feeders, Nectar Recipe, Ant Problems:
Don't Use Red Dye in Hummingbird Nectar
Problems with Ants at Hummingbird Feeders
Attracting Hummingbirds:
Hummingbird Gifts:
Hummingbird Fun Facts
Our Favorite
Bird Watching Binoculars, Squirrel-Proof Feeder & Hummingbird Feeder
Read Our Reviews:

Nikon Monarch M5

Best mid-priced bird watching binoculars. Waterproof, shockproof, multi-coated ED-Glass.

Squirrel-Proof

No batteries, adjustable, easy to clean...and no squirrels!

"Best New Product" Award.

Click Images or Links To View More Info
For the Latest Bird Watching News, Hot Birding Spots, Tips & More,
Subscribe to Our FREE Newsletter:
The Birder Alert!