High Power Binoculars
Best Binoculars for Long Distance Viewing (2023)
Discussed below are the best high power binoculars to use for long distance viewing in four price categories:
Economy (Under $200)
Mid-Priced ($200-$500)
Top Affordable ($500-$1,000)
Best of Best (Over $1,000)
When choosing high power binoculars, there are some things to look for so that you are not disappointed with the higher magnification for long distance viewing.
In general, the higher the magnification (the first number in binocular sizes: 10x, 20x, 30x, etc.), the larger the objection lens size (the second number in binocular sizes: 40, 50, 60, etc.) you would want.
Why?
Because if you get a high magnification paired with a small objection lens size, the smaller the field of view gets as well as decreased image brightness since the lens is smaller.
A simple formula to determine if the objective lens size is big enough for the magnification is to divide the objection lens size by the magnification which gives you the diameter of light in millimeters of the exit pupil.
You really don't want to go below 3 mm.
So if we were looking at the Celestron Echelon 20x70 Binoculars, we would divide 70 by 20 which is 3.5 mm which passes.
Is it possible to consider a pair of binoculars that violate this rule, like the Nikon Monarch 5 20x56 (2.8 mm exit pupil)?
Yes, if the binoculars have higher quality optics to increase brightness and image quality like ED glass, fully multi-coated lenses, and phase corrected prisms.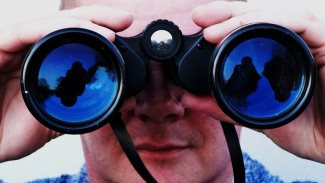 The only drawback to getting high power binoculars with a larger objection lens is increased weight and size of the binoculars.
But for the most part, you are using these at places to look out at long distances and not having to hike around with them all day like a birdwatcher in a dense forest.
Best High Power Binoculars
Note: The Higher the Magnification, the More Difficult it is to Hold the Binoculars Steady
16x magnification is usually the limit most can use without a tripod, bipod, monopod, or leaning against a tree or other object.
As the weight increases because of a larger objective lens, you'll also find that it is difficult to hold binoculars of that size for any significant amount of time, and the use of a tripod or other type of stand or support will be required.
Additionally, at higher magnifications your hands cannot hold the binoculars steady enough and you will see a shaky image.
Some people say they get this shakiness with 16x binoculars, but it also depends upon what you are viewing.
If you are looking at stars, they likely will be shimmering and not steady.
If you are viewing an elephant in Botswana and have relatively steady hands or can lean on something, then you probably won't need a tripod.
Best Economy Low-Budget High Power Binoculars (Under $200)
View the Nikon Aculon 16x50 Binoculars
The Nikon Aculon 16x50 Binoculars are a solid, affordable choice for high power binoculars.
The ashperical multicoated lenses coupled with BaK 4 high index porro prisms, and Eco-Glass provide enhanced brightness and clarity with little edge blur.
It is possible to use these as hand helds, but some still prefer a tripod, bipod, or monopod.
I like the fact that the Aculons have a solid metal (not plastic) tripod adapter.
The FOV on the Aculons is 220 feet at 1,000 yards which is pretty decent.
View the Aculon 16x50 High Power Binoculars
The Aculon's can be used for stargazing, but I think any of the other binoculars discussed below that have a magnification of 20x or higher, like the Celestron Skymaster, Celestron Echelon, Nikon 5, or Vortex Kaibab would be a better choice for high powered binoculars for astronomy.
Nikon Aculons at Optics Planet.
An Honorable Mention in the Affordable Category
View the Celestron SkyMaster 20x80 Binoculars
At 20x80, The Celstron Skymaster High Power Binoculars have a wide exit pupil (4 mm) which is good for all types of viewing conditions, but especially in low-light and for stargazing.
The multi-coated lenses and Bak-4 prisms also helps to provide a crisp, clear image.
I like that they also have an integrated adapter rod for a tripod.
View the Celestron SkyMaster 20x80 Binoculars
Celestron Skymaster 20x80 at Optics Planet.
Best Mid-Priced High Power Binoculars ($200 - $500)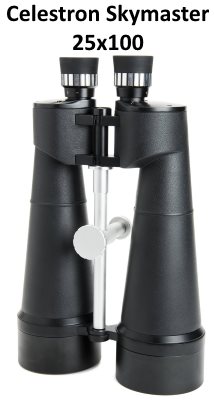 View the Celestron SkyMaster 25x100 Binoculars
These SkyMasters have a little more magnification which is compensated with a larger objective lens compared to the previous cheaper pair: 25x100 vs 20x80.
Both have an exit pupil size of 4 mm which allows for great light gathering capacity.
Both Celestrons in either the 20x or 25x power would be good for either terrestrial or astronomical viewing.
View the Celestron Skymaster 25x100 Binoculars
Celestron Skymaster 25x100 at Optics Planet
Best Top-Affordable High Power Binoculars ($500 - $1,000)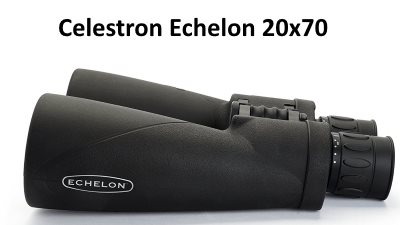 View the Celestron Echelon 20x70 Binoculars
The large-aperture Celestron Echelon series is designed especially for use in low-light terrestrial conditions or for astronomy purposes.
The Echelons have BaK-4 prisms for contrast and sharpness and hav the same proprietary XLT lens coating that is used on their observatory-grade spotting scopes for increased contrast and resolution.
The optics are made in Japan, and the binoculars are then assembled by hand in the USA (California).
More Celestron Echelon Features:
Aluminum alloy housing
Rubber armor coating
Nitrogen-purged and fully waterproof and includes a waterproof case
Each eyepiece can be focused for your right and left eye
Extended eye relief of 19.5 mm
View the Celestron Echelon 20x70 Binoculars
Nikon Monarch 5 20x56
The Nikon Monarch 20x56 Binoculars are another great choice in this price range under $1,000.
I've always liked the Monarch line for a balanced combination of quality and affordability.
The Nikon Monarch's have ED (Extra-low dispersion) glass lenses which correct chromatic aberrations, compensate for color fringing, and provides brighter images.
Fully multicoated Eco-Glass lenses provides higher light transmittance, clear images
Dielectric high-reflective multilayer prism coating, sharper, brighter, clearer whites across entire FOV.
View the Nikon Monarch 5 20x56 Binoculars - There sometimes are package deals for the Monarchs that include a tripod, monopod, smartphone adapter, Makaw video perch camera mount, and cleaning kit.
Best of the Best High Power Binoculars (over $1,000)
View the Vortex Kaibab HD 20x56mm Binoculars
The Vortex Kaibab's Apochromatic Optic System (APO) is combined with HD (HIgh Density) extra-low dispersion glass for excellent color sharpness and fidelity, high resolution, and high definition images.
Vortex Kaibab HD Binoculars Features:
XR Plus Fully Multi-Coated lenses with multiple anti-reflective coatings for excellent light transmission and maximum brightness.
Dielectric prism coating provide clear, bright, color-accurate images.
Plasma Tech provides coating durability and performance
Phase Correction increases resolution and contrast
Waterproof and Fogproof - O-ring seals and argon gas purged
ArmorTeck and Rubber Armor coatings protect housing and provides non-slip grip.
View the Vortex Kaibab HD 20x56 Binoculars
Using a Tripod vs Monopod with High Power Binoculars
Should I get a tripod or a monopod to use with my high power binoculars?
With all other conditions being equal, a tripod is always going to the better choice to use with your high power binoculars than a monopod.
A tripod will always give you more stability and therefore clearer and steadier images than a monopod.
You will almost always have some movements with a monopod, which may be fine with terrestrial viewing during the daytime, but not so much at night with star gazing.
Choosing a Tripod
When choosing a tripod, make sure it has adjustable, non-slip legs.
With the heavier astronomical binoculars, you cannot use a standard camera tripod or lightweight tripods.
You will need a heavy duty tripod and you may want to consider a parallelogram mount. (discussed below)
Celestron Heavy-Duty Altazimuth Tripod: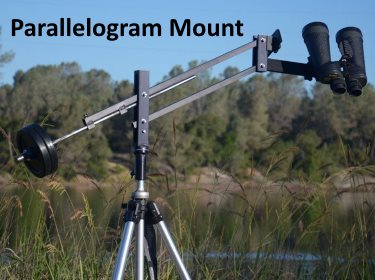 What is a parallelogram binocular mount?
A parallelogram binocular mount is used on a tripod for astronomical observations.
It provides stable support for heavy astronomy binoculars, like the Celestron Skymasters which have heavy 100 mm objective lenses.
I like that it is also easy to adjust if you want to stand or sit while looking through the binoculars.
The Orion Parallelogram Binocular Mount would be a good choice with any of the Celetrons.
So when should I use a monopod?
Use a monopod if you need to be mobile and be able to set up or take down your binoculars quickly.
A monopod will also be easier to take when traveling by plane.
In general, you should only use a monopod with 15x up to 20x binoculars for daytime use.
This is only a suggestion and personally I wouldn't like using a monopod with 20x binoculars and would rather use a tripod.
For astronomy, 14x magnification binoculars and up with a monopod may be too difficult to hold steady for star gazing.
There are monopods with legs or an integrated free-standing base to help a little with stability, or sold as separate attachments like these monopod bases.
To help with stability, you can brace the bottom of the monopod against your foot or leg.
Here are some tips for using a monopod.
As the magnification goes up, along with the objective lens size and therefore the weight, you'll need to use a tripod because the binoculars will be too heavy for a monopod.
In general, get a good ball or tilt head on your monopod and make sure it can extend to at least your height or taller for astronomy use if you will be standing when viewing the sky.
You don't want to have to crouch down to look through the binoculars.
High Power Binoculars vs Spotting Scope
What are the pros and cons between using high power binoculars vs a spotting scope?

Pros of Using a Spotting Scope Over High Power Binoculars
The biggest benefit of spotting scopes over high power binoculars is that the zoom eyepiece.
There are zoom binoculars but I would avoid them if you want to use the high power end in low light conditions.
There are advantages to fixed magnification vs variable magnification binoculars
You may be able to find a compact, lightweight spotting scope that is about the same weight as some high power binoculars.
The advantage being they will give you higher magnification with zoom ability.
If you want more than 25x magnification, you probably want to switch to getting a spotting scope because of the size, weight, and ability to hold steady the binoculars will not be advantages over a spotting scope.
Of course and advantage of a spotting scope will always be the higher magnifications.
You can't get binoculars with 100x magnification or higher. Spotting scopes will always allow you to see at longer distances.
The larger objective lens sizes on spotting scopes can also gather more light during low light conditions.
Cons of Using a Spotting Scope Over High Power Binoculars
Because binoculars have a wider field of view than spotting scopes, it makes it easier to locate the object, whether it be an animal or a star or planet, when looking through the lens.
Good spotting scopes will usually be more expensive than high power binoculars.
Spotting scopes are larger and heavier and require a tripod which make it more difficult if you need to be mobile.
If you need to look at something quickly in the distance and are hiking, using binoculars will be faster over using and setting up a spotting scope on a tripod.
If you want to take a look at some spotting scopes for comparison, here's a review of the best spotting scopes in the 5 prices ranges, from Super-Budget (Under $200) to Best of the Best (over $2,000).
Digiscoping
You can attach your phones to the binoculars for photos and videos using a digiscoping adapter. We also have a page with digiscoping tips, choosing adapters and cameras when using spotting scopes.
Night Vision, Compact, Hunting, and the Most Powerful High Power Binoculars in the World
There are high power binoculars with night vision, but verify the magnification is optical zoom vs digital zoom where you lose image quality.
The most powerful compact binoculars that would ever make sense would be the Olympus Tracker 12-16x25 Binoculars.
What makes a mini or compact binocular actually compact is the smaller size of the objective lens.
If you go any much higher on magnification, images will be dark and the field of view will be too small.
The best high power binoculars for hunting would be:
Nikon Aculon 16x50 (budget)
Nikon Monarch 5 20x56 Binoculars (mid-priced) or the
Vortex Kaibab HD 20x56mm (high end)
How To Choose Binoculars - Tips on choosing the best binoculars for your needs.
What are the best binoculars for long distance?
The best binoculars for long distances are those with a combination of high magnification (typically 15x-20x minimum), large objective lenses (50mm minimum), and excellent image stabilization, all designed to provide clear, sharp images.
In addition to the binoculars reviewed above, these high power binoculars are also an excellent choice:
Types of Binoculars: Image-Stabilized, Jason, Mini, Zoom Digital, Infrared
Image Stabilized Binoculars - Provides clear, focused images even when you can't hold the binoculars steady.
Best Zoom Binoculars - Instead of one static magnification, these binoculars can zoom in and out from a lower to a higher magnification, i.e. 10x-22x.
Jason Binoculars - Auto-focusing binoculars.
Rangefinder Binoculars - Rangefinder and binocular combination provides distance to target.
Digital Binoculars with Camera and Video Built-In - Take photos and video through your binoculars.
Infrared Binoculars - Night vision binoculars illuminates images in the dark.
No More Binocular-Neck... Get a Harness!
Binocular Harness - A harness distributes the weight of the binoculars better than a traditional neck strap.
More Reviews of Favorite Binoculars
Bushnell Legend Ultra HD 10x42 Binoculars - Another good choice in the mid-price range, especially if you want the 10x magnification.
Nikon Monarch Binoculars - Comparison of All Monarch Models
Budget Nikon Action Binoculars - Comparison of Models
Choosing Astronony High Powered Binoculars - Guide to choosing and buying.
Best Birding Binoculars - Our picks in 3 price ranges.
What is the highest power binoculars you can buy?
The most powerful binoculars in the world is claimed by the Suangor 30-160x70 Mega Zoom BCFBinoculars.
The world's highest power binocular telescope is the Oberwerk BT-100XL-SD 100mm with up to 80x magnification.
The USS Theodore Roosevelt aircraft carrier has these 20×120 long distance binoculars, nicknamed, "Big Eyes" that are used to view other ships in the area.
High powered binoculars can be used for multiple purposes - whether trying to spot a cheetah in the distance on a savannah safari, or watching water birds from your deck out on the the bay or lake or ocean, or viewing deer or elk or other game on the next ridge when hunting, or watching ships from the beach, or even for astronomy purposes.
Our Favorite
Bird Watching Binoculars, Squirrel-Proof Feeder & Hummingbird Feeder
Read Our Reviews:

Nikon Monarch M5

Best mid-priced bird watching binoculars. Waterproof, shockproof, multi-coated ED-Glass.

Squirrel-Proof

No batteries, adjustable, easy to clean...and no squirrels!

"Best New Product" Award.

Click Images or Links To View More Info
For the Latest Bird Watching News, Hot Birding Spots, Tips & More,
Subscribe to Our FREE Newsletter:
The Birder Alert!