Jason Binoculars
Focus-Free Binoculars (2023)
Jason Binoculars were popular in the 1970s and 1980s for their auto focusing ability.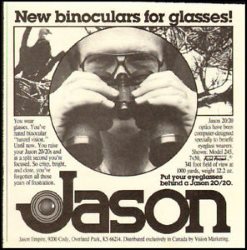 Bushnell bought out the Jason brand in 1992 and now offers the auto-focusing binoculars under their PermaFocus series.
They are completely automatic and focus free.
The lenses are fully coated and give clear, bright, sharp images that are automatically focused as you view through the lenses.
You just bring them up to your eyes, aim them at whatever you want to see focused in the field of view and voila, instant clarity!
7x50, 10x50, and 12x50 Features and Reviews
Bushnell 7x50 PermaFocus (Jason) Binoculars

Specifications:
Exit Pupil - 5mm
Eye Relief - 12mm
Field of View - 578-foot
Fixed focus
Weight - 1.5 lbs.
The 7x set of these will of course have less magnification than any of the others in this series, but is a favorite among those who want smaller and lighter binoculars to carry around.
These have a particularly wide field of view at 578 feet.
Bushnell 10x50 Jason PermaFocus Binoculars

Specifications:
Exit Pupil - 5mm
Eye Relief - 14mm
Field of View - 393 feet
Fixed Focus
Weight - 2 lbs.
These Jason binoculars give you more magnification, but a little less field of view than the 7x35s at 393 feet instead of 578 feet.
It is one-half pound more heavier in weight than the 7x's as well.
Bushnell PermaFocus (Jason) 12x50 Binoculars
Specifications
Exit Pupil - 4.2mm
Eye Relief - 9mm
Field of View - 265-foot
Fixed focus
Weight - 2 lbs.
The 12x50s have less than half the field of view of the 7x35s at 265 feet. The exit pupil is a little smaller than both the 7x's and 10x's at 4.2mm instead of 5mm.
The larger the exit pupil, the more light is able to come through the lens.
At 9mm eye relief, it may be a problem for those with eyeglasses.
Eye relief is the distance you can hold the binoculars from your eyes and still see a complete focused field of view.
I would say these would be best for viewing in far away subjects such as at concerts, perhaps hunting or viewing migrating raptors from an overlook.
I would not want to use the 12x50s for finding fast moving warblers in trees or on a pelagic bird trip because it is more difficult to steady binoculars at higher magnification.
But it is ultimately up to you and what your preference is. Lots of people did have positive reviews of these.
Best Deals on Jason Binoculars
From the reviews of users, it is obvious that these "Jason Binoculars" by Bushnell are one of the best out there.
Users like their durable construction, lightweight feel and the fact that they really can focus on objects fast and quite easily.
Most use them for a multitude of purposes including bird watching, sporting events, concerts, golfing, hunting, star gazing and lots more.
So if you do not want to mess around with adjusting knobs and want quick, easy viewing, then these are the binoculars for you.
Bushnell Focus-Free Sizes
The Bushnell focus free Jason binoculars are available in the following sizes and magnifications:
Compact 8x25
Mid-size 7x35
Full-size: 7x50
10x50
12x50
They are also available in both wide angle (porro) and roof prism binoculars.
The wide objective lens is a great feature for letting in lots of light and wide field of views.
For a review of the differences between prism design go here:
Porro vs Roof Prism Binocular Design
In general, roof prism binoculars will be a little lighter in weight, slimmer in design and more durable but will generally cost more than porro prism binoculars.
Conclusion
Focus-free Jason binoculars give you the convenience of auto-focusing in a well-made, relatively low-priced binocular.
Just aim and your target appears not only magnified closer, but instantly in focus as well.
Focus free binoculars that have fully coated optics and rubber armoring at this price, you really cannot beat it. Go and give them a try!
Bushnell's No Questions Asked Lifetime Warranty
→ View All Jason Binoculars
More Reviews of Favorites
Nikon Monarch ATB 8x42 Binoculars Review - Our review of the Nikon Monarch binoculars.
Bushnell Legend Ultra HD 10x42 Binoculars - Another good choice in the mid-price range, especially if you want the 10x magnification.
Nikon Monarch Binoculars - Comparison of All Monarch Models
Budget Nikon Action Binoculars - Comparison of Models
Swarovski SLC HD Binoculars Review - One of the Best of the Best
Best Birding Binoculars - Our picks in 3 price ranges.
Types of Binoculars: Mini, Zoom Digital, Infrared
Best Image Stabilized Binoculars for Birding
Digital Binoculars with Camera and Video Built-In
Night Vision/Infrared Binoculars
Bushnell Jason Binoculars Info
No More Binocular-Neck... Get a Harness!
Care & Repair
Spotting Scopes
Best Bird Watching Spotting Scopes
Have An Old Pair of Jason Binoculars That Are Sticky?
This appears to be a common complaint and I get asked this question quite often so I though I would address it here.
Nancy Asked:
"We have a pair of Jason Perma Focus 1000 Model 295 binoculars. For the past several years, they have gotten sticky and the black material they are made out of comes off on our hands. Is there something we can clean them with?"
And similarly, William asked:
"I have a pair of auto focus Jasons, I enjoy and have for years, but the exterior has decomposed and get on everything including hands, like melted rubber, a mess."
Note again that this is an issue with the older brand Jason Binoculars, not the new Bushnell Perman-Focus Binoculars.
Answer 1: Our best DIY solution to get rid of the stickiness based only what we have read, but have not personally tried, is to put acetone (finger nail polish remover) on a cloth and wipe the binoculars down, being careful not to get any on the lenses. It will remove the stickiness, leaving a matte-looking surface. Use at your own risk! Maybe try a small test spot first.
Answer 2: Steve, a Birdwatching Bliss visitor, said this: "I cleaned mine using isopropyl alcohol, it is a messy job, but there was no chance of messing up the lenses. Just thought I'd pass on this method." I'm sure Steve can be trusted, but again, UAYOR and try a small test spot first!
Bushnell Permafocus Review
Our Favorite
Bird Watching Binoculars, Squirrel-Proof Feeder & Hummingbird Feeder
Read Our Reviews:

Nikon Monarch M5

Best mid-priced bird watching binoculars. Waterproof, shockproof, multi-coated ED-Glass.

Squirrel-Proof

No batteries, adjustable, easy to clean...and no squirrels!

"Best New Product" Award.

Click Images or Links To View More Info
For the Latest Bird Watching News, Hot Birding Spots, Tips & More,
Subscribe to Our FREE Newsletter:
The Birder Alert!