Nikon Binoculars Repair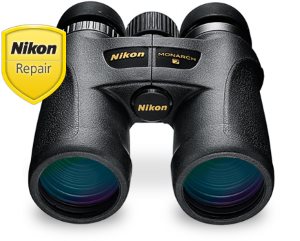 Need Nikon binoculars repair? Nikon's binoculars come with a 25 Year Limited Warranty and are also backed up by the "No-Fault" Lifetime Warranty. Regardless of what happens to your binoculars (even if you dropped them while leaping across the ravine to see that Red-capped Manakin!) Nikon will repair or replace (their option) your Nikon binoculars for $10 plus return shipping costs. You will need to contact Nikon directly for this service.
Nikon USA contact information for repair support:
1300 Walt Whitman Road, Melville, N.Y. 11747-3064, U.S.A.
Phone: +1-631-547-4200
Fax: +1-631-547-0299
(additional contact information available for the Americas, Oceania, Middle East, Asia, Africa and Europe at the Nikon website)
Online Nikon Binoculars Repair Support
Or go to the online support and service form for Nikon Binoculars Repair as well as a list of independent authorized repair stations.
Get A New Pair Of Nikon Binoculars
Sometimes, it's easier to just pick up a new pair of Nikon binoculars. There's some great deals on Amazon right now:
Related Nikon Binocular Pages:
Nikon Action Binoculars - A review of the Nikon Action Extreme Series Binoculars and Best Buys
Nikon Monarch Binoculars - Review of all ATB Monarchs, including Monarch X.
See our review of the Nikon Monarch 5 Binoculars ATB 8x42 or go to the best binoculars for birdwatching, which includes Nikon Action Binoculars and Zeiss Victory Binoculars as well as the Nikon Action Extreme ATB.
Bird Watching Binoculars 101 and Birding Binoculars 102
Jason Binoculars - Self Focusing Binoculars
Our Favorite
Bird Watching Binoculars, Squirrel-Proof Feeder & Hummingbird Feeder
Read Our Reviews:

Nikon Monarch 5

Best mid-priced bird watching binoculars. Waterproof, shockproof, multi-coated ED-Glass.

Squirrel-Proof

No batteries, adjustable, easy to clean...and no squirrels!

"Best New Product" Award.

Click Images or Links To View More Info
For the Latest Bird Watching News, Hot Birding Spots, Tips & More,
Subscribe to Our FREE Newsletter:
The Birder Alert!