Peanut Bird Feeder - Attract A Variety of Birds by Offering Whole & Shelled Peanuts
A peanut bird feeder is a great addition to your other backyard bird feeders because it will attract more species, big and small.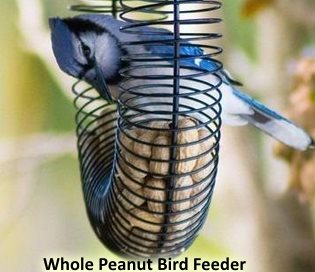 Peanuts are high in protein, oil, and fat, which makes them a perfect addition to the foods you offer the birds in your backyard.
You can offer whole peanuts in the shell, but be sure to use unsalted, not the ones you get from the grocery stores that are salted.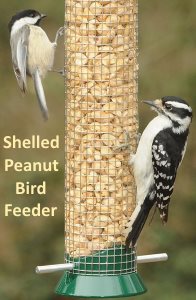 Because of their size, typically only larger birds such as crows and jays will be able to open unshelled peanuts.
Smaller birds will appreciate raw, shelled peanuts offered at bird seed stores. Or if you can find them, unsalted, roasted peanuts in the grocery store.
You can also use unsalted shelled peanuts and put them in a peanut bird feeder for clinging birds or in any feeder that will dispense the larger peanut pieces: large mesh bags, hopper feeders, and platform feeders.
Types of birds Attracted to Peanuts:
Chickadees, creepers, juncos, grosbeaks, jays, nuthatches, cardinals, titmice, woodpeckers, flickers, wrens
Squirrel Buster Peanut Bird Feeder
View the Squirrel Buster Peanut Plus Bird Feeder
During summer and in warmer, wetter climates, only put out enough peanuts in your feeder that the birds will eat daily. Peanuts tend to get moldy and go rancid quickly under warm, wet conditions.
Related Bird Feeding Pages:
Our Favorite
Bird Watching Binoculars, Squirrel-Proof Feeder & Hummingbird Feeder
Read Our Reviews:

Nikon Monarch M5

Best mid-priced bird watching binoculars. Waterproof, shockproof, multi-coated ED-Glass.

Squirrel-Proof

No batteries, adjustable, easy to clean...and no squirrels!

"Best New Product" Award.

Click Images or Links To View More Info
For the Latest Bird Watching News, Hot Birding Spots, Tips & More,
Subscribe to Our FREE Newsletter:
The Birder Alert!