Purple Martin Bird House Plans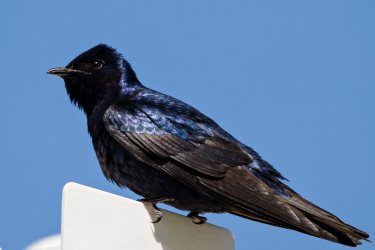 Purple martins nest in colonies. Over 1 million people put up martin houses, but many fail to attract any birds because of poor placement.
Below you will find free purple martin bird house plans for building, installing and caring for these birds as well as how to increase your chances of attracting them.
1-Story Purple Martin Bird House Plans
You can always add a second story to these plans or as many as you think you need depending how big the purple martin population is in your area.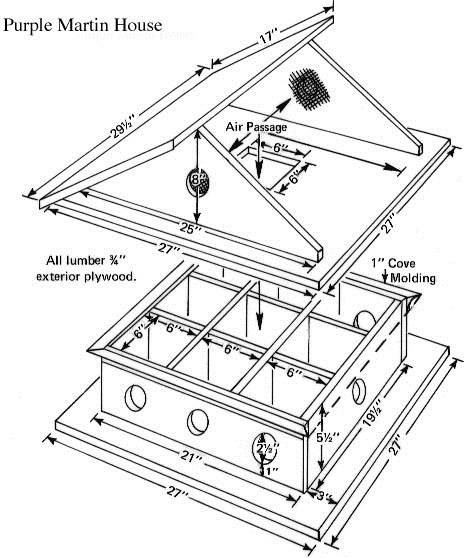 USDA 2-Level Design
USDA Cooperative Extention design for 2-level, 16-room house. This is a pdf file.
1-Level, 8-Room Free Purple Martin Bird House Plans
Plans and information regarding placement, competitors and cleaning from Wisconsin Public Service. This is a pdf file.
Note About How House Sparrows and Starlings Have Affected Purple Martin Populations
House sparrows and European starlings are purple martins greatest threat.
In fact, some biologists have estimated that today's purple martin population is only 1/10 of what it was during the mid 1800s, before these species were introduced.
Purple martin house plans have been now designed in a way to maximize nesting discouragement of house sparrows and starlings.
How to Build a Purple Martin Bird House
Here is a video that give some general information about Purple Martins as well as the types of houses they are attracted to nest in:
And we highly recommend the Stokes Guide Book to Attracting and Housing Purple Martins
It is a comprehensive guide that will help ensure that once you build your own Purple Martin Bird House, you will be able to attract and care for them properly and maintain your Purple Martin colony for years to come.
The Complete Guide To Attracting and Housing Purple Martins is very detailed with over 100 color photos.
Gourd Birdhouses for Purple Martins
You can also add gourd birdhouses to your purple martin house by hanging them from the corners as additional houses.
You can buy them already to go or learn how to grow gourds, how to dry gourds and make your own birdhouse gourd by following the link above.
More Bird House Plans and Tips:
How to Build a Bird House from a Wood Log
Purple Martin Bird House Plans
Phoebe and Robin Nest Box Plans
American Kestrel Nest Box Plans
Making Bird Houses - Construction Tips
The Purple Martin Conservation Association
This is a great starter page for information about attracting and managing purple martins. Includes info on location, timing, competition, housing dimensions, competitors & predators.
Photos of Purple Martin (top) and Purple Martin pair courtesy of Bill Thomson and Andrew C at flickr, respectively.
Our Favorite
Bird Watching Binoculars, Squirrel-Proof Feeder & Hummingbird Feeder
Read Our Reviews:

Nikon Monarch M5

Best mid-priced bird watching binoculars. Waterproof, shockproof, multi-coated ED-Glass.

Squirrel-Proof

No batteries, adjustable, easy to clean...and no squirrels!

"Best New Product" Award.

Click Images or Links To View More Info
For the Latest Bird Watching News, Hot Birding Spots, Tips & More,
Subscribe to Our FREE Newsletter:
The Birder Alert!