Tube Bird Feeders Attract a Variety of Birds
Tube bird feeders typically cater to small birds, but can accommodate birds as big as jays or woodpeckers.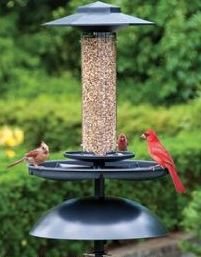 Some tube feeders allow you to attach or remove perches and/or feeding trays.
Depending upon the configuration, you can attract a wide variety of birds or very limited species. Some tube feeders even have feeding ports that only accommodate black oil sunflower seed or thistle (aka Njyer) seed for finches.
Below are some of the best tube bird feeders we could find including several by Brome.
If you have trouble with squirrels, then we highly recommend any of their Squirrel Buster models.
Inexpensive, yet durable, tube bird feeder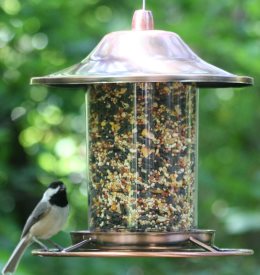 If you are looking for something that's durable, but inexpensive, the Perky-Pet Panorama Birdfeeder is one of birder's favorites.
Perky-Pet Panorama Feeder Benefits & Features:
Easy to load,
Easy to clean
Long-lasting
2-lb seed capacity
Sure-lock cap system that helps keep the squirrels out
This feeder has a good design that's easy to take apart and clean, and will keep the bird seed dry in rainy weather.
View the Perky-Pet Panorama Birdfeeder.
Attracting Birds & Bird Feeding Tips
We recommend getting tube bird feeders that are easy to clean, have multiple ports and are squirrel proof.
Tube bird feeders will attract goldfinches, chickadees, titmice, small woodpeckers and a host of other common backyard bird species. Just remember to keep them clean.
Clean the tubes with warm water and mild detergent when it's time to refill with seed. Make sure to rinse thoroughly to remove any soap residue.
Related Bird Feeder & Bird Seed Pages:
Wild Bird Food - Learn about the different types of bird seed.
Best Squirrel Proof Bird Feeder Review & Comparison
Tube Bird Feeder Plans - Plans to make your own tube feeder. Sometimes it's fun to do it yourself if you have the time, tools and patience.
Free Bird Feeder Plans Main Page
Our Favorite
Bird Watching Binoculars, Squirrel-Proof Feeder & Hummingbird Feeder
Read Our Reviews:

Nikon Monarch M5

Best mid-priced bird watching binoculars. Waterproof, shockproof, multi-coated ED-Glass.

Squirrel-Proof

No batteries, adjustable, easy to clean...and no squirrels!

"Best New Product" Award.

Click Images or Links To View More Info
For the Latest Bird Watching News, Hot Birding Spots, Tips & More,
Subscribe to Our FREE Newsletter:
The Birder Alert!