Best Bird Watching Spotting Scopes 2017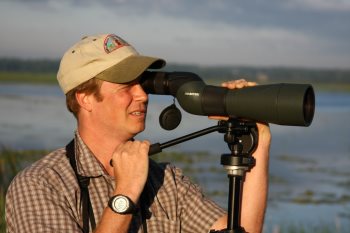 Below are considered some of the best bird watching spotting scopes for 2017 by price range.
Don't Get a Birding Spotting Scope for Less Than $100!
Just one thing before we proceed...I plead with you not to buy a spotting scope for birding that is priced less than $100. They will cause you eye strain and even worse, severe frustration.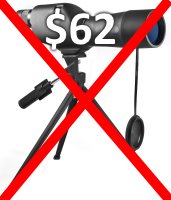 Cheap scopes may be good for looking at an elephant 100 yards away or to see your 22 cal bullet holes in your paper target at the range, but they are not made for bird watching. You're better off just looking through your binoculars than using such a scope.
One exception would be for someone who just wants to look at backyard birds from their deck and/or take photos of them and doesn't want to hold binoculars.
Good. Now that I got that off my chest, we can proceed.

If you want to learn more about choosing spotting scopes for birding and their features, first go to Spotting Scopes, Part I.
Straight or Angled?
Most of the scopes listed below come in both angled and straight models. Its up to you and the kind of viewing you mostly do. Click here for reviewing the pros and cons of Angled or Straight bird watching spotting scopes.
Also, most scope models are available in several different objective lens sizes. It all depends on your personal needs. Click here to review objective lens sizes for bird watching spotting scopes.
Best Super-Budget Scope (Under $200)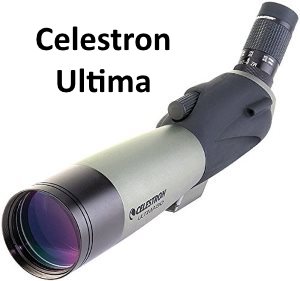 Celestron 80mm Ultima Zoom Spotting Scope
The Celestron Ultima Zoom Spotting Scope is an refractor-style scope with an 80mm objective lens with built-in zoom from 20x-60x. It comes in both straight and angled designs (see all listings below).
If you want an entry-level scope, this is a very good choice. The only drawback is that the scope does not have the more expensive ED glass which helps prevent blue fringing at the higher magnification.
Multi-coated optics
Waterproof
Eyecup can be removed to attach a camera on standard T-Thread
45 degree angled eyepiece supports shorter tripod if needed
Lightweight at 3.6 pounds
Comes with padded carrying case that has access zippers on both ends of scope so you can use the scope without removing the case
The Celestron Ultima also has other options available such as a 65mm (cheaper) and 100mm (more expensive) objective lens and also comes in both angled and straight models for each of the sizes.
Objective Lens Size
The bigger the objective lens, the greater the light-gathering capacity of the scope, but it also increases the weight. If you do a lot of low-light birding (i.e., at dawn and dusk, in cloudy locations, etc.) then you may want to get the 100mm size. But for most conditions, the 80mm will be plenty. We wouldn't recommend getting the 65mm in this scope since this is a lower-end scope without premium optics. You can review more about objective lens sizes here.
And again, if you're not sure if you want a straight or angled scope, read our quick tips here about choosing scope body design.
Customer Review:
"I bought this scope for birding and occasionally for star gazing. I have been VERY pleased with it so far. The quality is really fantastic for the price. I have been very pleased and would recommend this scope to any birder on a budget." -Birdie Haynes
Here are all the Celestron Ultima model choices in angled and straight bodies with either the 80mm or 100mm objective lens.
Best Budget Scope (Under $500)
Alpen 20-60x80mm Spotting Scope Kit
The Alpen Spotting Scope Kit
comes in both angled and straight models with an 80mm objective lens and a 20-60x zoom eyepiece. This is a great budget birdwatching scope for under $400. They also have a 60mm objective lens, but we recommend the 80mm for brighter images.
Fully, multi-coated BaK-4 glass prisms for superior brightness, resolution, and edge clarity
Close focus of 20-25 ft and 113 ft FOV (field of view) at 1,000 yards
Extendable lens hood for flare reduction on barrel end
Waterproof, fogproof and rubber-armored
45-degree angled eyepiece; waterproof, fogproof, and shock-resistant housing
Includes micro-adjustable tabletop tripod and foam-filled aluminum case
Measures 17 inches long; weighs 56 oz
Unconditional lifetime manufacturer's warranty
Kit includes tabletop tripod and foam-filled aluminum case
Customer Review:
"My wife and I are avid, avocational birders, and we have just returned from a three-week driving trip to Florida and back, during which time we gave our Alpen 20-60X80 Spotting Scope its maiden voyage in many diverse birding habitats. We found everything about this instrument to check out perfectly with all of its advertising and reviews. I can't imagine a better birding scope in its price range, and I would bet it rivals those that are nearly twice as expensive." -Donald Abbott
The kit comes in two versions - either with a nylon padded case or foam-filled aluminum case. The aluminum case kit costs more so you can weigh if that extra cost is worth it to you...Perhaps you would want the extra protection if you plan to travel a lot with it, i.e., driving down bumpy roads, air travel with rough luggage handlers, or you're James Bond or you're just clumsy and would drop the case often. :-)
Best Semi-Budget Scope ($500-$1,000)
Vanguard Endeavor HD 20-60x65mm Spotting Scope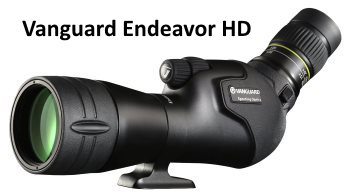 The Vanguard Endeavor HD Spotting Scopeis an amazing bird watching scope for its size and price.
Birders have been impressed with this one and love that it's light and compact for on-the-go birding adventures. Features include:
ED Extra-Low dispersion glass virtually eliminates color fringing
Fully multi-coated optical system with improved coatings gives high light transmission rate
Rubber armored magnesium housing for lightweight and durability
Retractable sunshade with peep sight
Eyepiece and deluxe scope coat included
Fully waterproof (submersible) and fog proof - nitrogen filled body & eyepiece
Phase coated Bak4 prisms for high resolution
Detachable eyepiece with 20-60x zoom with retractable eyecup and up to 20mm of eye relief
Available digiscoping adapter allows use of the scope as a super telephoto lens
65mm or 82mm Objective Lens?
The Vanguard Endeavor comes in both 65mm and 82mm sizes. Unless you plan to do a lot of digiscoping or will often be in low-light conditions, we think the 65mm objective lens is suitable for most birding situations, especially with the ED and multi-coated glass. This smaller lens and resulting lighter weight will also be appreciated by those who plan to carry it a lot.
Customer Review:
"This is a great scope for amateur and pro-birders alike. The construction is solid and the design is awesome for the price. You can easily spend twice the amount for a scope and still not get all of the features this one has. I normally post a Pro/ Con list, but I can't find any cons! Here are the Pros:
- Solid quality optics
- Custom protective carrying case
- Option for DSLR mounting
- Ruggedly built

I would easily recommend this scope to anyone looking for an entry to mid level scope for birding." -Myoho
--> View the Vanguard Endeavor HD Scope
Best Mid-Priced Scope ($1,000-$2,000)
Vortex 20-60x85 Razor HD Spotting Scope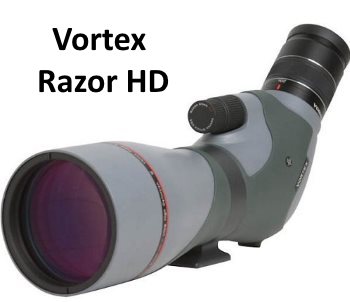 The Vortex 20-60x85 Razor HD Angled Spotting Scope is a high-quality bird watching spotting scope and an excellent value at that in this price range.
Premium Extra-Low Dispersion (ED) glass for exceptional viewing in low light conditions.
Ultra-hard coated Armor Tek protects exterior lenses from scratches, oil and dirt
Dielectric prism coatings provide the clearest, brightest, most color-accurate images
Proprietary XR anti-reflective coatings increase light transmissions for maximum brightness
Triplet apochromatic lens reduces chromatic aberration.
Porro prism offers maximum image quality and performance
Waterproof O-ring sealed optics keeps out dust and debris
Fogproof - argon gas purged
Customer Review:
"I'm glad I bought this scope. The larger size (85mm) does noticeably make things brighter, which is significant for some in lowlight, but for me it's more significant in telling feather differences on birds...Would I recommend it? Definitely. Bright, clear, less expensive, easy to use." -Randy Given
--> View the Vortex Razor HD Scope
Best of the Best Bird Watching Spotting Scope (over $2,000)
Zeiss Diascope 20-75x85 Spotting Scope
The Zeiss Diascope is one of the best bird watching spotting scopes money can buy. Crystal clear clarity from FL glass is just the beginning.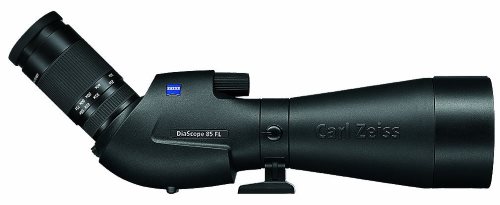 FL high-quality fluoride glass provides stunningly bright, razor sharp images minimizing chromatic aberrations, image fuzziness and extended twilight and low light performance
Award winning LotuTec protective lens coating and T* multi-coating offers unmatched light transmission and protects the lens from water, dirt and debris. LotuTec was honored with the prestigious Gray's Best Award, recognized as the only optical process that allows lenses to shed water completely, even it the heaviest downpours
Dual-Speed Focus: Ultra-smooth, precision operation with 2 focusing speeds combined in a single control knob - A Carl Zeiss Innovation
Lightweight and extremely durable waterproof, dustproof housing
Long-range, wide-field zoom Vario 20-75x adjustable magnification eyepiece
Secure eyepiece prevents accidental release - at the touch of a button and a slight turn the eyepiece can be removed quickly and conveniently
Customer Review:
"Expensive but if you bird a lot in different habitats-- this is the scope to have. A really good buy lasting over many years and the ultimate in viewing birds both close and far with exceptional detail and color rendition." -Birder USA
Zeiss Diascope Cost: $$$....
Seeing your life-bird as a crystal-clear, razor-sharp image, even in low light... Priceless!
Recap
Below in the product widget are all of the best bird watching spotting scopes in the 5 price ranges: Super-Budget, Budget, Semi-Budget, Mid-Priced and Best of the Best.
We also listed the Nikon Prostaff 5 Proscope 20-60x82 in the Semi-Budget range as a good second choice in that category. We have found that Amazon typically has the best prices, including shipping which is usually free.
Learn how to choose the best birding spotting scopes and spotting scope features.
Digiscoping - Photography with spotting scopes
How to Choose Bird Watching Binoculars
Binocular Reviews
Best Binoculars for Bird Watching
Nikon Monarch Binoculars ATB 8x42 Review
Swarovski SLC HD Binoculars Review
Budget Nikon Action Binoculars
Types of Binoculars
Jason Binoculars - Auto Focusing Binoculars
Binocular Repair and Care
Binocular Accessories
Cornell's Review of Birding Spotting Scopes
Our Favorite
Bird Watching Binoculars, Squirrel-Proof Feeder & Bird Bath Heater
Read Our Reviews:

Nikon Monarch 5

Best mid-priced bird watching binoculars. Waterproof, shockproof, multi-coated ED-Glass.

Squirrel-Proof

No batteries, adjustable, easy to clean...and no squirrels!

"Best New Product" Award.

Bird Bath Heater

Keeps your bird baths ice-free down to -20 F. Low-operating costs ~$1/mo

Click Images or Links To View More Info
For the Latest Bird Watching News, Hot Birding Spots, Tips & More,
Subscribe to Our FREE Newsletter:
The Birder Alert!