Free Squirrel Feeder Plans
Below you'll find free squirrel feeder plans to deter your backyard squirrels from stealing from your bird feeders and also just for the sake of enjoying watching the squirrels too!
You can use a variety of food in your squirrel feeder that will be a lot less expensive than bird seed such as corn and peanuts. Try to place the feeder well away from your bird feeder, if you have one, and eventually the squirrels will primarily or exclusively feed from their feeder instead of the birds.
Free Squirrel Feeder Plans:
(click on photos for plans)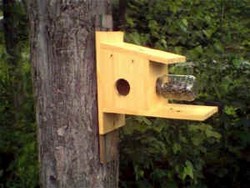 Here is a nice looking squirrel feeder made with a mayonnaise jar and scrap wood.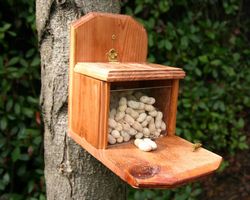 You can fill this feeder with nuts or corn. The squirrels lift the lid and reach in to get the food. The dimensions can be adjusted to allow using different width cedar fence slats.
Here is a simple squirrel feeder woodworking project. It holds a whole ear of dried corn as a food source for the squirrels.
Fun Squirrel Video Doing Obstacle Course
And if you love squirrels, you'll love this book we found, Squirrels: The Animal Answer Guide
. An in-depth look at squirrels, their behaviors and great photos.
As one reader commented, "If you have an interest in any of the squirrels in North America, you'll like this book. I am enjoying it immensely, and I have read most of the really good squirrel literature available."
If you love squirrels, we think you would love this book. When you take the time to really watch an animal, you start to learn a lot about them; much more than the casual passerby who sees them come and go in the park. This book tells all.
View other Squirrel Feeder Examples
Free Bird Feeder Plans Main Page
Return to Top of Free Squirrel Feeder Plans
Return to Birdwatching Bliss Home Page
Top-Rated
Bird Watching Binoculars, Heated Bird Bath & Window Feeder

Squirrel-Proof

No batteries, adjustable, easy to clean...and no squirrels!

"Best New Product" Award.

Window Bird Feeder

Roof protects seed from rain & snow, securely fastens with suction cups.

Click Images or Links To View More Info
Bookmark free squirrel feeder plans page