New Nikon Monarch 5 ATB 8x42 Binoculars Review
The Nikon Monarch 5 ATB 8x42 Binoculars are one of the best bird watching binoculars you can purchase. There's been a name change with these - they used to be called Monarch ATB Binoculars or the Monarch III, but are now simply the Monarch 5 line. The view all models in the popular Monarch line, view our comparison tables on our Nikon Monarch Binoculars review page.
We've done a lot of research before choosing our binoculars and decided upon the Nikon Monarch 5 ATB 8x42 Binoculars for several reasons. For the price and all the below features, we really couldn't find a better deal. We use them for leisure bird watching activities as well as in our professional work doing bird surveys.
Monarch 5 Features:
Dielectric, ED (Extra-Low Dispersion) high reflection mirror coated, phase-corrected prisms for sharp, clear images
Fully multi-coated lenses provide maximum brightness, contrast and true color rendition
Eco-Glass lenses made without led or arsenic.
State-of-the-art lightweight construction - weighs only 21.5 ounces
Oversize, easy-to-use, smooth central focus knob
Multi-setting, easy turn, click-stop eyecups
100% Waterproof/Fogproof/Shockproof
Internal blackening - minimizes light loss inside binocular tubes
ATB - All Terrain Binocular - ultra-rugged rubber-armored, roof-prism design for outdoor use and abuse
Latest price for the brand new model of Nikon Monarch 5 binoculars at Amazon (which usually has the lowest price with free shipping): Cornell Lab of Ornithology Annual Binocular's Review:
The Nikon Monarch's are:
...clearly the top-rated of any mid-priced, full-power birding binoculars. These lightweight, waterproof, and very comfortable binoculars focus down to 6 feet (they were given the name "Monarch" to attract butterfly watchers) and offer an image and feel that surpasses many models costing two or three times more.

Only in a direct comparison with the top-priced binoculars could our reviewers discern the narrower, slightly duller image, which was not quite sharp at the edges. But with a street price well under $300, the Monarchs are a steal.
Our Nikon Monarch 8x42 ATB Review:
We are very happy with the Monarch's. The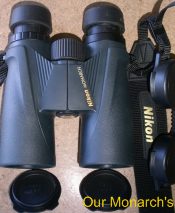 image is fantastic, the bins are very comfortable to hold and we love that they are waterproof, fogproof, and shockproof. You can feel that they are constructed well and are rugged enough to take some outdoor abuse. We use them for work doing bird counts as well as for leisure birdwatching and haven't been let down yet.

I really don't think you can beat the Nikon Monarch's for the price unless you consider something like these Zeiss 8x42 FL T Binoculars (over $1,000).

We use our Monarch's for bird watching, but we know that hunters also love them for their crisp, clear images and lightweight, rugged construction as well.

View New Nikon Monarch 5 ATB 8x42 Binoculars w/ Dielectric Coating with Free Shipping!

We hope you enjoy your new Nikon Monarch ATB 8x42 binoculars whether watching birds, butterflies, or any wildlife! Let us know what you think when you get them!

Nikon Monarch Binoculars - A review of all Monarch Binoculars, including the Monarch 3, Monarch 5, Monarch 7 and Monarch X ATB Binoculars.

Nikon Action Binoculars - A review of the most popular Nikon Action Extreme Binoculars

How to Choose Bird Watching Binoculars

Learn how to choose the best binoculars for bird watching.

Go to Spotting Scopes

Learn about the different features of spotting scopes

Cornell's Review of Best Bird Watching Binoculars by Price

Swarovski SLC HD Binoculars Review

Jason Binoculars - Auto Focusing Binoculars

Best Bird Watching Spotting Scopes

Go to Bird Watching Bliss Home
Top-Rated
Bird Watching Binoculars, Squirrel-Proof Feeder & Window Feeder

Nikon Monarch 5

Best mid-priced bird watching binoculars. Waterproof, shockproof, multi-coated ED-Glass.

Squirrel-Proof

No batteries, adjustable, easy to clean...and no squirrels!

"Best New Product" Award.

Window Bird Feeder

Roof protects seed from rain & snow, securely fastens with suction cups.

Click Images or Links To View More Info