Best Binoculars for Bird Watching
The Cornell Lab of Ornithology does an extensive review of binoculars for bird watching. Below are the top picks of their most recent review.
Features that were rated include price, quality, weight, close focus, field of view, image quality, and overall feel. We have summarized their best birding binoculars into price categories below. If you can afford a little extra, the mid-price range bird watching binoculars, the Nikon Monarch's, are your best bet considering performance, quality and price.
Best Binoculars for Bird Watching by Price Range:
Best Economy Binoculars (under $200)
The Nikon Action Extreme 7x35 ATB Binoculars
was the best quality binoculars in the economy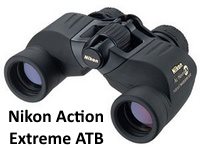 group.
Exceptional Wide Field of View (FOV)
BAK-4 Multilayer Coated Prisms
100% Waterproof/Fogproof Nitrogen Filled, O-Ring Sealed
Rubber Armoring/Non-Slip Grip and Shockproof for those of us who occasionally bang or drop our bins when we get excited seeing a new bird!
Low-priced - Now under $150!
Excellent Binoculars!

"I bought these binoculars because they were the top rated ones on the moderate priced list by a very influential ornithology organization. You could spend a lot more to get the same quality binoculars in a smaller size, but you probably wouldn't get better quality binoculars. I just returned from a trip to Costa Rica where I used them constantly. I was amazed at how easy it was to see birds with these binoculars even in dark rain forest conditions.." -A. Claymaker, New England
Can't beat this one for the price and quality. Well reviewed and a best seller at most binocular retail stores. You can read more about the different sizes and reviews here at our Nikon Action Binoculars page. One downside is these are porro prism binoculars that do weigh more than roof prism binoculars and are a little bulkier. Check out the Monarchs in the mid-price range if you want a more stream-lined set with less weight.
Best Mid-Price Binoculars ($200-500)
The Nikon Monarch 5 ATB 8x42 Binoculars w/ Dielectric Coating actually came in second place to the Katmai 6x32in the mid-price class, but Cornell advised that the Monarch's are actually better binoculars for bird watching.
New Dielectric High-Reflective Multilayer Prism Coating for Bright, Crisp Images
Phase-Correction/Fully Multi-Coated Lenses
100% Waterproof/Fogproof
Weighs only 21.5 ounces
Has features of other more expensive brand binoculars (Leupold, Bushnell, Steiner, etc.) priced over $500 - The Monarchs are under $275, best binoculars to for price if you don't want to spend over $1,000.
Excellent Value For The Money!

"Most popular binocs (Monarchs) under $1,000 in my birding groups. Now I see why. Clear, light, bright, great close and far, waterproof. Birds and bugs clear with every marking visible. You can even see the veins on leaves. Don't need to look through my eyeglasses because the diopter is exceptional." - Judy, NYC
The Monarch's are lightweight, waterproof, and very comfortable. Many of the reviewers thought they were just as good as binoculars 2-3x more in price.

View All Nikon Monarch Binoculars
Reviews:
Comparison table and review of all Nikon Monarch Binoculars including Monarch 3, Monarch 5, Monarch 7 ATB models and the Nikon Monarch X. There is also is our Nikon Monarch 5 ATB 8x42 Binoculars Review.
Top Affordable Binoculars ($500-$1,000)

Cornell was disappointed with what was out there in this category. They noted that the binoculars for bird watching tested in this group did not rate any higher than the top-ranked, less expensive models.

You're better off with the Nikon Monarch 5 8x42 Binoculars than the Nikon 8x32 HG DCF which was at the top in this class. The HGs have a slightly wider field of view and closer focus, but image quality is not any better than the Monarch's.
Top Gun Most Expensive Binoculars (over $1,000)

The Zeiss Victory 8x42 FL scored the highest in the
"Top Gun", best of the best category. It scored the highest for overall quality, producing clear, bright, crisp, near perfect images.

If you can afford it, you can't go wrong with the Zeiss Victory 8x42 T FL LT
Dr. Keith Hunziker's review of the Zeiss:
"I have used binoculars for outdoor pursuits for over 50 years now. I currently own both Leica and Swarovski binoculars in 7 power and they are optically superb products.

Long story short, several of (Cornell's) perennial binocular favorites all earned "excellent" ratings, but the binocular that earned top rating, and was ostensibly considered the finest binocular they had ever tested, was the Zeiss 8X42 T* FL.

When I had an opportunity to look through them outside of a local sporting goods store in the rural area where I live, I was immediately taken by their incredible clarity and image quality. But what really drew me to them was the absolutely perfect eye relief distance. They simply got it right and I have never been able to say that about any other brand, regardless of price or prestige. I bought them on the spot and "have never looked back!" I consider them one of the finest investments I have ever made."
Other Top Expensive Bird Watching Binoculars
In addition to the Zeiss Victory, other honorable mentions include the Swarovski SLC and EL models, Leica HD and Nikon EDG binoculars. You may also want to take a look at the Swarovski SLC HD Binoculars Review.
Bird Watching Binoculars 101 and Birding Binoculars 102
Learn how to choose the best binoculars for bird watching. Learn more about binoculars and their features before making a purchase.
Spotting Scopes 101 and Spotting Scope 102
Learn about the different features of spotting scopes and which are best for birding.
For additional information about the ratings, go to Cornell's Picks of the Best Binoculars for Bird Watching.
Jason Binoculars - Focus Free Binoculars
Best Bird Watching Spotting Scopes
Go to Bird Watching Bliss Home
Top-Rated
Bird Watching Binoculars, Heated Bird Bath & Window Feeder

Squirrel-Proof

No batteries, adjustable, easy to clean...and no squirrels!

"Best New Product" Award.

Window Bird Feeder

Roof protects seed from rain & snow, securely fastens with suction cups.

Click Images or Links To View More Info