Because of the smaller objective lens size in compact binoculars, the FOV will be narrower. Therefore, you don't want to get a pair that is too high in magnification, because the stronger magnification lenses will cut down your FOV too much.
You want a compromising balance between magnification and FOV.
Here are some well reviewed Mini Compact Binoculars that have exceptional viewing quality:
"The Olympus Tracker 12x25 was a perfect choice for me. I use it for travel, bird watching, during hiking and just 'normal' things. The picture is very clear and...is light and small and so it fits everywhere in the car or backbag. I would recommend this binocular. " -Smi
Mini binoculars are nice to have because of their compact size. I usually have a pair wherever I go just so I don't miss out on a great bird or wildlife viewing opportunity.
I especially like using compact binoculars when going on long hikes or backpacking trips when I am carrying a lot of items and want to cut down on excess weight. I've also used them at sporting events and concerts.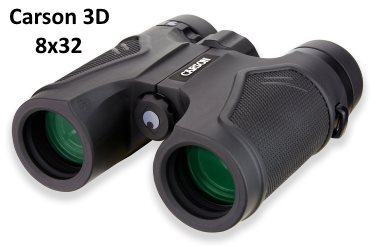 Carson 3D 8x32 High Definition Binoculars with ED Glass
are an excellent choice for compact binoculars.
Features:
ED Glass
Phase Corrected & Dielectric Prisms
Waterproof Body
Extra-Long Eye Relief
Tripod-Mountable &
Ergonomic Thumb Groves
America's Best Binocular Warranty. In the event that your binoculars get damaged, regardless of cause, Carson will repair or replace them at NO CHARGE.
Review of the Carson 3D 8x32 Compact Binoculars:
"Did a lot of research before purchasing these binoculars. Also made a hands-on comparison with other binoculars of name brand and costing more. I am very pleased with the purchase of these binoculars. They have many features of bins costing more. A lot of engineering went into these. The light gathering ability impressed me most as I use these at dusk and dawn." -Anthony
Best Lower to Mid-Priced Mini Binoculars:
If you are looking for something more in the budget-class, here are four compact binoculars under $50 that are well-rated and won't hurt your eyes - don't ever go too cheap, i.e., $12 binoculars from the Superstore!:
View All Mini Binoculars
How to Choose Bird Watching Binoculars:
Binocular Reviews:
Best Binoculars for Bird Watching
Nikon Monarch Binoculars ATB 8x42 Review
Bushnell Legend Ultra HD 10x42 Binoculars
Swarovski SLC HD Binoculars Review
Budget Nikon Action Binoculars
Types of Binoculars:
Jason Binoculars - Auto Focusing Binoculars
Digital Binoculars with Camera and Video Built-In
Binocular Repair and Care:
Binocular Accessories:
Spotting Scopes:
Best Bird Watching Spotting Scopes
Our Favorite
Bird Watching Binoculars, Squirrel-Proof Feeder & Window Feeder
Read Our Reviews:

Nikon Monarch 5

Best mid-priced bird watching binoculars. Waterproof, shockproof, multi-coated ED-Glass.

Squirrel-Proof

No batteries, adjustable, easy to clean...and no squirrels!

"Best New Product" Award.

Window Bird Feeder

Roof protects seed from rain & snow, securely fastens with suction cups.

Click Images or Links To View More Info
For the Latest Bird Watching News, Hot Birding Spots, Tips & More,
Subscribe to Our FREE Newsletter:
The Birder Alert!